PUNJAB
HARYANA
JAMMU & KASHMIR
HIMACHAL
REGIONAL BRIEFS
NATION
OPINIONS
LETTERS
BUSINESS
SPORTS
WORLD
Friday, July 23, 2010, Chandigarh, India
Updated at 3:00 am (IST)

What a way to go!
n Murali creates cricketing history
n First to take 800 Test wickets
n Retires in glory
n India lose first match to Lanka
Galle (Sri Lanka), July 22
Sri Lankan off-spinner Muttiah Muralitharan today became the first bowler to take 800 Test wickets, reaching the milestone in the last Test of his illustrous cricket career.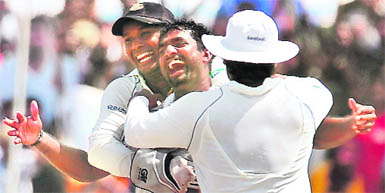 Sri Lankan cricketer Muttiah Muralitharan (C) celebrates with teammates at The Galle International Cricket Stadium in Galle on Thursday. — AFP
CAST YOUR VOTE
Should Warren Anderson be extradited?

EDUCATION
JOBS & CAREERS
HEALTH & FITNESS
SCIENCE & TECHNOLOGY
REAL ESTATE

SPORTS & WELLNESS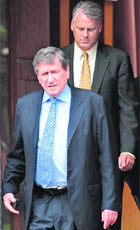 LeT as deadly as Al-Qaida, says Holbrooke
New Delhi, July 22
"The LeT is an equal threat along with Al-Qaida. The LeT, Al-Qaida and Taliban are all working closer together than ever before," US envoy for Afghanistan and Pakistan Richard Holbrooke today.



US envoy for Afghanistan and Pakistan Richard Holbrooke (L) after a meeting in New Delhi on Thursday. — AFP

Modi minister evades CBI in Sohrabuddin case


Gandhinagar, July 22
Gujarat's junior Home Minister Amit Shah, who is close to Chief Minister Narendra Modi, today did not show up before the CBI for questioning in the Sohrabuddin Sheikh fake encounter case but said he would appear tomorrow after the agency sent a second summons during the day.
Gujarat minister Amit Shah said he will appear before the CBI on Friday, July 23. — PTI

Fixed term for Cabinet secretaries
New Delhi, July 22
In a move that will benefit some more backward castes in the country, the Union Cabinet today approved the inclusion of more castes in the central list of Other Backward Castes (OBCs) for various states. In another decision, the government also approved a fixed four-year tenure from now on for the Cabinet Secretary. The move will benefit incumbent K.M. Chandrasekhar.
UNION BUDGET 2010-11
RAILWAY BUDGET
2010-11

NDA 60 Glorious Years
1857 The First Challenge
E - Revolution 2005:
A Two-day IT conclave
Assembly Elections - 2005
Turbans
Chandigarh is 50
125 Years of The Tribune
India: The Tasks Ahead
India at Sixty
A Tribune Supplement
EARLIER FEATURES
On Sundays
On Saturdays
Pargat backs Kaushik
New Delhi, July 22
Former Indian captain Pargat Singh, who is vieing for the post of president of Hockey India, said here today that he did not believe that women's team coach Maharaj Krishan Kaushik could have been involved in sexual harassment.
HI accepts resignation
11 Bihar legislators resign
Suspended members meet Guv, seek dismissal of Nitish govt
Patna, July 22
Eleven Lok Janshakti Party (LJP) legislators on Thursday resigned from the Assembly to protest the "partisan" role of the Speaker and intensify their movement against Chief Minister Nitish Kumar who is allegedly involved in a financial scam.


PC out of a piggy bank
New Delhi, July 22
| | |
| --- | --- |
| College and University students can soon own their laptop at the cost of just Rs 750. From the next academic session, the government plans to provide all learners of higher education access to the cheapest laptop in the world. | Kapil Sibal unveiling the Rs 1,500 computer for students in New Delhi on Thursday. — PTI |
Mayhem in Bihar House
July 22, 2010
With train driver dead, probe may yield little
July 21, 2010
63 dead in Bengal train collision
July 20, 2010
Maoists build a big army in Bastar
July 19, 2010
Kayani played the spoilsport
July 18, 2010
Day after, the war of words begins
July 17, 2010
India-Pak talks end in stalemate
July 16, 2010
Unified Command to battle Naxal menace
July 15, 2010
Rumble over mining brothers hits Delhi
July 14, 2010
Unite for Kashmir, parties urged
July 13, 2010