Parents blame it on Principal
Dispute over Bhojan Mata from Dalit Community
Mussoorie, July 22
The dispute over the appointment of a Bhojan Mata from the Dalit community, reports of which appeared in the media, has been blown out of proportion. This was stated by parents of students studying in Government Inter College at Gharkhet at a press conference held at the Press Club here yesterday.
Labour minister for better training to youth
Dehradun, July 22
Minister of State for Labour Prakash Pant has stressed on better training facility for youth for facilitating their entry into new industries being set up in the state.
Students get tips on hygiene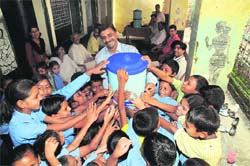 Dehradun, July 22
The Society for Pollution and Environment Conservation Scientists (SPECS) organised an awareness programme on water and hygiene at Government Primary School, Indira Colony, here today.Around 130 students and teachers participated in the programme. Headmistress Anuradha Sundriyal welcomed the guests and said water was life and hygiene made life beautiful and healthy.

Schoolchildren receive a water filter sponsored by UCOST. A Tribune photograph

Student unions felicitate Harish Virmani
Dehradun, July 22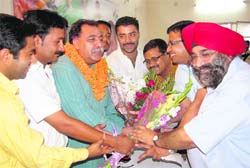 To celebrate the winning of Harish Virmani and his appointment as the city president of the Bhartiya Rashtirya Chhatra Sangathan, local wing of the Youth Congress, in association with the National Students Union of India (NSUI), paid a warm welcome to the party leader here today.


Harish Virmani being greeted on his appointment as Dehradun Mahanagar Congress President for second term at the Congress Bhawan, Dehradun, on Thursday.

'ABVP world's largest student union'
Dehradun, July 22
To participate in the survey conducted by the Akhil Bhartiya Vidhyarthi Parishad (ABVP), the local wing of the council paid a warm welcome to national party leader Ravi Kumar here today.
Sunderwala boys get better of Akranta lads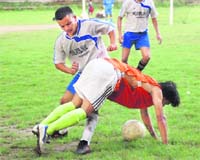 Dehradun, July 22
The Sunderwala Football Club defeated Akranta Football Club by a solitary goal in a keenly contested super league match of the Nemi Dass Memorial Football League played on the Pavilion Ground here today.



A match of the Nemi Dass Memorial Football League being played at the Pavilion Grounds in Dehradun on Thursday. A Tribune photograph

Garhwal Sporting, Cantt Blues play goalless draw
Dehradun, July 22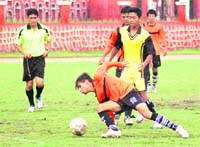 It was a goalless match played between Garhwal Sporting and Cantt Blues in the District Football League on the Police Lines Ground here today.In the first match played between Garhwal Sporting and Cantt Blues, both teams failed to score any goal.



A match of the Dehradun Football League in progress at the Police Lines in Dehradun on Thursday. A Tribune photograph

Jageshwar: Where Shiva's worship as lingam began
Like in the past, lakhs are thronging the ancient temple this Shrawan
Pitthoragarh, July 22
Lakhs of devotees, most of them worshippers of Lord Shiva, are thronging the Jageshwar temple near Almora in the auspicious month of 'Shrawan'.Jageshwar is the place from where the worship of Shiva in the form of lingam began in the Puranic era. "Devotees, whose number is expected to cross 4 lakh this year, will continue their journey till July 24. They not only come from India, but also from abroad as well," said Shasthi Dutt Bhatt, chief priest of the Jageshwar temple.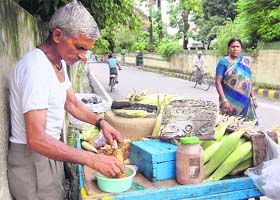 A roadside vendor applies lemon and salt on a roasted corn in Dehradun on Thursday.Tribune photo:Anil P Rawat
Yoga guru essays actor's role to near perfection
Haridwar, July 22
Though he is a renowned face worldwide, used to 35-mm television cameras as his sermons are telecast in several countries, yet essaying his own real-life character on the silver screen with utmost dedication and seriousness itself points to the secret behind yoga guru Swami Ramdev's success.
Statehood agitators demand 10 pc quota in posts
Haridwar, July 22
After making the state government bow on the issue of recruitment of class III and IV posts in Uttarakhand, now state agitators are demanding 10 pc quota in state government posts.