Still shaking off slowdown
The winds of revival are yet to stir the realty scene in Sonepat,
writes Manish Sirhindi
While the realty sector in the NCR region is buzzing with activity and has recovered from the effects of the economic slowdown, the winds of revival are yet to stir the property market in Sonepat. The realty scene is listless for buyers as well as sellers as there is no land for prospective buyers, and no buyers for multi-storey projects that had been launched by some big construction companies.
| | |
| --- | --- |
| | DESERTED LOOK: Ansal Plaza at GT road without any hustle and bustle |
Real Issue
MODEL move
Though the draft Model Real Estate (Regulation of Development) Act proposed by the Union Ministry of Housing and Urban Poverty Alleviation is a boon for property purchasers, it has received much criticism from developers for not providing relief for them in getting permissions and approvals expeditiously. The developers in India have long complained about the delay and difficulty in obtaining approvals for construction from various government agencies and the need for single window approvals. This issue has not been addressed in the model Act.
GROUND REALTY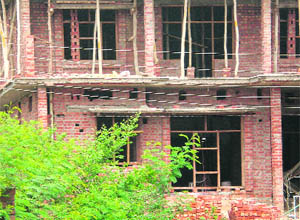 Steer clear of wrong practice
During the construction of a house, one activity that has maximum worry attached to it is the laying of RCC slab. Trepidation builds up once the door level is crossed. Silent prayers for a rain-free day and an accident free concreting job at site remain on the lips of the house builder. Once the concrete work is over and the slab is finished and made ready to receive a pool of water on it, everyone heaves a sigh of relief.

The wrong placement of girders for supporting slab shuttering should be avoided to have a technically sound support system for your building

Tax tips
Agricultural land deal
Q. I sold my agricultural land on August 19, 2009 for Rs 4.08 lakh. My village is 7 km from Ropar district in Punjab. Please advise me what will be my tax liability (long/short term etc) and period limitations by which I will have to deposit the tax or buy another property? Intimate the exemptions, if any, like the purchase of agricultural land or residential/ commercial property etc. up to what value?
Transfer of property in family
New Will
Exemption possible
Uniformity in sale consideration
FIRM principles
Today's property market scenario is not amenable to companies that do not present a professional front. Clients now are far more aware, and have become savvy about the difference between specialists and amateurs. Keeping this in mind, it is important to know what makes a real estate services firm truly professional in this new environment.
Base rate
A STEP IN THE RIGHT DIRECTION

Retail loan customer like home-loan or car-loan borrower many a times had a disappointment on his face when the overall falling interest rates in economy doesn't translate to lower cost of borrowing for him whereas the increase was more than matched by the lenders by way of increasing the rate of interest. This was largely because banks used to lend on the basis of their prime lending rate. Banks have taken advantage of existing PLR system at the cost of their borrowers. When interest rates increase, banks hike their PLRs immediately, leading to rise in the home loan rates. But, when interest rates fall, they don't reduce PLRs. Because of this, the existing customers are not benefited by the lowering of the interest rates.
Real talk


Changing mindset in Tier-II cities
Gaurav Mittal, the Director of CHD Developers Ltd entered the company in 1999 with an innovative vision and purpose to create residential and commercial real estate developments of international standards. In his short career span he has gained significant knowledge of the real estate industry and has been instrumental in the evolution and expansion of the company. Under his leadership, the company has gained reputation in the real estate sector in north India and emerged as a premium player. Gaurav Mittal, Director, CHD Developers Ltd.

Residential realty prices back on peak
Mumbai: Leading home-loans lender, HDFC, feels that residential real estate prices in the country are hitting the peak levels observed pre-slowdown.
Retail rentals up
New Delhi: Rentals for premium retail spaces in Delhi-NCR have increased by 10-15 per cent in the past six months on the back of increased interest from the domestic as well as global retailers, a global property consultant said.
REALTY BYTES
4.5 acres in Mulund suburb sold for Rs 200cr
Mumbai: Kalpataru Builders has purchased 4.5 acres of land in a busy Mulund area for close to Rs 200 crore in one of the biggest real estate deals in the suburbs here, a source said.