Special to the tribune
Imran defends ISI, slams Washington's Afghan policy
Shyam Bhatia in London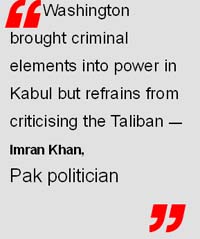 Pakistani test cricketer-turned-politician Imran Khan appeared to defend his country's notorious ISI in an opinion piece published in Tuesday's London Times."Reports are being floated that the ISI, Pakistan's intelligence service, is aiding the Afghan militancy," Khan wrote. "The fact is that the ISI is not that powerful but certainly in an environment of chaos and uncertainty, Pakistan will need to protect its interests through all means necessary."
Oxford-educated Khan, chairman of the Tehreek-e-Insaf party, is in the UK to meet his two sons and ex-wife Jemima.
His article, headlined 'Don't blame Pakistan for the failure of the war', attacks US policies and says Pakistan is "bearing the brunt of American failure in Afghanistan." He blames Washington for failing to install a "truly broad based Afghan government", arguing that "Instead, it (Washington) continued its military actions and brought corrupt and criminal elements into power in Kabul."
Khan's article follows last Monday's revelations by whistleblower website Wikileaks, which provide details of secret US special forces operating in Afghanistan, hundreds of unreported civilian deaths at the hands of Nato forces and Taliban access to deadly surface to air missiles.
Some of the deadliest disclosures, however, are about how the ISI has been working hand in glove with the Taliban in repeated attempts to frustrate US attempts to support a civilian, democratically elected government in Kabul.
The Wikileaks disclosures, first published in the New York Times, Der Spiegel and the London Guardian, support what India has been saying for the past decade and more: the ISI constitutes a murderous, out-of-control gang of villains, answerable only to Pakistani extremists and who will do anything to support and preserve their own existence.
Hence, the leaked documents details, which have information about ISI plots to kill President Hamid Karzai and other deadly plans to poison the beer of Nato forces and provide children and motorcycles for suicide bombings.
Khan does not comment on these leaked details in his article and, although there are repeated references to how there was no militant Taliban activity in Pakistan until 2004, he is careful not to criticise the Taliban movement or its leaders.
Despite his Western education, Khan avoids any negative comment about the Taliban's rule of fear in Afghanistan prior to 2001, including how Mullah Omar sanctified medieval punishments of amputations and stoning and relegated women to third class status.
Meanwhile, Western reactions to the leaked documents range from condemning their release because they risk the lives of US combatants to deeper issues about Washington's involvement in Afghanistan. "They raise serious questions about the reality of America's policy toward Pakistan and Afghanistan," US Senate Foreign Relations Committee chairman John Kerry said on Monday.
US National Security Adviser Gen James Jones commented: "These irresponsible leaks will not impact our ongoing commitment to deepen our partnerships with Afghanistan and Pakistan, to defeat our common enemies and to support the aspirations of the Afghan and Pakistan people."
Reactions in Pakistan have been more severe. Former ISI chief Lt Gen Hamid Gul, who has a star role in the leaked documents, said it was a lie to claim that Pakistan was secretly supporting Al-Qaida.
A spokesman for Pakistan President Asif Ali Zardari said the "unsubstantiated leaks" and "one-sided reports... will not deter the Pakistani government's commitment to eradication of terrorism, peace with our neighbours and stability in the region."
Pakistan's Ambassador in Washington Husain Haqqani commented that the leaked reports "reflect nothing more than single source comments and rumors, which abound on both sides of the Pakistan-Afghanistan border, and are often proved wrong after deeper examination."
'Kabul war can't be won militarily'
Seeking an immediate ceasefire in Afghanistan, Imran Khan said the US should commence talks with Taliban and other militant groups there as the war cannot be won militarily. "There is now a general recognition that the war in Afghanistan cannot be won militarily. All the Taliban have to do to win is not to lose," Khan wrote. He said there is only one solution to this chaos: "to implement an immediate ceasefire and commence talks with all militant groups in Afghanistan."
Khan also said the US should not worry about Pakistan. He said political leaders in the US and UK should realise that people in the streets of New York and London are not threatened by those based in the mountains of Afghanistan and Pakistan, but by the growing radicalisation of their own marginalised Muslim youths. — PTI