Govt has failed on all fronts: Bhim Singh
Jammu, July 31
Chairman of the Panthers Party Bhim Singh has urged Prime Minister Manmohan Singh to act without delay to save the Kashmir Valley from more deaths and destruction as the present government headed by Omar Abdullah had failed on all fronts.
Governor visits cave shrine, inspects facilities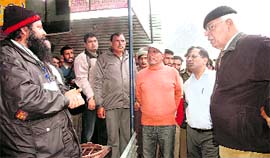 Srinagar, July 31
Governor NN Vohra visited the Amarnath cave shrine and Panjtarni today to review the status of arrangements for yartis following bad weather conditions during the past few days. The yatra was resumed from Pahalgam and Baltal base camps yesterday after remaining suspended for two days due to rain and slippery conditions on the two tracks.

Governor NN Vohra talks to pilgrims during a visit to the Amarnath cave shrine and Panjtarni camp on Saturday. A Tribune photograph
Turmoil in Valley
Stop pilgrims from going on Amarnath yatra: VHP
Jammu, July 31
Terming the prevailing situation in the Valley as "volatile" and "out of control", the state unit of the Vishwa Hindu Parishad (VHP) today asked the state government to stop the movement of Amarnath pilgrims from Jammu in wake of the tension in the Valley.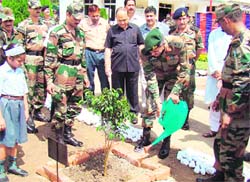 Army plants 63,000 saplings
Jammu, July 31
In an ongoing effort to make people of the state conscious about preserving environment, the Ace of Spades Division of the Army carried out a massive afforestation drive in Poonch and Rajouri districts today.


Major-General Om Prakash, SM, GOC 25, Infantry Division, along with other Army officers take part in the plantation drive in Rajouri on Saturday. A Tribune photo
Sale of chemically-treated vegetables worries Jammu residents
Jammu, July 31
In the wake of reports of chemically-treated vegetables and fruits being sold in their localities, residents of Bhagwati Nagar, Druga Nagar, Bhori, Gangyal and Shubash Nagar are worried over their adverse effects on health.
Mir visits flood-hit areas
Srinagar, July 31
Minister for Agriculture Ghulam Hassan Mir today visited the flood-hit areas of the Kunzar block and took stock of the situation arising out of flash floods, which had caused extensive damage to property and standing crops in these areas.
PDP legislature party to meet today
Srinagar, July 31
Concerned over the recent civilian deaths and the alleged collapse of the state machinery, the PDP has called a special meeting of its legislature party here tomorrow.
University postpones exams
Srinagar, July 31
In view of the tense situation in the Valley arising out of yesterday's violence, that prompted the authorities to impose curfew restrictions, Kashmir University and other institutions today postponed examinations and official functions scheduled for the next week.


ON A STRICT VIGIL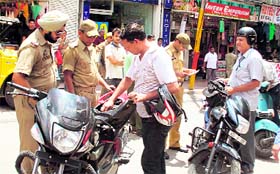 Policemen check papers and vehicles at the City Chowk in Jammu on Saturday. Tribune photo: Anand Sharma
Lone is Youth Cong chief
Jammu, July 31
The Congress today appointed Shoiab Lone, a former MLA from Sangrama, as the state Youth Congress president.
Ex-servicemen assured of all help
Jammu, July 31
Keeping the spirit of ex-servicemen alive, a rally was today organised for them at Surankot tehsil in Rajouri district. The event was organised by the sector Rashtriya Rifles under the aegis of the Counter Insurgency Force (Romeo) and was attended by a large number of ex-servicemen.
MC drive against adulterated food
Jammu, July 31
The Jammu Municipal Corporation (MC) has intensified its campaign against traders indulging in adulteration.
Attack on Sikh youth condemned
Jammu, July 31
The Panun Kashmir yesterday expressed deep anguish and shock over the reported attack on a Sikh youth at Tral in Kashmir by miscreants recently.
Ration seized
Jammu, July 31
The Rajouri police claimed to have seized 10 quintals of ration, meant for Below Poverty Line (BPL) people being sold on the black market, from a ration depot in the Thandi Kassi area in Rajouri district today The owner of the depot is absconding.
2,589 yatris leave from Jammu
Jammu, July 31
A fresh batch of 2,589 Amarnath pilgrims comprising 1,561 men, 650 women, 43 children and 335 sadhus left from the Yatri Niwas, base camp at Bagwati Nagar here, around 4 am today for Pahalgam and Baltal base camps.