| | | |
| --- | --- | --- |
| | NEIGHBOURHOOD | |
Plying of heavy vehicles in residential area
Height gauge sought at Railway Colony
Our Correspondent
Kalka, August 1
Residents of Narrow Gauge Railway Colony and Bharat Nagar have urged the railway authorities to install a height gauge on the Bharat Nagar-Shiv Mandir link road, which connects the town to the Charnia road at Bharat Nagar T-point.
The residents rued that due to the absence of a height gauge, heavy vehicles from Parwanoo and Baddi industrial areas passed through the residential area every day. Subsequently, the stretch from Railway Gurdwara to Bharat Nagar had become accident-prone.
They added that a few years ago, the department of inspector of work (IOW) had installed a railway gate near the gurdwara. As a result, only light vehicles were able to access the road. However, the gate suffered damage, opening the way for heavy vehicles to pass through the area. They added that the state government had recently widened the Kalka-Charnia road for heavy vehicles to bypass the residential area.
Railway employees residing in the NG Railway Colony said other railway colonies of the town had restricted the entry of heavy vehicles by installing height gauge. However, due to the insensitivity of the IOW department, the NG colony had been without a height gauge for the past two years.
The employees have urged the DRM, Ambala, to issue directives to the IOW department to install a height gauge at the Narrow Gauge Colony.
Official sources in the IOW office said the link road was an alternative route for traffic of the NH-22 in case of some an emergency. Once the Pinjore-Kalka-Parwanoo bypass became functional, the department would install a height gauge at the particular place near the gurdwara.
Truck rams into electricity pylon
Power supply, traffic suspended for 4 hrs
Our Correspondent
Kalka, August 1
A truck hit an electricity pylon at Paploha village, near Kalka, snapping power supply to Kalka and its adjoining areas for over four hours today.
According to sources, the incident took place at 2.30 pm on the Kalka-Charnia link road, when a speeding truck hit a power pylon carrying high-tension cable at Paploha village.
A major tragedy was averted as no passerby or vehicle was present at the scene at the time of the accident.
The pylon fell due to the impact, snapping the cables. Inhabitants of Paploha village informed the UHBVN, Kalka, about the incident.
Power supply to Kalka and adjoining areas remained disrupted till 6.30 pm, causing inconvenience to residents.
Traffic on the busy link road also remained suspended for over four hours. It took the electricity department staff over four hours to restore power supply as well as traffic.
Demarcation of village land
State govt to reply on Oct 27
Our Correspondent
Kalka, August 1
The Punjab and Haryana High Court have fixed October 27 for the next hearing in the PIL of village residents of 154 villages regarding extension of Lal Dora.
A Division Bench Justice Mukul Moudgil and Justice Ajay Tiwari, on Wednesday, issued notice to state government, said Advocate Vijay Bansal petitioner of the Public Interest Litigation (PIL).
It must be mentioned here that on April 6, residents of 154 villages of the Kalka sub-division, which falls under the new capital Periphery Control Act, had filed a PIL in the Punjab and Haryana High Court, Chandigarh, regarding implementation of the Punjab New Capital (Periphery) Control (Haryana Amendment Act, 2003) under which there is a provision of extension of 60 per cent of Red line of the existing village abadi area.
The residents told The Tribune that a notification published in official Gazzet of Haryana, under the Haryana Act no- 22 of 2003, provides the said extension. But the Punjab New Capital (Periphery) Control Haryana Amendment act, 2003, has not been implemented so far.
They have demanded immediate demarcation of village agricultural land and to extend the Lal Dora. They also alleged that due to non-implementation of the said Act, the department of town and country planning , under a special campaign have already demolished several residential houses in the area, including Tipra Colony of Kalka.
It is pertinent to mentioned here that in the past two decades numerous new colonies have come up with more than 20,000 houses beyond the Lal Dora (redline) which are feared to be demolished by the department of town and country planning. Bansal, local advocate, in November, 2008, had served legal notice to state government and the department of town and country planning, Haryana. The residents of the area had also written to Haryana CM and Revenue Minister, Haryana, urging them to demarcate the village land in Kalka sub-division.
Inadequate space in hostel worries students
Our Correspondent
Ambala, August 1
Inadequate accommodation in the girls hostel of Kalpana Chawla Women Polytechnic, Ambala City, has left students worried.
The hostel building is under construction and will take at least six more months to complete.
Around 2,000 students have enrolled themselves in various courses at the college and 30 per cent of them belong to Rohtak, Hasar, Jind and Sirsa.
Girls hostel of the college can accommodate just 200 students.
Most of the parents wanted that their wards get hostel accommodation, as the college is located in an isolated area.
Around 300 girls will have to search for accommodation outside the college campus.
Trying to make most of the situation, a number of private building owners have opened paying guest accommodations in the area.
Some of the parents suggested that the college should hire a private building and should provide accommodation to students. Principal RC Jindal admitted that there was inadequate accommodation in the hostel.
He said after the completion of the new hostel, the problem would be solved. It was learnt that the principal had requested the directorate to accommodate girl students in the newly-constructed hostel for boys for the time being.
Public conveniences inaugurated
Tribune News Service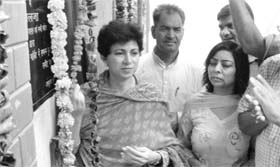 Union minister for tourism and urban poverty alleviation Kumari Selja inaugurates public conveniences at Bakra Market in Ambala Cantonment on Sunday. A Tribune photograph
Ambala, August 1
Union minister for tourism and urban poverty alleviation Kumari Selja today inaugurated public toilets constructed at a cost of Rs 64 lakh in the town.
The minister inaugurated Sulabh Shauchalayas at BC Bazar, Bakra Market and Dera Basti. Constructed to provide clean sanitation to residents, the toilets would be run by the Haryana State Branch of the Sulabh International Social Service Organisation.
She said the government had planned to construct toilets at the cost of Rs 11,500 each in the city on the pattern of rural areas for families living below poverty line and those without sanitary facilities in their houses.
On Commonwealth Games, she said: "We still have two months to go and the work force will take care of the remaining work. No fault has been found at any site."
She said there were several government-run schemes to uplift the poor but there was still a long way to go.
She later visited flood-affected areas to review the relief work done by the district administration.
She also convened a meeting of administration officials to review the loss report prepared by the administration.
The minister then heard the grievances of people from her constituency at Congress Bhawan.
The complainants, majority of whom were from the low income income group, sought compensation for the losses they had suffered during the recent floods. She assured of providing government assistant to affected people.
She also met and congratulated newly elected District Congress Committee members.
The members included former Haryana minister Nirmal Singh, who has been elected president of the District Congress Committee (rural), and Narinder Pal Shera, newly elected president of the District Congress Committee (urban). Vice-presidents Shri Pal Rana and Raj Kumar Aneja and other local Congress workers were also present.
47 pc elderly sans functional teeth: Survey
Attar Singh
Tribune News Service
Ambala, August 1
A survey conducted by the department of public health dentistry, MM University, Mullana, at old age homes has found that around 47.4 per cent of the total patients over 60 years of age do not have functional teeth.
The survey among the elderly population associated with old age homes of Ambala division was conducted to assess the oral health status and treatment needs of the aged.
Dr KL Veeresha, head of department, said around 10 old age homes of Ambala, Yamunanagar, Panchkula, Kaithal and Kurukshetra were covered under the survey.
People above 60 years of age who were residents or day visitors to the old age homes were included in the survey.
According to the survey, toothlessness increased 20 per cent among people in the age group.
Many people had a full or partial set of dentures, with reduced chewing capacity as low as one-sixth to that of those without dentures.
People who had ill-fitting prostheses, those who experienced pain wearing them and people who needed dentures but did not have them were at an the risk of experiencing malnutrition.
He said elderly people comprised 7 per cent of the total population in Haryana. There was no relevant record regarding the oral health care programmes provided in the state.
Sources said many patients with full dentures might not believe they needed to visit a dental care provider unless they had a problem with their prostheses.
Regular dental care, however, was essential for everyone.
He added that during the survey, it was found that 26.9 per cent patients examined did not use any oral hygiene measures, 19.1 per cent elders wore dentures, 36.8 per cent had never visited a dentist ever in their life and 28.7 per cent were suffering from dental related pain.
The maximum age of patient examined was 97 year.
Most of the patients suffered from hypo or hypertension, followed by diabetics.
Smoking, chewing tobacco and alcohol consumption were also prime causes for the occurrence of oral cavities and teeth degeneration, he added.
Stressing the need for education to improve oral hygiene, Dr Veeresha said regular check-up was needed for the elderly.
Sachleen leads the pack
Tribune News Service
Chandigarh, August 1
Sachleen Singh scored highest points in the final round of boys U-15 category of Chandigarh Boys and Girls Chess Championship held at St Xavier's Senior Secondary School, Sector 44, here today.
Sachleen Singh of St Kabir School, Sector 26, scored 5.5 points in the sixth round of the game, whereas Anubhav Tuknayat and Gitin Oberoi scored five points each in the final round.
In the girls category, Simranjeet Kaur (U-15) of Saupin's School, Sector 32, finished with 3.5 points and Tarini Goyal (U-9) of Sacred Heart, Sector 26, scored three points.
In the boys (U-9), Jaskeerat Singh Ahluwalia of DPS, Sector 40, emerged champion with 3.5 points.
Sachleen Singh, Anubhav Tuknayat, Gitin Oberoi and Tejas Nagpal will represent the city in the Sub-junior (U-15) Nationals for Boys, while Simranjeet Kaur, Arunima Goyal, Tanya Kaushal and Shivangi Raina are selected for the Sub-junior (U-15) Nationals for Girls to be held in New Delhi from September 4.
Jaskeerat Singh Ahluwalia and Pranay Garg have been selected for the National Championship (U-9) for Boys, while Tarini Goyal and Kashish Kaushal have been selected for the National Championship (U-9) for Girls to be held in Gujarat from September 30.
Point position (boys U-15): 5.5 points: Sachleen Singh; 5 points: Anubhav Tuknayat and Gitin Oberoi; 4.5 points: Tejas Nagpal; 4 points: Utsav Dutta, Priyansh Soni, Manish Mandal, Abhishek Aggarwal, Arsh Arora, Akshit Khungar and Amartya Bhattacharya; 3.5 points: Utkarsh Sidhartha; 3 points: Anmol, Lakshy Bhatia, Jashan Khurana, Brahmjot, Archit Gupta, Hritik Arora, Daksh Walia and Karanveer Singh Bhullar; 2.5 points: Abhinav Bansal, Gaurang Aggarwal, Randeep Singh, Sumat Singh Bedi, and Gurfateh; 2 points: Jaskirat Singh, Vasubh, Neelabh, Parth Mohan; 1 point: Nitin Garg, Abhinav Puwar, Arjun Trehan, Kashish Garg and Siddharth Kumar.
Girls (U-15): 3.5 points: Simranjeet Kaur and Arunima Goyal; 3 points: Tanya Kaushal; 2 points: Shivangi Raina, Shivika Jain, Kinam Gupta, and Arshjot; 1 point: Kritika Kapila and Kanika Sharma; 0 point: Nandini.
Boys and girls (U-9): 3.5 points: Jaskeerat Singh Ahluwalia; 3 points: Tarini Goyal, Pranay Garg, and Anhad Singh; 2.5 points: Kashish Kaushal; 2 points: Ishaan Singh, Jayesh Vij, Abhiroop Kaul, Shatik Dhawan, and Arushi Verma; 1 point: Jashanpreet, Shayiq Shah, Sidhart and Nipun Dhawan; 0 point: Aryan Mahajan.