What can go wrong ?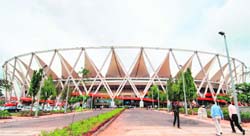 Jawaharlal Nehru Stadium.Photo: Manas Ranjan Bhui
Timing Clockwork precision is the hallmark of all mega events marketed for Television. But then we are not exactly known for teamwork or good timing.
Failure to control crowds A known weakness that requires to be overcome.
Delhi traffic It remains to be seen whether traffic hits the Games or the Games hit the traffic.
Infrastructure glitches Have faith in PWD, MCD and DDA engineers. Keep your fingers crossed.
Low turnout It would be a pity if the events are seen primarily by officials, securitymen and the media.
Rains Heavy rainfall in October is rare but cannot entirely be ruled out either.
Scramble for the spotlight Indian officials and politicians are known to scramble for photo-ops, for occupying seats reserved for others and jostling for a vantage position.
Power breakdown It would be embarrassing if power trips during the opening and closing ceremony.
Terror strike The most serious challenge is to foil attempts by sundry terrorists who may attempt to disrupt the Games and ensure safety for athletes and spectators alike.
Rude behaviour People in Delhi are not quite known for their gentle manners. And our 'culture' does not inhibit passing rude or racial comments, ridiculing people, making fun of them or taking them for a ride.
XIX Commonwealth Games
New Delhi
October 3 - October 14
17 sports disciplines
l CWG Organising Committee claims 26 new training venues have come up in preparation of the Games. 16 existing training venues are claimed to have been upgraded.
l The opening & Closing ceremony at the Jawaharlal Nehru Sports Complex with a capacity of 60,000.
l Tickets for the Opening Ceremony available for Rs 5,000, Rs 25,000 and Rs 50,000 (reserved seats).
l The Rs 1000 tickets for the opening ceremony are unavailable.
Delhi gets a facelift
l The Metro expansion to connect Gurgaon to CP ( Rajiv Chowk) to Pragati Maidan and the Jawaharlal Nehru Sports Complex.
l A four-lane , underground 2.2 Km stretch from Ring Road to cut travel time.
l 1,100 low-floor, AC buses to operate in the city.
l 20 new hospitals coming up.
l 9 new, automated car parks with capacity to handle 7,500 vehicles.
l 12 new flyovers being built.
l CP and Janpath acquiring a new look.
l Indira Gandhi International Airport now has a new and longer runway and the new Terminal 3 equipped to handle more passengers and baggage.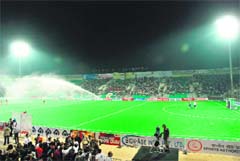 National Stadium:Photo: Mukesh Aggarwal
CWG Venues
l The opening and the closing ceremony will be held at the Jawaharlal Nehru Sports Complex with a capacity to hold 60,000 spectators.
l Athletics, weightlifting and Lawn Bowl events also to be held at JNSC.
l Thyagaraj Sports Complex, near the INA market, with a capacity for 4,494 spectators will hold Netball events.
l Indira Gandhi Sports Complex near Indraprastha Metro Station will host Gymnastics, cycling and wrestling with capacities for 14,348, 4000 and 6,932 spectators respectively.
l Dr S.P. Mukherjee Swimming Stadium near Patel Chowk to hold swimming and diving events. It will be able to accommodate 5,178 spectators.
l Boxing events are slated for the Talkatora Indoor Stadium, also near Patel Chowk.
l Major Dhyan Chand National Stadium with a capacity for 19,118 spectators will hold hockey events.
l Badminton and Squash events will be held at the Siri Fort sports complex with capacity for 4,748 and 3128 spectators.
l The Dr Karni Singh Shooting Range, near Kalkaji temple, will hold the shooting events.
l R.K. Khanna Tennis Complex near Green Park has a capacity for 5015 spectators.
l Table Tennis and Archery events will be held at the Yamuna Sports Complex near Karkardooma with a capacity for 4,297 ) TT) and 1,500(Archery).
OC Headquarters
Opposite Jantar Mantar, at CP, it occupies 9 floors and is designed to provide working space for 1,200 people. It has multi-level parking lots and 24-hour power back-up.
Police confident about CWG security
Sandeep Yadav
Tribune News Service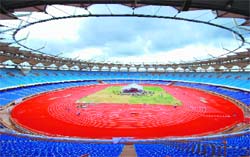 Jawaharlal Nehru Stadium. Photo: Manas Ranjan Bhui
New Delhi, August 1
If Delhi Police is to be believed, the security for the 12-day Commonwealth Games (CWG) in the national capital would be unparalleled with air patrolling, snipers and a four-layered protective cordon around the sports venues and the Games Village, making them virtually impregnable.
According to Neeraj Kumar, Special Commissioner (Administration) who is entrusted with security, 82,000 Delhi police personnel and around 20,000 security personnel from other paramilitary forces would be on guard during the games. Police officers believe that armoured cars, air surveillance and other security instruments, including Cargo Scanner, should secure the city.
"We are prepared for any eventuality," insists Delhi police commissioner Y S Dadwal. However, officials admit that the delay in completion of CWG projects has made their job of securing the venue a tad difficult as they would be left now with fewer days to do the job.
Protective cordon
While security officials generally avoid talking about the security details for obvious reasons, it has been made very clear by the Delhi police that Games venues, the Games Village, practice venues and parking lots along with Indira Gandhi International Airport (IGIA), where the athletes will arrive, will have a four-layered security cordon, "outer, middle, inner and exclusive" security zones.
According to Neeraj Kumar, at the outer cordon the traffic will be stopped and access will be controlled. At the middle cordon, security personnel will channelise the spectators to their designated seats while in the inner cordon, the barcode reading of tickets will take place and the spectators' photos captured. In exclusive cordon, each and every person would be frisked physically no matter who he is.
Security at Village
According to information available, entry of vehicles to the village would be checked by Radio Frequency Identification Code apart from Under Vehicle Scanner. "Even if a vehicle manages to break the barrier and rushes in, the Tyre Killers followed by Road Block would be there. Besides the CCTV cameras, Hand Held Metal Detectors and X Ray Baggage Scanner would be at every nook and corner," said a senior Delhi police official.
He also pointed out that apart from the usual security officials, the Chemical-Biological-Radioactive-Nuclear Explosion (CBRNE) Team would be at the village 24x7 to thwart chemical attacks. Besides, the Delhi police has also procured Cargo Scanner which will be used for the first time to check the cargo trucks and other big vehicles. According to Rajan Bhagat, Delhi police Spokesperson, the city police is also procuring three armoured cars which would ferry a Special Weapons and Tactics (SWAT) team around the city.
Air surveillance
According to police sources, there will be surveillance from the skies with the help of the Indian Air Force. "There will also be deployment of assault teams to thwart any attempt by terrorists. A sniper team will patrol the skies over the games venue during the action and any threat would be dealt with promptly," revealed a police official.
According to information, Terminal 3 at the IGIA has been earmarked for the exclusive use of athletes, officials and their families arriving in the country or leaving it. "Terminal 3 area would be manned by CISF personnel with additional support of snipers, Commando Strike Team, Foot Patrolling and various electronic gadgets to thwart any terrorist attempt.
A Quick Reaction Team (QRT) would be taking position at every 2 kms on route from the airport to the games village to tackle any emergency situation. According to information, the QRT would be placed at strategic places and would have ambulances and contingency plans of changing route in case of emergency situation during the transporting of athletes or officials.
Eyes on markets
As the possibility of the spectators, thousands of whom would arrive, being targeted by terrorists is always there, Delhi Police has installed CCTVs in 14 markets of the city and the exercise is undergoing at 29 other markets. Police would also guide players and officials about which markets they should visit.
No bullet-proof buses
According to Kumar, athletes will not be ferried in bullet-proof buses as demanded by Pakistan, which also raised some queries regarding security provided to VIPs at a two-day conference on Games security here. The officer underlined that Delhi police does not feel the need of having bullet-proof buses and we are capable of thwarting any untoward incident. Sri Lankan Cricket Team, it is worth recalling, was attacked by terrorists in Pakistan while on its way to stadium last year. But police officers do not appear unduly worried here.
Village could miss the deadline again
Located in the backdrop of Akshardham temple in East Delhi, the Games Village will host some 8,000 athletes, coaches and officials for a fortnight in October. But expected to be ready by March this year, the construction is still on.
Himani Chandel
Tribune News Service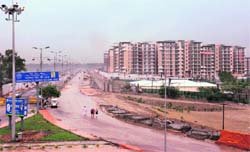 Commonwealth Games Village. Photo: Mukesh Aggarwal
New Delhi, August 1
It's a most unlikely village. It will have 1,168 ultra-modern premium apartments spread across 34 towers built over a total area of 27 acres of land with its inhabitants having access to some of the most modern amenities.
Welcome to the Commonwealth Games Village, the official address of the international athletes, delegates and coaches during the fortnight-long Commonwealth Games (CWG) starting on October 3.
The village, which is a part of complete infrastructural makeover of the national Capital, will house more than 8,000 athletes and officials during the Games.
Located in the backdrop of famous Akshardham temple in East Delhi, the village will be the hub of Commonwealth Games and is expected to be a big draw for tourists, largely because of its proximity to the temple.
It is being developed with a public private partnership between the Delhi Development Authority (DDA) and construction company Emaar MGF. It will be one of the key developments of this sporting event and will be a defining example of superior Indian skills and capabilities, a top DDA official said.
The proposal of the games village, which earlier had to go through stiff opposition from environmentalists who were against its construction for its allegedly hazardous consequences to the Yamuna, was given the go-ahead after judicial intervention.
"The village is going to be a landmark for Delhi. It will provide international standard facilities to athletes with features like tennis courts, half-court basketball, 30-metre lap pool with recreation bay, bubble pool and health club with fully equipped gym," said Anupama Chopra, the official spokesperson of the company. Close to the Yamuna sports complex, the village will host archery and table tennis events.
Delhi MLAs during the previous session in the Assembly had demanded from the government that they be allotted the flats once the games get over as many of them do not have a house of their own. The self-serving and clearly illegal demand of the legislatures was rejected by the government but MLAs, cutting across party lines, were firm in asking for the allotment. The apartments are likely to fetch astronomical prices once they are sold in the open market after the games.
"With more than 73 per cent greens and open spaces, the whole area will be landscaped with gardens, walkways and pathways and 2,500 tree saplings will be planted on the site. It will obviously command great interest among the high-end buyers," Chopra said.
However, the slow pace of construction is giving jitters to the state government and to the organisers. The village, which was expected to be ready by March 31, is still under construction. Though the Delhi government has set a fresh deadline of August 31 for the completion of all the games related work, the village could miss the deadline again.
On a recent visit to the village by Delhi Finance Minister AK Walia and several senior DDA officials, the pace of the work was found to be unsatisfactory. "There is a lot of work pending and much effort needs to be put in. The way the work is going on, I have doubts over timely completion of some of the projects," Walia had said.
"Things have improved since the last time we did inspection, but there is still a lot left to be done," he said.