Top Maoist among 8 extremists killed


CRPF's project head suffers brain stroke
Kolkata: CRPF Special Director General and head of the anti-Naxal operations Vijay Raman has been admitted to a hospital here following a massive brain stroke which resulted in a partial paralytic attack on his left side.
Official sources said the 1975-batch IPS officer of Madhya Pradesh cadre was admitted in the Apollo hospital here on Sunday after a brain stroke while visiting the Belur Mutt in Howrah district. — PTI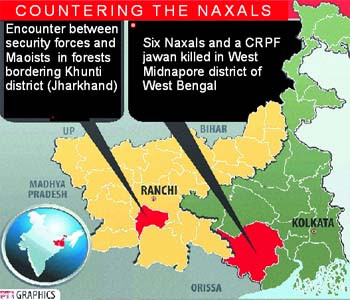 West Midnapore/Ranchi,
July 26
In a setback to Maoists, eight extremists, including a top leader and a woman, were gunned down today by security forces in two operations in West Bengal and Jharkhand.
Sidhu Soren, chief of the Sidhu-Kanhu Gana Militia-the armed wing of the Naxal-backed People Committee Against Police Atrocities (PCPA), was among six Maoists killed during the raid by CRPF and Special Action Force on a Maoist hideout in dense forests in Golatore area in West Midnapore, which also left a commando of the specialised anti-Naxal force SAF dead.
"We have found six bodies, including of a woman cadre and Sidhu Soren, chief of the Sidhu-Kanhu Gana Militia," West Midnapore SP Manoj Verma said. Soren, who was running the militia after the arrest of PCPA convenor Chhatradhar Mahato, was wanted in several cases of murder and kidnap, besides setting fire to the Lalgarh police station, Verma said, adding that the encounter stretched for four hours.
The police claimed that the Maoists were planning to attack a police station and a CPM party office.
Verma said the nearby Sarenga police station and a CPM party office in the area were marked on a map found from the encounter site. "It is certain that the Maoists had a definite plan to attack these two places," he said.
Special commando Ashish Tiwari, who was critically injured in the gunbattle, died while being taken to hospital. Another top Maoist Kundan Pahan, however, managed to escape during an encounter in Kunthi district of Jharkhand, which left two other Maoists dead. Khunti is the operational area of Pahan who Jharkhand police believes plotted the beheading of Special Branch officer Francis Induwar last October.
Security forces unearthed a Naxal camp following the fierce 12-hour encounter along the Ranchi-Khunti border and a "large cache of weapons and explosives" were recovered.
"Two Maoists were killed in the encounter," Deputy Inspector General of Police (Chhotanagpur Range), RK Mallick said. The bodies were, however, taken away by the Maoists.
The operation involving personnel from specialised state force for Naxal operation - Jaguar, CRPF and Special Action Force had begun yesterday following intelligence inputs about the presence of Pahan in the forests of Rabou village.
However, the encounter ended following heavy rains and security forces suspect Pahan escaped.
The police said one SLR rifle, one INSAS rifle, one 9 mm pistol, two .303, two 12 bore rifles, three country-made guns and a huge quantity of ammunition were seized after the encounter in West Midnapore. This was the second major success for the security forces within a fortnight. Earlier, on June 16 the joint forces had shot dead 12 Maoists, including three women cadre, at Ranja forest under Salboni police station in the same district.
Soren was also the secretary of the PCPA and was in the news earlier this year after he fell out with the political leadership of the outfit and spurned Railway Minister Mamata Banerjee's offer for talks. — PTI