Team with a mission

Artistes perform a street play at the Punjabi University in Patiala on Monday. Tribune photo: Rajesh Sachar

SAAWAN SPLASH:

A mother and daughter enjoy the swing in Rock Garden in Chandigarh. Tribune photo: Manoj Mahajan
Normalcy a tall ask at GMSH-16
Chandigarh, July 26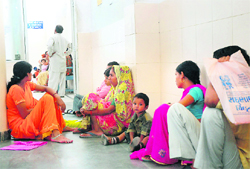 Doctors at the Government Multi-Specialty Hospital (GMSH), Sector 16, battling with the adverse comments of medical negligence for the death of a newborn recently, at the same time are also faced with an uphill task of maintaining normalcy, which seems impractical in the environs of overflowing patients.


Patients wait for their turn in front of doctors' room at gynae ward of the Government Multi-Speciality Hospital, Sector 16, Chandigarh. Tribune photo: S Chandan
Father-son duo held for duping bank of ` 5.47 cr
Chandigarh, July 26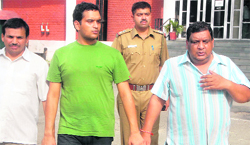 The Chandigarh Police today arrested a Mohali-based father-son duo on the charges of duping IDBI Bank, Sector 8, of ` 5.47 crore.





Rakesh Goel (right) and his son Vikas Goel in custody at the Economic Offences Wing of the Chandigarh Police in Sector 17 on Monday. Tribune photo: Vinay Malik
Kidnapping drama enacted
Mohali, July 26
A few days ahead of the marriage of her elder sister, a 23-year-old girl allegedly eloped with her boyfriend by enacting her own kidnapping drama. The couple reportedly wanted to marry against the wishes of the girl's family, as it was an "inter-religion affair".


F&CC meeting
MC non-committal on hi-tech parking lots
Chandigarh, July 26
The Chandigarh Municipal Corporation appears to be non-committal for setting up hi-tech parking lots. This follows the decision of the Finance and Contracts Committee (F&CC) saying that parking contractors will have to install automatic and semi-automatic system at parking lots at their own cost.
Night Food Street
MC to call bids for kiosks
Chandigarh, July 26
The Finance and Contracts Committee (F&CC) of the Chandigarh Municipal Corporation has decided to call sealed bids for five kiosks at the night food street.
Public Distribution System
Officials to be held responsible for anomalies
Chandigarh, July 26
After being in the news for the wrong reasons, the UT Food and Civil Supplies department is finally getting its act together to regularise the distribution of wheat flour under the public distribution system (PDS) to the above poverty line (APL) beneficiaries. According to officials, the new system would require the area Sub-Division Magistrate to keep and overall vigil on the distribution system and he would be responsible for anomalies.
Awareness on consumer rights growing
Chandigarh, July 26
With the number of cases being filed in the consumer courts growing, it can be said that the awareness quotient of consumers has risen. The foundation stone of consumer courts was laid in 2001. In the same year, around 445 cases were filed in the State Consumer Disputes Redressal Commission, which almost doubled in 2009 to 783.



Protesting scrap dealers, cops patch up
Chandigarh, July 26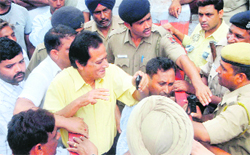 Scrap dealers in the Industrial Area who had accused the SHO of the area's police station of beating up five of their colleagues "amicably resolved" their dispute with the police today.




BJP leader Harmohan Dhawan among the protesting scrap dealers and cops at the Industrial Area police station in Chandigarh on Monday. Tribune Photo: Vinay Malik
10 tubewells to take more time to become operational
Mohali, July 26
It might take a few more months before the 10 tubewells being sunk in different parts of the city will get operational. With much fanfare, the state government had announced to bore 10 new tubewells that would bridge the gap between the demand and supply.
Storm water drainage, sewerage need upgrade
Blockage blues in Mohali
Mohali, July 26
As the Punjab government has been going overboard in marketing Mohali as the future destination, it has failed to upgrade the storm water and sewerage network of the town, that was conceived 35 years ago.
Stink in Panchkula areas
Panchkula, July 26
The storm water pipes, which are 38 years old, connected to sewerage in old sectors of the town, wreak havoc during the rains as the sewage water flows back from storm water drains during a heavy downpour.
Acute shortage of staff at complaint centres
Zirakpur, July 26
An acute shortage of staff at the complaint centres of the Electricity Department in Zirakpur has led to inconvenience to residents of the area.
Home Secy marks inquiry
Chandigarh, July 26
The recent booth sealing at Sector 41 by the officials of the UT Estate Office took a new turn today with Additional Deputy Commissioner (ADC) PS Shergill submitting a report to Deputy Commissioner Brajindra Singh against some officials of the police department.
Water Sports at Sukhna
Ignoring weed growth, Admn spends ` 22 lakh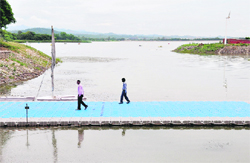 Chandigarh, July 26
At the time when the Sukhna lake is not ready for water sports because of low water level due to silt and weeds, the Chandigarh administration has spent a whopping Rs 22 lakh for laying a new asports jetty.




A view of the new rowing jetty surrounded by weeds at the Sukhna lake. Tribune Photo: Manoj Mahajan.
Boundary wall for Mansa Devi shrine complex
Panchkula, July 26
In order to thwart the attempts of the miscreants to trespass its property the Mata Mansa Devi Shrine Board (MMDSB) will construct a boundary wall around the shrine complex.
Third day of Chandigarh Theatre Festival
Chaos at entry to Tagore Theatre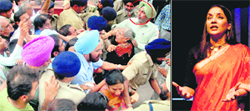 Chandigarh, July 26
There was total chaos at the main entry gate to the Tagore theatre today for over half an hour as theatre buffs and the general public resorted to slogan-shouting against the Chandigarh administration.
ADC PS Shergill (encircled) escorts a senior citizen caught in the rush at entry point of Tagore Theatre, where Bollywood actress and theatre personality Shabana Azmi (right) gave a performance in Chandigarh on Monday. Tribune photos: Vicky Gharu
Budding talent enthrals audience
Chandigarh, July 26
On the auspicious day of Guru Purnima a total of 17 budding singers and 10 dancers enthralled the audience during the semifinal round of the "Voice of Chandigarh" and "Dancer of Chandigarh" at the Randhawa auditorium here yesterday.
4-day camp for taxpayers
Chandigarh, July 26
The Income Tax department will set up a four-day camp at Rajasthan Bhawan in Sector 33 for the taxpayers living in Sector 26 onwards.


Vocational courses fail to lure students
Chandigarh, July 26
Array of vocational streams being offered in Class XI in various government schools have failed to lure city students, who are still opting for conventional arts, science and commerce streams.
Discrepancies in papers
Profs to be taken to task
Chandigarh, July 26
Reacting to consistent complaints of discrepancies in question papers, Panjab University has decided to take the professors concerned to task.
PU to have its ragging plan in place soon
Chandigarh, July 26
In bid to avoid any unwanted incident of ragging, Panjab University will conduct a joint meeting of wardens, student leaders and UT police officials to frame a action plan in this regard.
GCG-42 Girls bag top spots in PU exams
Chandigarh, July 26
Girls of Postgraduate Government College for Girls, Sector 42 (GCG-42), have bagged top positions in the annual examination conducted by Panjab University- 2010.