Rashtriya Rifles better option against Naxals?
Man Mohan in Bastar
Tribune news service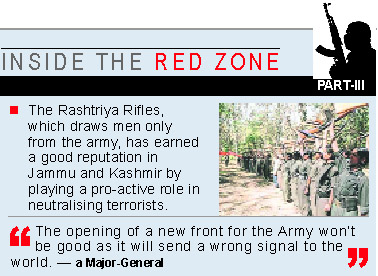 At a road-side tea shop before Sukma, 80 km from Dantewada in South Bastar, an ordinary sari-clad tribal woman, carrying a heavy-looking cotton sling bag, walked in. Everyone stopped talking. After 10-minutes, she got up, paid the bill and sharply looked at the only stranger, this correspondent, and walked out.
"Who was she?" this correspondent asked the non-tribal shop owner.
Looking both sides, in a low-tone, he said, "Naxal, sahib." Questioned, whether these Naxalites move around so freely, he whispered, "they are everywhere."
This indicate that peace will continue to elude picture postcard Bastar for long.
That it is going to be a long haul is evident from frank acknowledgement that Union Home Secretary Gopal K Pillai made during his recent two-day Chhattisgarh visit "It will take three to seven years to finish the red rebels."
Actually, doubts have started surfacing in the mind of high-ranking police officers, bureaucrats and people, including anti-Maoist tribal leaders, about the capability of the Central security forces.
Seeing their awful performance, the Naxal watchers are wondering whether the Centre should go for the deployment of only one aggressive para-military force, Rashtriya Rifles (RR) - if they have spare battalions - and do away with multiple security forces. None of them are trained and equipped to face the Maoists in a mobile or positional warfare.
The RR, which draws men only from the army, has earned a good reputation in Jammu and Kashmir by playing a pro-active role in neutralising terrorists.
The CRPF has suffered heavy casualties this summer. "Instead of getting scared," a police officer in Narayanpur said, "the Maoists are showing dare-devil attitude by taking them head-on."
In J&K and north-east, the CRPF and the BSF have remained pitted mainly against unorganised mobs on the streets. But in Chhattisgarh, fighting terrorism is a different ball-game. The Bastar battle zone is getting worse as the red rebels are raising an independent Brigade formation (about 4,000 to 5,000 men), based on military pattern, to fight a mobile or positional battle. The Maoists' surprise multi-prong attacks are making the forces incapable of rendering assistance even to each other.
"Both the CRPF and the BSF suffer from a historical (traditional) mindset. They deploy themselves for a 'holding' role rather than going for the 'area domination' role," a senior police officer in Jagdalpur explained. "Unlike the army," he observed, "they are not capable of moving forward to win back the territory occupied by the enemy.
In J&K jungles and hills, the RR commandos have proved their mettle. They ascertain the source of trouble, threat level and devise strategies to neutralise the enemy's firing positions. In Bastar, the para-military forces only try to secure themselves at their base when they come under fire.
Recently, in Nakulnar, 30 km from Dantewada, the Maoists attacked the house of a Congress leader-cum-contractor, Avdesh Singh Gautam. Simultaneously, they opened fire at nearby Kuankonda police station. About 100 CRPF men were also stationed there around midnight. No one stirred out to rescue Gautam, who, after two hours, managed to escape. The Maoists melted back into the forest when a CRPF reinforcement team was spotted by their lookouts moving from Dantewada at 3 a.m. "Unless and until, you create fear by eliminating the enemy, you can't succeed," said an army officer associated with the Naxal issue in an advisory role. "At present," he pointed out that "faceless Maoists are striking anywhere, any time at their own sweet will."
About the demand for the army's deployment to handle the red terror, a Major-General from New Delhi said, "The opening of a new front for the army won't be good as it will send a wrong signal to the world. We should not become another Pakistan fighting terrorism in every nook and corner of the country."