3 dead, 80 hurt in AP during protest over power project
Hyderabad, July 14
In a clash reminiscent of Nandigram tragedy, three persons were killed today when the police fired on a violent mob protesting against a thermal power project in Srikakulam district of Andhra Pradesh.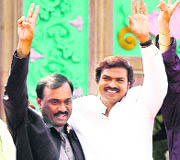 News Analysis
The great Karnataka mining scam
Bangalore, July 14
The impasse in the Karnataka Legislative Assembly could well be traced to the resignation of Lokayukta Santosh Hegde over the government's reluctance to check illegal mining.
Assembly adjourned for 3rd day
Bangalore, July 14
Pandemonium broke out in the Karnataka Assembly today after the Opposition raised the issue of alleged illegal mining scam leading to adjournment of the House for the day.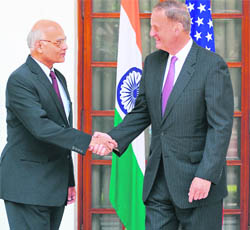 US National Security Adviser James Jones (R) shakes hands with his Indian counterpart Shiv Shankar in New Delhi. Jones is in India to chalk out the agenda for President Barack Obama's visit in November. — AFP
BJP concerned over Governor's 'activism'
New Delhi, July 14
While Karnataka Governor HR Bhardwaj briefed Union Home Minister P Chidambram here today of the "Illegal" mining activities of two powerful Karnataka ministers G Janardhana Reddy and G Karunakara Reddy, better known as Bellary brothers, a worried BJP core group expressed concern over the Governor's undue interest.
Bellary ministers to go on padayatra
Bangalore, July 14
In a retaliatory mode after attack from Opposition parties over alleged illegal mining, Karnataka Health Minister B Sreeramulu today said he and his ministerial colleagues — the Reddy brothers — would undertake a padayatra from Bellary to Mysore to "expose the misdeeds" of Congress and JDS.
HC reprieve for Khairlanji killers
Nagpur, July 14
Nearly four years after an angry mob lynched a Dalit woman and her three children in Maharashtra's Khairlanji village, the Bombay High Court today commuted the death sentence of six convicts to 25 years imprisonment and fixed a similar period for two others serving life term.

SC quashes MCOCA against Daya Nayak
New Delhi, July 14
The Supreme Court today quashed the charges framed against encounter specialist of Mumbai police officer Daya Nayak under the Maharashtra Control of Organised Crime Act (MCOCA).
NAC finalises food security Bill
New Delhi, July 14
The National Advisory Council (NAC), headed by Congress president Sonia Gandhi, today finalised the draft of the National Food Security Bill that recommends that subsidised foodgrains be distributed to everyone in 200 poorest districts in the country by April next year, thus setting a deadline for the UPA government for the introduction of this showpiece legislation.
US to look for WW-II debris in Arunachal
Guwahati, July 14
The United States government has been in touch with the Government of India and the Arunachal Pradesh government seeking cooperation for locating mortal remains, if any, of American soldiers and debris of aircrafts, which had gone missing in action during World War II.
Vaiko arrested for anti-Lanka protest
Chennai, July 14
MDMK leader Vaiko, who defied Tamil Nadu government's orders and tried to proceed towards the Sri Lankan Deputy High Commission demanding its immediate closure, was arrested today along with his supporters.
Belgaum Row
Thackeray threatens attacks on Kannadigas
Mumbai, July 14
Amidst reports of the Karnataka Government cracking down on Marathi protagonists in the border areas of Belgaum, Shiv Sena supremo Bal Thackeray warned of retaliatory attacks against Kannada-speaking people and their businesses in Mumbai and other cities.