Public distribution system to go 'smart card' way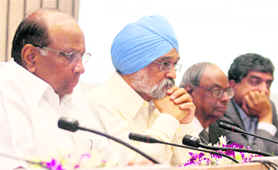 New Delhi, July 13
Gearing itself up to providing food to all and at affordable prices, the government today adopted key resolutions at the conference where food secretaries of all states were present. "Smart card" and other information technology initiatives will be given priority. This will include rapid, but phased, roll out of IT initiative in the public distribution system (PDS).
(From Left) Agriculture Minister Sharad Pawar, Deputy Chairman of Planning Commission Montek Singh Ahluwalia; MoS for Agriculture KV Thomas; chairman of Economic Advisory Council to Prime Minister C Rangrajan at a conference on public distribution system in New Delhi on Tuesday. Tribune photo: Mukesh Aggarwal

TN, Karnataka can exceed 50 pc quota cap, rules SC
Asks both states to collect data to revisit reservation issue
New Delhi, July 13
The Supreme Court today allowed Tamil Nadu and Karnataka to offer reservation in education and jobs beyond the 50 per cent cap, provided they had "quantifiable data" on the BC/OBC population warranting this. The move is expected to have a cascading effect. Ruling parties in other states are likely to hike the percentage of reservation in order to retain the support of their vote banks.
Artillery gun purchase stalled again
New Delhi, July 13
The much delayed purchase of crucial artillery guns, which will replace the existing lot of around 20-year-old Bofors guns in the Indian Army's arsenal, has been stalled yet again.
NMDC complex safe, claims police
Bacheli (Chhattisgarh), July 13
The mines and sprawling complex of India's single largest iron ore producer and exporter, National Mineral Development Corporation (NMDC), in the Dantewada district here is completely safe. According to the police, the CISF personnel on Monday night challenged a group of suspected Maoists, who were seen near the complex. However, the Naxals fled when they came under fire.
Major killed, Col hurt in J&K encounter
Jammu, July 13
An Army Major was killed and six other personnel, including a Colonel, were injured in Mandhar sector of Poonch in an encounter tonight with suspected Lashkar-e- Toiba terrorists.
Cops clueless on UP blast
Lucknow, July 13
More than 24 hours after the blast in Allahabad killing one and critically injuring five others, including a cabinet minister, the state police is clueless about the kind of explosive used, the detonating technique or the motive behind the crime.
Protest over Dalit cooking mid-day meal
Lucknow, July 13
An FIR has been lodged against more than 12 persons under the SC/ST Act and other related sections of the IPC for creating ruckus at a government primary school in a Kannauj village. The accused were protesting against the mid-day meal being prepared by a Dalit cook.
No asylum to ex-US Navy officer: Centre to SC
New Delhi, July 13
India will not grant political asylum to Jeff Knaebel, a former US Navy officer involved in the Vietnam war, but would consider granting him citizenship, the Centre has informed the Supreme Court.