PUNJAB
HARYANA
JAMMU & KASHMIR
HIMACHAL
REGIONAL BRIEFS
NATION
OPINIONS
LETTERS
BUSINESS
SPORTS
WORLD
W O R L D
Church of England paves way for women bishops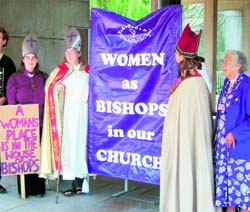 Final vote still needed, a milestone nonetheless
London, July 13
After much debate and controversy, the Church of England has decided to allow women to become bishops in the next two years.

Traditionalist Anglicans wanted restrictions on the authority of female bishops but were defeated at the meeting at York University.
YMCA gets a new name: 'the Y'
Boston, July 13
Nonprofit organisation YMCA, short for Young Men's Christian Association, is dropping the last three letters from the acronym and will now be known as just 'the Y'. Individual locations will still be referred to as YMCAs.
Twin attacks kill 74 in Uganda
July 13, 2010
Parties fail to name new PM
July 12, 2010
Zardari: Won't hand over suspects to India
July 11, 2010
65 killed in Pak suicide attack
July 10, 2010
Pak, Beijing ink 6 pacts
July 9, 2010
Pak: Deal with China inked in 2009
July 8, 2010
Pak Punjab bans 23 militant outfits
July 7, 2010
Hillary vows support for Georgia
July 6, 2010
India, China discuss joint projects in Afghanistan
July 5, 2010