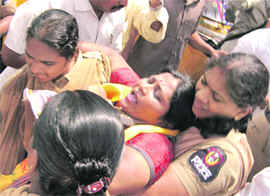 Police personnel carrying away one of the TDP activists who was protesting the arrest of party chief N Chandrababu Naidu, in Hyderabad on Tuesday. — PTI

M'rashtra charters plane to 'forcibly' fly back Naidu & Co
Aurangabad, July 20
Amid a high-voltage drama, a defiant TDP chief N Chandrababu Naidu was put on a special aircraft and flown back to Hyderabad with his supporters this evening after Maharashtra government withdrew cases against them in connection with their protest on the Babhli dam issue.
Price rise issue comes in the way of MPs' salary hike
New Delhi, July 20
Finding itself in the dock over the price rise issue, the UPA is all set to dilute the report of a Joint Parliamentary Committee that recommended a five-fold hike in the salaries of MPs from Rs 16,000 to Rs 80,000 along with a substantial raise in other allowances. A formal decision is still awaited but UPA sources indicated that the allowances paid to the MPs were unlikely to be changed though the monthly salary was expected to be pegged at Rs 50,000, far less than the committee's proposal.
Hockey player alleges sexual harassment
New Delhi, July 20
Indian Hockey was rocked by a fresh controversy today with a member of the women's team sending a written complaint alleging sexual harassment against one of the coaching staff. She alleged that one of the coaching staff had asked for sexual favours and used vulgar language during a recent Canada and China tour.
NHRC seeks report on infected blood to thalassaemic kids
Jaipur/Jodhpur, July 20
Taking a serious note of media reports regarding thalassaemic children being subjected to infected blood in Jodhpur, the National Human Rights Commission (NHRC) issued notices to the Principal Secretary, Health and Family Welfare, Rajasthan, calling for a report in the next four weeks.
Free-for-all in Bihar House

Patna, July 20
The Bihar Assembly on Tuesday virtually turned into a battlefield with members of the ruling NDA and opposition parties throwing table and chairs on each other. They also came to blows in presence of the Chief Minister and the Speaker of the House. Some MLAs also sustained injuries. Despite adjournment of the House till Wednesday, the RJD and LJP MLAs continued their dharna in the well of the House till evening.
NDA legislators hold placards during a protest against price hike outside the Bihar Assembly in Patna on Tuesday. — PTI

Monsoon Session
'Saffron terror' may split Oppn
New Delhi, July 20
The Opposition unity on price rise witnessed during the Bharat Bandh on July 5 may be missing in the coming monsoon session of Parliament, thanks to "Saffron terror." Another issue which may unite most of the non-NDA parties against the BJP this session is the charge of "illegal mining" against Bellary brothers, ministers in the Karnataka government.
DRS Chaudhary new MHA spokesman
New Delhi, July 20
In what may seem like an obvious fallout of the failed Indo-Pak dialogue, the high-profile Ministry of Home Affairs has made some key changes. The ministry, which has virtually been calling the shots on several issues, today appointed Additional Secretary DRS Chaudhary as the spokesman for the Ministry.
Lankan Tamil MPs meet Karuna
Chennai, July 20
A delegation of Tamil MPs from Sri Lanka that met Tamil Nadu Chief Minister M Karunanidhi today complained that Sinhalese people were being settled in the Tamil areas and appealed to him to stop this scheme by the island government.
Former AG Banerji dead
New Delhi, July 20
Former Attorney General Milon Kumar Banerji passed away this morning at Apollo hospital here, family sources said. The former AG had suffered a stroke in December 2009 and since then he was not keeping well, they said. Banerji breathed his last around 3:30 am at the hospital. He was 82.