PM panel to draft plan to boost farm growth
New Delhi, July 30
The Prime Minister-appointed committee on agriculture today decided to come up with an operational plan to achieve higher growth in the farm sector through private sector involvement.
House panel gives green signal to CrPC amendment
Police will have to tell in writing why or why not it is arresting a person
New Delhi, July 30
After discussing it for 12 months, the Parliamentary Committee on Home Affairs today gave its nod to a crucial amendment to the laws. This will make it binding on the police to tell the reason in writing before arresting a person and conversely, record in writing why it was not arresting a particular person, who may have been an accused.
Cabinet okays 65 as retirement age of HC judges
New Delhi, July 30
The Cabinet today approved a Constitution amendment Bill which seeks to raise the retirement age for High Court Judges from 62 to 65 as part of the measures to deal with the problem of mounting number of pending cases, placed at over 30 million, and the vacancies of HC Judges.
Justice Dinakaran shifted to Sikkim High Court
New Delhi, July 30
Controversial Karnataka High Court Chief Justice PD Dinakaran, facing impeachment in Parliament following allegations of corruption, was today shifted to Sikkim.
Get ready to pay user development fee at Trivandrum, Ahmedabad airports
New Delhi, July 30
It is a decision that is not expected to bring much cheer among air travellers. However, after Amritsar, Udaipur Vizag and Trichy, air passengers should get prepared to pay user development fee (UDF) at Trivandrum and Ahmedabad airports as well.
CEC for restricting role of money power
New Delhi, July 30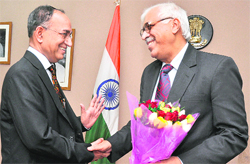 Minutes after assuming charge as the Chief Election Commissioner, SY Quraishi today said the Election Commission would accord priority to restricting the role of money power in elections.


Newly appointed Chief Election Commissioner SY Qureshi (R) is greeted by Election Commissioner VS Sampath at his office in New Delhi on Friday. Tribune photo: Mukesh Aggarwal
PCI: Amend poll laws to check malpractices
New Delhi, July 30
In a bid to check the phenomenon of "paid news", the Press Council of India (PCI) today recommended among other things amendment to election laws to declare any payment for publication of news as a corrupt practice.
Poll panel derecognises RJD as national party
New Delhi, July 30
Lalu Prasad's Rashtriya Janata Dal (RJD) has been derecognised as a national party by the Election Commission, a decision that comes ahead of the assembly polls in Bihar.
Sohrabuddin case probe may go beyond Shah, SC told
CBI may seek transfer of case outside Gujarat
New Delhi, July 30
The CBI, which recently arrested former Gujarat Home Minister Amit Shah in the case relating to the killing of Sohrabuddin Sheikh in 2005 allegedly in a fake encounter by the state police, filed its status report in the Supreme Court today.
Get ready for Aug-Sept splash
New Delhi, July 30
There has been a major turnaround in monsoon rains so crucial for India's agriculture-dependent economy. In fact, monsoon rains are now expected to be better than the earlier forecast for the remaining season across the country. However, north-eastern parts may end up being deficient.
Games Work
Book MCD officials: CVC
New Delhi, July 30
The Central Vigilance Commission (CVC) has asked the CBI to register a corruption case against certain MCD officials in connection with irregularities in a tender issued for a Commonwealth Games project worth several crores.
Strike costs I-T dept ` 1 cr a day
4,000 employees of the region on strike since July 20
Chandigarh, July 30
The North West Region's Income Tax Department is losing nearly Rs 1 crore revenue from tax collection every day since July 20. The functioning of the hyperactive department -- in the limelight for pursuing celebrity cases like those of Preity Zinta, Ness Wadia and Yuvraj Singh - is crippled due to the ongoing agitation by Group B, C and D employees, which include assistant and deputy commissioners.
Rahul Mahajan in eye of storm again


Mumbai, July 30
Rahul, the controversial son of the late BJP leader Pramod Mahajan, is in the eye of storm again after his wife Dimpy accused him of assaulting her. While talking to mediapersons here, Dimpy claimed Rahul beat her up on Thursday morning. She also showed bruises allegedly inflicted by Rahul to a tabloid. Dimpy, who married Rahul on a television show earlier this year, alleged that she was beaten up over a text message received on her mobile.
Jammu girl, too, accuses him of immoral conduct
Jammu, July 30
Rahul Mahajan, who has been accused of beating his wife, got into further trouble when a city based girl, Sonia, accused him of immoral conduct and behavior.
Five CRPF men killed, 44 hurt in blast
Guwahati, July 30
Five personnel from the Central Reserve Police Force (CRPF) were killed and 44 others injured when militants from the banned United Liberation Front of Assam (ULFA) detonated a blast targeting a bus carrying CRPF men along the road at Bhalukdubi inside Salbari Reserve Forest in Goalpara district of western Assam this morning.