Knot so true

While reality shows are playing the cupid, making dulhas and dulhans out of participants, the question is how real is the bond?
It was a national marriage; two people dipped in love and wrapped with mush. The channelwallahs got TRPs, the media got 'breaking news' and Rahul got his dulhaniya.Four months on, another breaking news. 'There were bruises on her shin, right and left hand, while her left cheek was swollen.

Rakhi Sawant with Elesh Parujanwala

Avian flew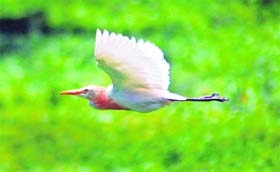 This bird in full flight was captured by Tribune lensman S Chandan
'Shauq' treatment
A usual stand-up comedy show looks like this: A handful of talented and 'not' so talented comedians cracking jokes or 'poor' jokes, and a panel of three judges who might or might 'not' have an understanding of the difference between intelligent or 'dumb' comedy.
Saga of pain
Veteran theatre director, who has also acted in over 60 plays, Charan Dass is one of those accomplished artistes who believe in doing things differently.
Spade work
Down to earth
A good gardener knows about proper placement of plants. Random planting does not work, so it has to be the right plant at the right place. For this, it is important to have a thorough knowledge about the growth and other features of the plant.
Pressure point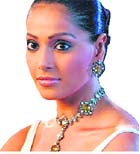 Dealing with work pressure may not be everyone's cup of tea, but actor Bipasha Basu admits that's just what has been driving her through her nearly decade-long career in Bollywood. "When I started out, I was called this unconventional, dark, tall and sexy woman, and these were taboo for being a film actor at that point of time. I had to deal with all that," Bipasha said."There was also a point six years back when people said - 'Bipasha is fat'. So for me it's been a growth with all these pressures, and yes, I do play very well under pressure," she added.
Berry brave


Hollywood actor Halle Berry will be seen battling with great white sharks in her new film Dark Tide.The 43-year-old star was seen wearing a flowered bikini and a black wetsuit as she prepared to get into a shark cage in Seal Island, False Bay in South Africa while filming a scene for the upcoming thriller.Berry looked relaxed as she talked to the director before filming scenes alongside great white sharks. She is expected to get into the shark cage and dive among the creatures.In the film, Berry plays the role of diving instructor Sara, who faces the difficult decision of getting back into the water following a near-fatal great white shark attack.
Fan club
Basking in the success of his latest outing Once Upon A Time in Mumbaai, Bollywood actor Emraan Hashmi can't stop smiling, but more than that he is raving about his seasoned co-star Ajay Devgn in the movie.
Girly talk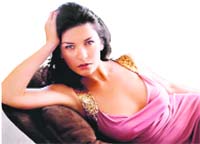 She may have an image of a Hollywood diva but actress Catherine Zeta-Jones admits being 'goofy and girly', when she is away from cameras.The America's Sweethearts actor who has children Dylan (9) and Carys (7), with husband Michael Douglas admits that while a lot of people think assume she is confident and glamorous, she can actually be a complete 'goofball'.The 40-year-old star said, "I am strong-willed, which can be annoying sometimes. And from that I think people assume I have confidence and Hollywood glamour and all that stuff, when actually, in my personal life, sometimes I'm just a goofball.
Different take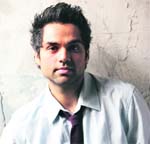 At the beginning of his Bollywood innings Abhay Deol was not perceived successful as his films failed to click at the box-office but the actor says initial roadblocks helped him take further risks in his career.Abhay, who will be seen in a romantic role in Aisha after his debut film Socha Naa Tha in 2005, says he had set rules for himself before stepping into the world of Bollywood, which helped him avoid stereotypes."My plan was to begin with a film like Socha Na Tha and then in films like Ek Chalis... or Manorama. It was unfortunate that my earlier films flopped at the box office.
Road to globalisation
Having worked in movies like Bricklane and Road Movie, Bollywood actor-director Satish Kaushik is itching to work more in the global cinema space.
Bong Connection
Bollywood actress Sonam Kapoor, who is busy promoting her upcoming moving Aisha, says Bimal Roy is her most favourite director and expressed her willingness to work in a Bengali film if she gets a good script."I would love to work in a Bengali movie if I am provided with a good script. Most of my favourite directors are Bengali. One of my most favourite directors is Bimal Roy," she said.
Kruger cuts her beau's hair
Hollywood actress Diane Kruger has revealed she cuts her boyfriend Joshua Jackson's hair and insists she nearly always does a good job.
World wide cinema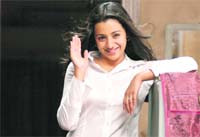 Actress Trisha Krishnan, the latest star from down south to debut in Bollywood, aspires to use this platform to reach the global audience."I am looking forward for international recognition through Bollywood, which caters to wider audience across the globe. I want to slowly and gradually make a mark in this industry as well," the 27-year-old said. Trisha, who debuted in Bollywood with Priyadarshan's Khatta Meetha as Gehna Ganphule, has done 35 South Indian films in last seven years.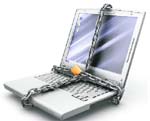 Mind the bug
Cyber crime, undoubtedly, is the sour side of the sweet fruit called technology
It is next to impossible to enjoy something without caring two hoots about the flip side. It is the law of nature; everything comes in a combination — good and bad (the most overrated and philosophically accepted combination), day and night, Salman Khan and Aamir Khan (they made it to the list as well!).
4G world
Fourth generation technology - 4G - is all set to provide voice, data and streamed multimedia to users on an anytime, anywhere basis, and at higher data rates than the current generations allow. Objectives for 4G include wired and wireless technologies capable of providing 100mbps and 1gbps speeds, both indoors as well as outdoors. 4G will succeed the current 3G WCDMA/HSDPA/HSUPA technology.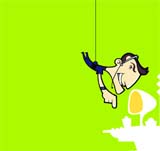 Bits about Bytes
RIP online privacy
Is nothing private online any longer? I am sure there is, but two major blows were struck to the perception of online privacy recently, and we should all take note of these events because they have, rather should have, a lot of impact on our lives.Wikileaks (http://wikileaks.org/) came online in 2006. An Australian, Julian Assange, runs this international organisation that publishes leaks of documents that are not available otherwise.