Just a few days after a truck got stuck on a road near Sector 34 as it caved in; (right) another vehicle faced similar predicament due to improper repair of a road following digging work near the Tribune Chowk in Chandigarh on Monday. Three other vehicles were trapped in a similar way as UT authorities failed to act. Tribune photos: Manoj Mahajan
Caught in Red Tape
Two yrs gone, no water at Air Force complex
Chandigarh, August 2

The Air Force is powerless in the face of red tape at the Chandigarh Municipal Corporation as houses meant for its personnel in Sector 31-B have not got water connection even after two years.




Flats meant for Air Force personnel have been lying vacant for two years as there is no water connection at Sector 31-B, Chandigarh. Tribune photo: Manoj Mahajan
Mohali to get 40 mgd more
Mohali, August 2
Punjab Government has asked the Greater Mohali Area Development Authority (GMADA) to lay the water supply line under the phases V and VI of the Kajauli water works supply project.
Veggie prices hit the roof
Chandigarh, August 2
The prices of vegetables have soared in the last two days due to rain over a couple of days. A survey at various places in the city revealed that the prices of a majority of vegetables have gone up by 25 per cent.
GMSH staffers to appear at ADC office
Chandigarh, August 2
Inquiring into the death of a newborn at the Government Multi-Specialty Hospital (GMSH), Sector 16, UT Additional Deputy Commissioner (ADC) PS Shergill and the Director-Principal of the Government Medical College and Hospital, Sector 32, Dr Raj Bahadur, asked staff members in question to appear before them at the ADC's office.
Injecting drug users, beware of HIV
Prevalence way above average
Chandigarh, August 2
Unlike some states, AIDS has not yet made inroads in Chandigarh and Punjab, but analysis of the data available reveals that the prevalence of HIV is high among injecting drug users in Chandigarh and Punjab, which at 26.1 per cent, is way above the nationwide average of 9.19 per cent.
Health food for diabetics
Chandigarh, August 2
Launching the health food Diabex, former Union minister Harmohan Dhawan claimed today that it would help patients suffering from diabetes lead a normal life.


CITCO courts controversy again
Creation of electronic data processing manager's post
Chandigarh, August 2
The Chandigarh Industrial and Tourism Development Corporation (CITCO) seems to be courting controversy yet again.


CONFINED BEAUTIES

Painted storks in a cage at the Chhat Bir zoo. Tribune photo: Vicky Gharu

OCCUPATIONAL HAZARD

Boys search for coins and other valuable items dropped into the Ghaggar for religious reasons at Panchkula on Monday. Tribune photo: Nitin Mittal
Patil takes up 58 complaints at public hearing session
Chandigarh, August 2
Giving sympathetic hearing to all 58 complaints appeared in the public hearing session today, UT Administrator Shivraj V. Patil disposed of 35 complaints on the spot and remaining were marked to the departments concerned to examine and report.
Councillor seeks cancellation of contract
Mohali, August 2
A municipal councillor has appealed to the Mohali civic body to cancel the contract or direct the contractor concerned to replace security gates as per specifications, and also arrange security guards, failing which the contractor would be compelled to go to court in the interest of the public.
Absence of bus stand harasses commuters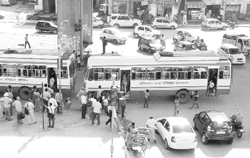 Zirakpur, August 2
Despite being one of the gateways of Punjab to City Beautiful, a bus stand is still missing in Zirakpur. In the absence of a bus stand and shelter, passengers are forced to get buses from the roadside on the Chandigarh-Ambala highway, putting them to inconvenience during scorching summer and rain.

In the absence of a bus stand, commuters face inconvenience at the Zirakpur-Kalka road. Tribune photo: Nitin Mittal
Suicide bid by GMCH laboratory technician
Struggles for life at AIIMS in New Delhi
Chandigarh, August 2
The laboratory technician with the Government Medical College and Hospital (GMCH), Sector 32, who attempted suicide, was now struggling for life at the All-India Institute of Medical Sciences (AIIMS), New Delhi.
No relief for complainant after 8 yrs
Chandigarh, August 2
In a case of delay in justice, a complainant has been waiting to get compensation for the last eight years, with nothing going in his favour. Kishori Lal Sharma had sought compensation from a housing society which had not allotted him a plot. He had filed an execution in 1998 on the basis of orders pronounced against the housing society, wherein others had got compensation. He did not file a separate complaint and sought compensation on the basis of relief provided to other complainants in a similar case against the housing society.
City resident awaits refund
Chandigarh, August 2
A city resident, who had applied for a plot at Faridabad, was awaiting refund from the Haryana Urban Development Authority (HUDA) for the last month and-a-half.
Duty hours refrain cops from higher studies
Chandigarh, August 2
Tiring duty hours and high stress is keeping the in-service UT police personnel away from higher studies.


Nine months on, no solution in sight
Chandigarh, August 2
Nine months after touts were caught red-handed buying forms meant for private candidates at Panjab University; a solution is yet to be worked out to tide over the problem.
Pay scale was revised: Admn tells CAT
Chandigarh, August 2
Replying to the application filed by guest teachers before the Central Administrative Tribunal (CAT) who had objected to the recruitment of fresh teachers, the Chandigarh administration stated that it had revised the pay scale of teachers before seeking fresh appointments.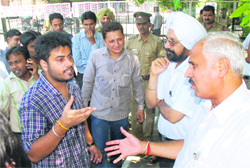 Students abhor joint placements
Say huge difference in ranks
Chandigarh, August 2
Students of the Akhil Bhartiya Vidhyarthi Parishad (ABVP) today protested outside the Vice-Chancellor's office against the joint placement drive carried out by the University Institute of Engineering and Technology (UIET) and Swami Sarvanand Giri, Panjab University Regional Centre, Hoshiarpur.
Prof Naval Kishore tries to pacify ABVP activists at Panjab University on Monday. Tribune photo Pradeep Tewari
Navdeep is PUTA vice-president
Wins unopposed
Chandigarh, August 2
Pro-BJP candidate Navdeep Goyal of the department of physics is the new vice-president of the Panjab University Teacher's Union (PUTA).