Women to get permanent commission in Army: Govt
New Delhi, August 2
Serving women army officers won their first round of legal battle with the government today assuring the Supreme Court that it would consider giving them permanent commission in legal and educational branches.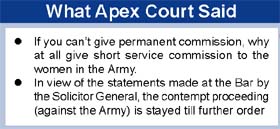 However, the officers demanding permanent commission in combat, infantry and other wings of the Army will have to wait for a longer period to get this recognition.
Seven years after the protracted legal battle, the government, which was at the receiving end in the apex court, gave an undertaking that women serving officers of Short Service Commission will be considered for permanent commission in the Judge Advocate General (JAG) and educational branches of the Army.
The undertaking in this regard, which stated that the exercise would be completed within two months, was submitted by Solicitor General Gopal Subramanium before a Bench comprising Justices JM Panchal and Gyan Sudha Mishra.
The Bench recorded the undertaking that said, "The Solicitor General on instruction states that women short service commission officers in service shall be considered for permanent commission in the JAG and educational branch of the Army." The court also recorded the undertaking that the case of Major Lina Gurung, a short service commission officer, who is retiring in August, will be considered on priority, subject to requirement.
After the SG gave the undertaking, the Bench stayed contempt proceedings against the Army till further orders for not complying with the Delhi High Court directions to grant permanent commission to women serving in the armed forces.
"In view of the statements made at Bar by the Solicitor General, the contempt proceeding is stayed till further order," the Bench said.
In all, there are 2,200 women officers including 1,200 in the Army, 750 in the Air Force and 250 in the Navy, according to Defence Ministry figures.
The Bench asked the government to file an additional affidavit, elaborating the nature of duties assigned to the officers getting permanent commission.
The court said after receiving the details from the Army, it would further examine the issue of permanent commission to women Army officers.
Earlier, as soon as the proceedings began, the Bench said, "If you can't give permanent commission, why at all give the short service commission to the women in the Army." The Bench said, "Why do you give short service commission at all, if you don't find them eligible for permanent commission. Why then in the Air Force, the permanent commission is given?" Subramanium replied that permanent commission was given in the Air Force as the women officers were not asked to be in a combat position.
The Bench wanted to know if no women officer had ever been sent to the battlefield so far. — PTI