The armed forces are short of 14,244 officers, as stated by Defence Minister A.K. Antony in Parliament. As the security environment throws up huge challenges, manpower issues continue to plague the armed forces, especially the officer cadre and some technical trades. The need to attract talent to maintain the forces' cutting edge cannot be over-emphasised.
Inadequate numbers blunt the cutting edge
Brig Santokh Singh (Retd)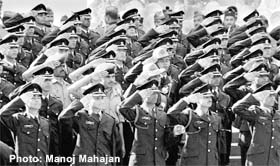 Shortage of officers in the armed forces, particularly the army, which besides fighting six wars (including Sri Lanka) after the Partition, has been constantly involved in internal security duties is a matter of serious concern.
Compared to other government establishments and the private sector, service conditions of the armed forces, which continue to receive step motherly treatment, are a lot more strict and difficult. Even the Supreme Court has opined that the government treats them as beggars. No wonder, therefore, that the well informed youth of today are not attracted to donning the military uniform, the prestige and love for it having considerably waned. A number of academies that came up in the 50s and 60s to train aspirants for getting a commission in the forces, have closed shop for this reason.
Against authorisation of 23 officers, infantry units, for example, are having a posted strength of only 10 officers. Considering officers on courses, leave or temporary duty, those actually present in a unit at any one time are just five of six. This adversely affects administrative and training commitments. The situation gets accentuated for units deployed in operational areas like J&K.
Substantially increased authorisation of 48 junior commissioned officers (JCOs) in a battalion is a welcome step to create more avenues of advancement for the ranks. For active operations, however, old, slow, less educated and less adventurous JCOs, at the fag end of their career, cannot fill the void in frontline leadership provided by young, dashing and adventurous officers. This is amply borne by the number of officer casualties during anti-terrorist operations. A colonel from 18 RR killed in June, a lieutenant colonel from of 37 RR injured on July 13, a major killed on July 14 and another major injured on July 15 are recent instances.
As a tool of the government, the army is used in aid to civil authorities for all sorts of jobs, ranging from rescuing children from bore wells to combating natural calamities. It is now being considered to fight Maoists, which will further add to the demand on officer leadership for operations in a number of the Maoist affected states.
Yet, the government seems to have a "chalta hai" attitude about the shortage of officers, perhaps in the belief that a conventional war with potential adversaries is a remote possibility. In this context, the leaders could do well to refer to erstwhile Deputy PM V. Patel's letter of November 7, 1950 (mentioned in Unsung Battles of 1962) to the Jawaharlal Nehru, wherein giving a detailed visualisation of China's long term designs in the region, he emphasised the need for preparing the country for a military threat from that quarter. Twelve years later in 1962, we got a rap from China, the obvious reson of which was the scant attention paid to his assessment and warning.
The contents of that letter are all the more relevant now with resurgent China's emphatically increased assertions of its interests in Tibet, Arunachal and Ladakh, as also for its multifaceted collusion with Pakistan to change the balance of power with India. As regards Pakistan, its foreign minister Quereshi's consultations with Pak army chief a day before the July 15 meet at Islamabad and later his arrogant conduct during parleys, allegedly on behest of Gen Pervez Kayani who has now secured a three-year extension, represents the extent of the army's predominance in that country.
Again, it is chiefly for the doings of its army that Pakistan has positioned itself as indispensable to the two world powers. To match this strategic success, the Pakistani army, having received massive US military aid may undertake any Kargil-like adventure to try and wash the stigma of its successive military defeats at India's hands. The ISI sponsored 26/11 strike in Mumbai may well be a feeler to gauge our capability and will to strike back in reprisal.
As such, armed conflicts with our neighbours caused by a Mumbai like provocation or other geo-political reasons are a distinct possibility. In any case, the best way to avoid a war, as the saying goes, is to be prepared for it. The capability to hit or to hit back well, despite all what we possess in terms of armaments and equipments, calls for requisite leadership and that too in adequate numbers at the cutting edge of the armed forces.
Unit commanders, as the proverbial wearers of the pinching shoes, should not just serve time to somehow complete their tenure of appointments, but formally represent in black and white about the shortages of officers. Such representations should then be processed up the channels for the services chiefs to ring the bell and ring it well in the concerned quarters to impress upon the government to make the armed forces effectively strong and kicking at the delivery ends. As a military power to count in the region, besides befitting our rising prestige and place in the international polity, we would certainly dissuade the adversaries from offending us at will.
The need, therefore of attracting the aspiring youth to the armed forces by ensuring the warranted adequacy of pay, perks, pension and above all prestige for defence officers to be seen, heard and held in respect, cannot be over emphasised