Essence of ayurveda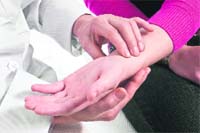 For thousands of years a large number of people in our country have relied on the kitchen garden or home remedies to cure diseases — aloevera gel for headaches and fever, ginger for colds and sore throats, haldi, tulsi, neem as well as several other herbs and plants. These natural remedies that continue to be used today, originate from an ancient medicinal tradition in India dating back some 3,000 years. Ayurveda which comes from the two Sanskrit words, 'Ayur', meaning life, and 'Veda', meaning knowledge of life, and is based on the principle that the five elements — Earth, Water, Energy (Tej), Gas (Vayu), and Space — are occupying the body internally and externally.
'An extremely satisfying career'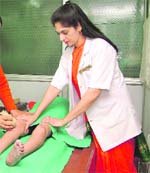 Ayurveda offers a very satisfying career both monetarily as well as work satisfaction wise, says Dr Ajayita Chanana, who runs the Charak Ayurvedic Panchkarma Clinic in Chandigarh. She has been in the field for the past 12 years and has cured hundreds of patients through the traditional panchkarma method. Ayurveda treatment is much more than mere massages and yoga forms. "Here we diagnose a patient through constitutional analysis, and analysis is done on the bases of three pillars prevailing inside the body.


Dr Ajayita Chanana


RJ track

Course in criminology

Tough road

Maths with science, a good option
Careercature
Sandeep Joshi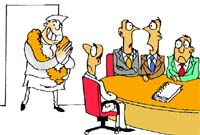 You should not have added the words "the candidate should be a leader in his field" in the ad for this job.

FOOD for THOUGHT
Silence the critic within
How many of us are tormented by a voice within which criticises and rebukes everything we do, are about to do or plan to do?This entity residing within us is constantly engaged in monitoring and evaluating us, our conduct, our performance, and passing judgements.
Course chat
MSc in Clinical Research
After the approval of the Foreign Universities Bill by the government, the Institute of Clinical Research in India (ICRI), in collaboration with Medical University of South Carolina (MUSC), USA, is offering a master's course in Clinical Research - Global, for the first time in India.
Employee engagement
Practise or perish
When Sergey Brin and Larry Page had to select a chef for their Google campus they interviewed 25 candidates before settling on Charlie Ayers. For a company founded by two mathematicians who owe their stupendous success to a culture of innovation and creativity they understood early that it was employee engagement that set them apart from the thousands of other technology companies.
Happiness work
Create a buffer
Gems of ancient wisdom
At most stations in a workflow, newer and newer jobs keep pouring in and many of us just keep moving with the flow without adding anything of our own. It is vital that you create a buffer so that you can either add some value to the product or escape burnout.