Ladakh students worried about families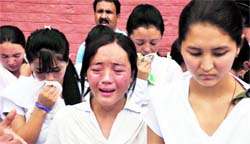 Jammu, August 7
Waiting to hear the voice of their parents, relatives and friends in Leh, Ladakh students studying here are worried about their safety.



Students from Ladakh break down during a function at Government Girls Higher Secondary School in Jammu on Saturday. Tribune photo: Anand Sharma
Curfew relaxed in parts of Valley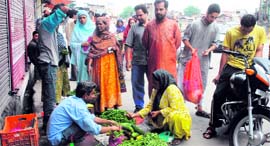 Srinagar, August 7
With the situation remaining relatively calm after eight days of curfew restrictions, the authorities relaxed the restrictions in parts of the capital city and elsewhere in the Kashmir valley today, as no untoward incident was reported from any part of the Valley.

People buy vegetables during curfew relaxation in Srinagar on Saturday. Photo: Amin War
Reception to Youth Cong chief, a show of strength for Soz men
Jammu, August 7
A reception accorded to newly appointed Pradesh Youth Congress (PYC) president Shoaib Lone turned out to be a show of strength by the supporters of Pradesh Congress Committee (PCC) chief Saifuddin Soz since no dissidents were present on the function.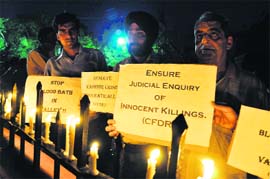 A candle march organised by the Citizen Forum for Democratic Rights and local journalists at Shalamar Chowk in Jammu on Saturday. Tribune photo: Anand Sharma
Sewa Bharati forms trust for flood victims
Jammu, August 7
An emergency meeting of the Jammu and Kashmir Sewa Bharati was organised here today where social workers of many organisations were present.
Residents demand shifting of wine shop
Jammu, August 7
Residents of the Ekta Vihar colony, Gangyal, have requested the authorities concerned to shift a wine shop located near the Sai Sahyog marriage hall and the Occasion restaurant on the thoroughfare leading to the colony.
Protests against CAPD Dept Director
Jammu, August 7
Members of the Food and Allied Workers Union today held protests in different depots against the Director of Consumer Affairs and Public Distribution (CAPD) Department for not implementing the government orders to redress the grievances of the workers of the department.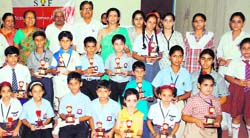 Students honoured
Jammu, August 7
Around 45 meritorious students from different schools were honoured at a district-level award ceremony organised by the Science Olympiad Foundation, New Delhi, at Diwan Badri Nath Vidyamandir School, Canal Road, here today.

Meritorious students of Deewan Badri Nath Vidya Mandir School at a prize distribution function in Jammu on Saturday. Photo: Inderjeet Singh
Foolproof security for transporters sought
Jammu, August 7
The Chamber of Commerce and Industries (CCI), Jammu, has demanded that security must be provided to transporters who are trying their best to maintain the supply line in these difficult days.
Woman alleges docs' negligence'
Jammu, August 7
A local woman suffering from ovary cysts today alleged that she was wrongly operated upon at a private clinic, Medi-Aids, Channi Himmat, in April last year and it caused her mental and financial trauma. Addressing a media conference here today, Nazira, a resident of Sunjwan, said she was admitted to the clinic on April 23 and discharged on April 27 last year.
Book on J&K shrines released
Jammu, August 7
Historical Shrines in Jamu and Kashmir, a book written by Surjit Singh, was released at a function held by the Nami Dogri Sanstha at the KL Sehgal Hall here today.