Bounce did us in: Dhoni
Indian captain hits out at batsman

Says team didn't take their chances

Defends bowlers, especially Nehra and Praveen

Knew it would be hard to chase over 250, says Taylor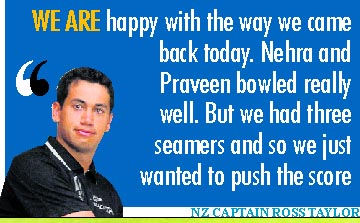 Dambulla, August 11
India skipper Mahendra Singh Dhoni described their humiliating 200-run defeat to New Zealand as "disappointing" and said they paid the price for not holding on to their chances in the first match of the triangular ODI series here today.
"We are very disappointed with the way we played. We got couple of chances but we didn't accept it. Probably we are on the losing side because of that," Dhoni said after his team was bowled out for a paltry 88 chasing 289 to win.
"We didn't bat well at all. When we got into batting, they got a kind of bounce that put us in awkward situation," he added. Dhoni, however, praised the bowlers for their performance on a pitch which was favouring the bowlers.
"The bowlers did well. More than the pace it was the bounce here. The wicket had spongy bounce and that was what did the trick. Ashish (Nehra) and Praveen (Kumar) bowled well. For them Ross and Styris batted really well," he said.
His New Zealand counterpart Ross Taylor acknowledged that Nehra and Praveen bowled well but said with three seamers in their rank, they knew anything above 250 would be competitive. "It was a tough decision to leave out Jeetan Patel today. We are happy with the way we came back today. Nehra and Praveen bowled really well. But we had three seamers and so we just wanted to push the score.
"We wanted not to lose too many wickets and get a partnership going and thought it would be great to reach 250-260 but we reached 288. So we are very happy," he said. — PTI