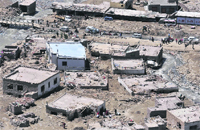 Leh flash flood toll rises to 176
Srinagar, August 13
With the relief and rescue operations in Leh in full swing, the cloudburst toll has reached 176, of whom 16 deceased are yet to be identified, while 148 persons have been evacuated by helicopters. Confirming this, Leh Deputy Commissioner Tsering Angchuk said today said that only six bodies of foreign tourists had been found so far.
MS Gill donates ` 20 lakh to Leh victims
New Delhi, August 13
Union Sports Minister MS Gill yesterday expressed grief over the loss of life and property in the flash floods in Leh and announced an ex-gratia relief of Rs 20 lakh for those in distress. He announced the relief from his MPLAD Funds.
Chib responsible, says Harsh Dev
Jammu, August 13
Panthers Party working chairman Harsh Dev Singh has expressed concern over the 'negligence' on the part of the Medical Education Department in taking timely and appropriate measures for the provision of staff and infrastructure in Government Dental College, Jammu, leading to its de-recognition.
Dogri film premiered after 50 years

Jammu, August 13
Opening a fresh chapter in Dogri film-making after almost 50 years, "Maa Ni Mildi" was premiered at Apsara Theatre this morning.




Actors who performed in Dogri film "Maan Ni Mildi" during its premier show at Apsara Cineplex in Jammu on Friday. Photo: Inderjeet Singh
1500 pilgrims leave for Buddha Amarnath yatra
Jammu, August 13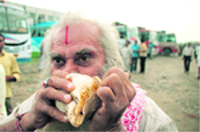 The pilgrimage to the Buddha Amarnath shrine in Poonch district commenced today with the first batch of 1,500 pilgrims leaving from the base camp here this morning.




A sadhu on his way to Buddha Amarnath yatra blows a conch in Jammu. Photo: Inderjeet Singh
Damaged highway snaps link between Ladakh, Kashmir
Srinagar, August 13
For the past many days, the family members of Showkat Ahmad Kuchchay in Humahama village of Budgam district on the road to the Srinagar airport are worried about his welfare as he worked in a remote area of the Ladakh region. Showkat, a contractor, has been in Ladakh for quite some time in connection with the construction work of a government building. After the flash floods hit Leh town on August 6, the family has not been able to contact Showkat.
PM's statement can create trouble in Jammu: Pannun Kashmir
Jammu, August 13
The Panun Kashmir, led by its president Ashwani Kumar Chrungoo, today expressed concern over the statement of Prime Minister Manmohan Singh regarding autonomy to Kashmir.
BJP workers flay Manhas for not opposing proposal
Jammu, August 13
Serious differences have cropped up in the state unit of the BJP as a majority of the party leaders and senior workers have flayed their two leaders for not effectively countering the proposal of autonomy in the all-party meeting convened by Prime Minister Manmohan Singh to discuss the prevailing situation in Kashmir.
PDP, CPM condemn killings in Valley
Srinagar, August 13
Condemning four more deaths at various places at the hands of the security forces, PDP president Mehbooba Mufti has regretted the "ostrich-like attitude" of the Central government to the unfolding disaster in Kashmir.
Court dismisses plea of accused cops against handcuffing
Jammu, August 13
The Jammu Sessions Court has held that a criminal order can be altered or reviewed only if the same is a nullity.

Kapoor is member Juvenile Welfare Board
Jammu, August 13
The state government has nominated an eminent advocate of the state high court, Rohit Kapoor, as member of the newly created Juvenile Welfare Board.
Rohit Kapoor
Stone crusher owners bemoan govt apathy
Jammu, August 13
The Stone Crusher Owners' Association (SCOA) has accused the state government of ignoring the industry of the region. While addressing a press conference here today, Vikram Randhawa, SCOA president, alleged discrimination between the rates charged from crushers operating in Kashmir and the Jammu province by the Department of Geology and Mining.
Tragedy flattened Leh of my memories, says Priyanka Chopra
New Delhi, August 13


When a cloudburst wreaked havoc in Leh last week, actress Priyanka Chopra watched with alarm for news of a stupa and a market where she had played as a child. And sure enough, they too were gone. Now, the top Bollywood actress is reaching out to people in the region in all possible ways. "I think I was in Class IV when I was in Leh; my brother was just born. My dad was in the Army and was posted there. I stayed in Leh for a year and the memories of that place are tremendous," Priyanka told IANS in an interview.
No immediate 'risk of epidemics' in affected areas
Srinagar, August 13
The authorities here said there was no immediate risk of any epidemic in the aftermath of the devastation in Leh due to its moderate weather conditions. The government has not given up its plans to overcome any eventuality though.