Despite ban, mid-term transfers of teachers on
Jammu, August 16
Acting upon the dictates of a local MLA, the Chief Education Officer, Rajouri, has been shifting teachers despite a ban on mid-term transfers in the Education Department.
Rajouri encounter ends; soldier, 3 militants killed
Jammu, August 16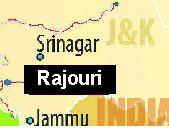 The ongoing fierce gunbattle between security forces and militants in Rajouri ended today with the gunning down of the third and last suspected Lashkar-e-Toiba militant. Sepoy SK Singha of 38 Rashtriya Rifles was martyred in the operation that began on August 14 in the Sheriwala area near Bagla village in Thannamandi tehsil. Major Sushil Mahapatra of the 38 Rashtriya Rifles, Special Police Officer Iftikhar Malik and civilian Abdul Razak were also hurt in the gunfight.
18 booked under anti-adulteration drive
Jammu, August 16
While intensifying its drive against food adulteration, the health wing of the Jammu Municipal Corporation today booked 18 defaulters under the provisions of the Prevention of Food Adulteration Act, 1954, and the Municipal Corporation Act, 2000. According to a statement issued here, a compounding fee of Rs 10,600 was realised on spot.
Bhalla gives Rs 2.2 crore to '47 refugees
Jammu, August 16
Minister for Revenue, Relief and Rehabilitation Raman Bhalla, who is on a three-day tour of Rajouri and Poonch districts, distributed 181 cheques totalling Rs 2.2 crore as land-deficiency compensation to the displaced of 1947.
Smaller-than-Nano car developed
Jammu, August 16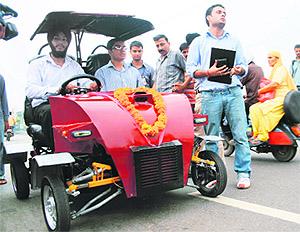 Three students of Guru Gobind Singh Engineering College, Bathinda, have come up with a vehicle Axis-RO that is half the size of Tata Nano. The vehicle with a length of 1.77 metre and 1.25 width has a capacity of two seats. It had a successful trial run at the airport road today. Three engineering students, Simranjeet Singh of Jammu, Sourabh Banerjee of Delhi and Avinash Kumar of Himachal Pradesh, have worked on the project by spending Rs 40,000 on its manufacturing in 80 days.
Developed by students of Guru Gobind Singh Engineering College, a small car, Axis-RO, on a trial run in Jammu on Monday. Photo: Inderjeet Singh

Army Chief briefs Governor on security
Srinagar, August 16
The Chief of the Army Staff, Gen V. K. Singh, called on Governor N. N. Vohra at Raj Bhavan here today. During the meeting, General Singh briefed the Governor on the overall security situation and the emerging threats on certain fronts in the state. They also discussed issues pertaining to infiltration from across the LoC and the international border and the likely security scenario in the state in the coming months, an official spokesman said.
Rain brings cheer to paddy farmers
Jammu, August 16
Torrential rain across the Jammu region today caused an increase in the water level in rivers but gave farmers a reason to smile. Temperatures took a dip with the maximum hovering around 31°Celsius, down from 34.6°Celsius yesterday, while maximum humidity went up to 88 per cent.
2 held, 9 cars recovered
Jammu, August 16
The police today arrested two for vehicle theft and claimed to have busted a gang of vehicle lifters with the recovery of stolen vehicles, amounting to nearly Rs 7.5 lakh.
Shopkeepers block road
Allege Sales Tax Dept harassing them
Jammu, August 16
Irked over the alleged harassment and routine checking of bills by the Sales Tax Department, shopkeepers of Kanak Mandi and Hari Market blocked the City Chowk road here today.
Defunct connections irk BSNL customers
Jammu, August 16
About 400 BSNL landline customers of the Gandhi Nagar locality are worried as their phone connections have been defunct for more than five days. Talking to The Tribune, a group of affected customers said: "We have been facing a lot of inconvenience for more than five days due to non-functional connections."
APHC protests: Major towns under curfew
Five cops among eight injured
Srinagar, August 16
On the first day of the fresh calendar of protests for the next 10 days, called by the hardline APHC, normal life was paralysed while curfew restrictions were imposed in some major towns across the Kashmir valley today.
Tribune Impact
Chib visits Leh victims in hospital
Jammu, August 16
Minister for Medical Health, Technical Education and Youth Services and Sports, RS Chib today visited the Leh flash flood victims at the Government Medical College and Hospital here.
Vanamahotsav in Heritage School
Jammu, August 16
The Heritage School today celebrated Vanamahotsav on the school premises. Students of KG and primary classes presented a colourful programme, highlighting importance of tree and conservation of bio-diversity.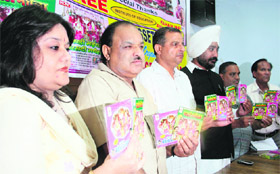 CDs of bhajans released
Jammu, August 16
Three video CDs of bhajans by Maa Vaishno Production and Surinder Manhas was released in a function organised by the Nami Dogri Sanstha here today. The CDs are "Aaja Machaila Walia", "Challo Machaila" and "Chandi Maiya Basdi Machaila". The bhajans have been sung by Sunny Jogi, Chaman Mattoo, Nirmal Mattoo, Daljeet Rathore and Sonali Dogra.
Members of the Nami Dogri Sanstha release three video CDs in Jammu on Monday.
Amarnath yatra resumes
Jammu, August 16
After remaining suspended for two consecutive days, the Amarnath yatra resumed from here today with a new batch leaving for the holy cave shrine.