State told to pay Rs 50,000 to widow
Was illegally dispossessed of society flat by Asst Registrar
Chandigarh, August 18
Lambasting assistant registrar of cooperative societies in Gurgaon for "running his fiefdom", the Punjab and Haryana High Court has ordered the state of Haryana to pay a compensation of Rs 50,000 to a widow, who was illegally dispossessed from a society flat.
2 students suspended on ragging charge
Sirsa, August 18
The Government Polytechnic here has suspended two students after receiving a complaint of ragging from a first-year student. The institute authorities have constituted a three-member committee to look into the complaint.
Acquisition: Farmers start indefinite dharna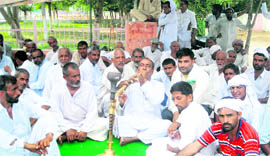 Fatehabad, August 18
Determined to stop the acquisition of their agriculture land for the nuclear power plant coming up in the district, farmers from Gorakhpur village started an indefinite dharna outside the mini-secretariat here today.


Farmers of Gorakhpur village stage an indefinite dharna outside the mini-secretariat in Fatehabad on Wednesday. A Tribune photograph

Ticketless, student jumps off bus, dies
Fatehabad, August 18
Fearing checking by the flying squad of the Haryana Roadways, a student lost his life by jumping from a bus near Bhattu Kalan here today.
Hooda to unveil Rajiv's statue
Faridabad, August 18
Chief Minister Bhupinder Singh Hooda will unveil a life-size statue of former premier late Rajiv Gandhi during his proposed visit here on August 20, which also happens to be the birth anniversary of Rajiv Gandhi. The CM will also address a public meeting on the occasion.
Tau's Statue Row
INLD activists stage dharna
Karnal, August 18
A large number of supporters of the Indian National Lok Dal (INLD) today staged a dharna here to register their protest against the demolition of the floor around the statue of Tau Devi Lal on the Meerut road, which had been dismantled to use the space for widening of the NH-1.
Girl run over by school bus, dies
Faridabad, August 18
A six-year-old girl student of Murari Lal Senior Secondary School was crushed to death under a bus of the school today near the gate of Green Field Colony on the Suraj Kund road here.
Jind village celebrates birth of 5 girls
Jind, August 18
The region, which is otherwise "notorious" for skewed sex ratio and has been facing a shortage of brides for the past few years, celebrated the birth of five girls by performing "Kuan Pujan" at a village in Jind today.
31 junior librarians promoted
Sirsa, August 18
The Haryana government has conceded a long-standing demand of junior librarians working in government libraries and government colleges and promoted 31 of them to the post of senior librarian.
KALKA
Panchayat election postponed: The panchayat samiti election of the president and the vice-president of Pinjore, which was scheduled to be held on Wednesday, was postponed due to lack of quorum. Informing this SDM, Kalka, Yogesh Kumar revealed that one third majority of presence of the contestants was essential to conduct the election. The next date for the election is scheduled for August 21.
Labourer found dead: The Pinjore police has recovered the body of a labourer from Garida village of Pinjore block. Satish Kumar, a cousin of the deceased, has identified the body as of Ram Kumar of Muzzafarpur district, Uttar Pradesh, who had come here recently in search of some work. Police said the deceased had left the house on Tuesday night in an inebriated condition and did not return home till Wednesday morning. The body was sent to CHC, Kalka, for the autopsy. The team of forensic experts also visited the spot.
3 arrested for theft: The Pinjore police claimed to have arrested three youths in context with the theft of a motorcycle. The police party during patrolling on Tuesday night nabbed Rajesh of Toran village, Rakesh of Bhawana, Pinjore, and Bijender Singh of Subhash Nagar, Power House, while they were strolling near Yadavindra Gardens, Pinjore. The trio were produced in the court on Wednesday, which sent them to police custody till August 22.
Kargil martyr remembered: A programme in memory of Flying Officer Gursimrat Singh Dhindsa, who had laid his life in Kargil war, was organised on Wednesday in Government Senior Secondary School, Pinjore. Gurcharan Singh Dhindsa and Preetpal Kaur, father and mother of the martyr, were present during the programme as chief guests. The school students paid homage by rendering heart touching solo and group songs. DEO, Panchkula, while speaking on the occasion, recalled the martyrs of India and urged the students to follow their path. A blood donation camp was also organised at the school in memory of the martyr.
Awarded: Munni Devi, principal of Government Model Senior Secondary School, Kalka, was honoured for her distinguished service in education at sub-division level during the Independence Day celebrations. SDM, Kalka, Yogesh Kumar awarded her with a certificate. The local administration also awarded Garvit Batra, a student of Sophia School, for his achievement at a national-level competition.