GMADA to allow 'need-based' changes in houses
Mohali, August 23
Thousands of residential property allottees, who were facing resumption or cancellation of proceedings for building code violations, have a reason to rejoice as the Punjab housing & urban development department has finalised the "need-based" changes that will be permitted in all categories of houses in Mohali, relaxing the archaic bylaws.
Fraud exposes lax security at SBI ATMs
3 more persons report losing moneyRamanjit Singh Sidhu
Chandigarh, August 23
The police's investigations into the fraudulent withdrawals from ATMs of State Bank of India using cloned ATM cards has so far revealed flaws on the part of the bank in preventing the crime.
Eye flu spreads wings in city
Chandigarh, August 23
With other seasonal diseases and infections, conjunctivitis, caused by pathogens (viral or bacterial), has begun to spread its wings in the city. Though only a few patients have been visiting the hospitals and dispensaries as of now, the number may increase drastically in the coming days, as this virus spreads very fast from one person to another.
2 test positive for swine flu
Chandigarh, August 23
With two more persons testing positive for the H1N1 virus, the number of patients suffering from swine flu in the city reached three today.
Parsvnath, CHB told to refund ` 2.84 cr to 6 complainants
Chandigarh, August 23
The almost-scrapped luxury flagship housing project Prideasia of the Parsvnath and the Chandigarh Housing Board (CHB) is costing them dear. Taking serious note of the delay in the start of construction, the State Consumer Disputes Redressal Commission has directed Parsvnath and the CHB to refund over Rs 2.84 crore to six complainants.
Ministry rejects PGI faculty's promotion plea
Chandigarh, August 23
The union health ministry has turned down the demand of PGI faculty members to introduce the new line of promotion ('3-3-4 scheme') with effect from January 2006 and has instead made it effective from January this year.
CITCO's generosity digs holes in govt pocket
Chandigarh, August 23
For the UT Administration's hospitality arm CITCO, charity begins at home. For as many as 60 departments belonging to the UT administration, Punjab and even certain Central government departments, have emptied the corporation's coffer and left it poorer by more than Rs 30 lakh. These departments are enjoying "unpaid fuel" from CITCO's Sector 9 petrol pump by overdrafting thousands of litres petrol to run its official cars.


Schools closed today
Chandigarh, August 23
All government and some private schools in the city will be closed tomorrow on the occasion of Raksha Bandhan. "Many private schools have also declared holiday, while some will be giving off for two hours in the morning," said district education officer Chanchal Singh. According to director, higher education, government colleges will also be giving two hours off in the morning to all students and teachers to celebrate the festival.
CAT exam from Oct 27
Chandigarh, August 23
For admission to nine Indian Institutes of Management (IIM's) and around 140 top B-Schools in the country, the IIM's have announced that CAT examination would be conducted from October 27 to November 24 this year. The online CAT examination would continue for 20 days this year. The sale of vouchers would be made from August 30 to September 27. Registration process would be from August 30 to September 30. The price of CAT voucher has been kept the same, Rs 1,400 for general category and Rs 700 for SC, ST.
Power employees' strike on Sept 7
Decry privatisation policies of Centre, UT admn
Chandigarh, August 23
In pursuance of the call given by the central trade unions, the electricity employees of Chandigarh under the banner of UT Powermen Union will observe a one-day strike on September 7.
CPIOs drag feet over info under RTIPradeep Sharma
Chandigarh, August 23
Certain Central Public Information Officers (CPIOs) of the Engineering Department continue to drag their feet on the supply of information under the Right to Information (RTI) Act.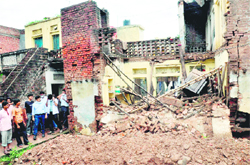 House collapses in Hallo Majra
No Casualty
Chandigarh, August 23
A dilapidated house collapsed in Hallo Majra village near here during a heavy rain this morning. No one was injured in the mishap, as the two labourers, who live on rent in the house, were out to work.
A team of doctors inspects the house that collapsed during heavy rain at Hallo Majra village in Chandigarh on Monday Tribune photo: Manoj Mahajan
Recruitment of subdivisional officers draws flak
Chandigarh, August 23
Heated arguments were exchanged between the members of the Finance and Contract Committee (F&CC) and officials of the Chandigarh Municipal Corporation at a meeting chaired by Mayor Anu Chatrath here today.
Haryana Govt violating amended rules
Bends backwards to retain services of HCS officer
Chandigarh, August 23
The Haryana Government has bent backwards in retaining the services of HCS officer Maheshwar Sharma, who was recently sent on deputation to Chandigarh and posted as the Joint Secretary (Home).
Information under RTI sought
Mohali, August 23
A municipal councillor has sought information under the RTI Act to know what the Municipal Council was doing to tackle the problem of stray animals in the town.
Mobile exhibition van flagged off
Chandigarh, August 23
Chandigarh Municipal Corporation Commissioner, Dr Roshan Sunkaria today flagged off a mobile exhibition van of the products prepared by BPL (below poverty line beneficiaries) trainees, who had undergone training in various vocations with different NGOs in the urban colonies of the city under the Centrally sponsored scheme being implemented by the corporation. The exhibition will be for five days. The exhibition entitled "Exploring: Potential and visibility" showcase the work of BPL trainees under STEP-UP component of Swaran Jayanti Shastri Rozgar Yojna (SJSRY) in collaboration with outreach activity centre, Government Museum and Art Gallery.
Many activities in the offing
Chandigarh, August 23
The city is getting ready for a packed week of events and special offers to celebrate the World Tourism Week from September 26.
Rush at PGI OPD
Tempers run high
Chandigarh, August 23 The increasing crowd at the PGI OPDs led to a spat between patients and doctors this afternoon when some of the patients waiting for there turn since morning forced their entry in to the room of a senior doctor. When doctors raised objection to it, the patients misbehaved with the medicos.
Protest against land acquisition
Mohali, August 23
On the first day of filing of objections to the acquisition of land for the Mullanpur urban estate, some land owners, while appearing before the Land Acquisition Collector, GMADA, stated that they were not interested in giving their land for the acquisition.


SOPU, PUSU stage protests
Security at PU under scanner
Chandigarh, August 23
The Student Organisation of Panjab University (SOPU) and Panjab University Student Organisation (PUSU) today staged two separate protests, putting security of Panjab University under scanner.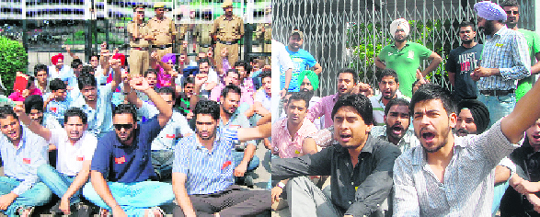 Protesting PUSU supporters outside the VC office; and (right) SOPU supporters protest for their rights outside BEd building at Panjab University in Chandigarh on Monday. Tribune photos: Vinay Malik
Summer school on nanotechnology in drug delivery
Mohali, August 23
A five-day summer school on "Nanotechnology in advanced drug delivery" began at the National Institute of Pharmaceutical Education and Research (NIPER), Mohali, here today.
Violation of Rules in Recruitment
PU: RTI activist writes to VC
Chandigarh, August 23
A local RTI activist, Rajinder Singla, today wrote a public letter to the Panjab University Chancellor and other officials of the university regarding the alleged violation of rules in recruitment to the administrative posts like that of the Registrar, Controller of Examinations and Dean, College Development Council, interview for which is scheduled for August 25, 2010.
Former student leaders back in action
Chandigarh, August 23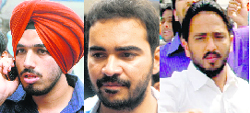 Old players of Panjab University student politics, who have reigned as party presidents of prominent students' organisations in the past, are again back in action this year.



Brinder Dhillon, Harpreet Multani, Simrandeep
Memories relived
Chandigarh, August 23
A special reunion of the old students of Mahendra College was organised at the Punjab Kala Bhawan, Chandigarh, under the chairmanship of Justice MR Agnihotri.
PU VC on economic forum
Chandigarh, August 23
Panjab University Vice-Chancellor RC Sobti has been nominated as the national executive member (special invitee) on the board of executive members of the Indian Economic Association, a national forum of eminent economic thinkers and activists, presided over by Prof Sukhdev Thorat, chairperson, UGC.
Each dept to have visitors' register
Chandigarh, August 23
A visitors' register will now be maintained in each department at Panjab University to keep a tab on persons entering the departments.
Surge in PhD enrolment at PU
Chandigarh, August 23
Be it the present cash-rich status or the threat that Panjab University now poses to certain leading universities in the country for grabbing attention from the Union government, an unprecedented number of applications have been received this year for enrolment in PU's PhD programmes.