She spoke of loving, caring and sharing
On the 100th anniversary of Mother Teresa's birth, her biographer, Navin Chawla, writes about the life and healing touch of the Nobel Peace Prize winner who was "the most powerful woman in the world".
MY first meeting with Mother Teresa, in 1975, left the experience indelibly printed on my mind. That morning I had accompanied Delhi's Lieutenant Governor, with whom I was then attached, to her home for the destitute. I was taken aback when I came face to face with her. She was smaller than I had imagined, dressed in a spotless, hand-woven sari that was neatly darned in several places. Her back even then was bent. I noticed that her feet were twisted and her hands were gnarled, testimony to her arduous life in the streets and slums.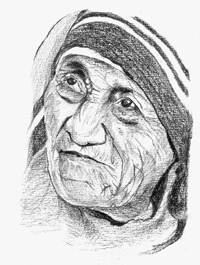 Mother Teresa (August 26, 1910 - September 5 , 1997)
Sketch: Sandeep Joshi

Her words moved me profoundly. She spoke of simple things, of loving, caring and sharing. She seemed at many levels a very ordinary woman. Yet she was a powerful communicator and reached straight into the heart of those who were listening to her. Within a short while I realised that she was no different from those she served, for she and her Sisters seemed to be as poor as those surrounding us.
Her coming to India itself was a mystery, a word I use in its mystical sense. Born in 1910 in Skopje, Yugoslavia. Agnes as she was then known, was raised in relatively frugal circumstances by a fiercely Catholic mother, the youngest of three children. As a young girl, her imagination was stirred by stories of Yugoslav Jesuit priests who worked in distant Bengal. At the age of 14, barely a teenager, she asked her mother for permission to join the Church and work in India. At 18, she had her way and when she bade her mother goodbye, she was never to see her again.
She had said to me, as she had said to others before, that it was a lesser wrench for her to leave mother's home than it was for her to leave the Loreto Convent in Entally. In her 20 years as a Loreto nun, first a teacher and later Principal, she developed the discipline of an Order; in its most simplistic sense, her life was regulated by the ringing of the school bell. Here there was order and security, but also some exposure to the disadvantaged, as many of her wards were orphans and children of poor parents, with whom she could speak in Bengali with ease.
She was happy in her work, but restless too. The world she glimpsed from her classroom window was made up of slums and abject poverty: it seemed to be the real world, and she slowly sensed that her vocation belonged there. She began to attempt this almost impossible transition from convent to street, but with her vows intact: a Catholic nun within the Church order, yet outside of it. In these many divides of life, she resorted to prayer that deepened her faith. I often found that she faced dilemmas by first a retreat to prayer, and then renewed attempts, until the object was achieved or otherwise. Two years later, surprisingly but perhaps not, the Vatican made its first exception of this kind.
The biography I wrote on Mother was an accident. I had known her for a number of years and helped her with her concerns in Delhi. In all that time it never struck me to write a book. One day when we were in conversation she said something enormously funny and we both laughed. It was then that I remarked that none of the books that I had read about her had brought out that side of her personality. Perhaps I should write a book, I said. She was not inclined to agree: "So many books have already been written." I blurted out: "Why, Mother, does one have to be a Catholic, can't a bureaucrat and a Hindu write?" I immediately regretted my words and fell into an embarrassed silence. However, she took that seriously and said: "All right, but don't write about me, write about the work."
Although she herself remained fiercely Catholic, her brand of religion was not exclusive. Convinced that each person she ministered to was Christ in suffering, she reached out to people of all faiths. The very faith that sustained her infuriated her detractors who saw her as a symbol of a right-wing conspiracy and, worse, the principal mouthpiece of the Vatican's well-known views against abortion. Interestingly, such criticism went largely unnoticed in India, where she was widely revered.
As her biographer, I confronted her with accusations in some quarters that she accepted money for her work from some rather dubious sources. Her answer was concise: "I have never asked anybody for money. I take no salary, no government grant, no church assistance, nothing. But everyone has a right to give. I have no right to judge anybody. God alone has that right." The Missionaries of Charity remains perhaps the only global charitable organisation that explicitly forbids fund-raising.
I once called her the most powerful woman in the world. She replied: "Where? If I was, I would bring peace to the world." I asked her why she did not use her undeniable influence to lessen war. She replied: "War is the fruit of politics. If I get stuck in politics, I will stop loving. Because I will have to stand by one, not by all."
The large bequests and donations were gratefully received and immediately ploughed into wherever the need was most pressing, from leprosy stations spread across Asia and Africa to homes for orphans and disabled children all over the world. Yet, it was the "sacrifice money" that she never forgot — the Calcutta beggar who emptied his day's earnings of a few coins into her hands; the young Hindu couple who loved each other so much yet refused a marriage feast so that they could offer her the money they thus saved.
When Mother Teresa was alive, I had expressed concern to her whether the organisation she had built from scratch had not overly grown and whether it would be difficult to sustain after she passed on. I had seen several other organisations begin to wither away soon after their charismatic founders became either physically debilitated or died. Why would this Order be any different, I asked? The first time I posed this question to her, she merely smiled and pointed her fingers heavenwards. The second time I asked, she set my question aside with a smile saying, "Let me go first." On my persistence, some weeks later, she finally answered, "You have been to so many of our 'homes' (branches) in India and abroad. Everywhere the Sisters wear the same saris, eat the same kind of food, do the same work, but Mother Teresa is not everywhere, yet the work goes on." Then she added, "As long as we remain committed to the poorest of the poor and don't end up serving the rich, the work will prosper."
The last time I met Mother Teresa was in Delhi a few months before she died. She was on her way back from America to her beloved Calcutta and stopped for a few hours to change planes. She spoke then of simple things, of loving, caring and sharing. She held my hand in hers and said, "You must always work for the poor and the good of all people. You must continue to touch the poor."
She was also criticised for conversion. Yet in all the 23 years I knew her she never even whispered such a suggestion. However, I asked her if she did convert. Her answer was direct. "I convert," she said. "I convert you to be a better Hindu, a better Muslim, a better Protestant, a better Sikh. Once you have found God, it is up to you to do with Him as you wish." She believed that conversion was God's work, not hers.
What would happen to her mission when she passed away, I asked her. She laughed and said, "Let me go first." I asked again and this time she replied: "You have been to so many of our 'homes' (missions) in India and abroad. Everywhere the Sisters wear the same saris, eat the same kind of food, do the same work. But Mother Teresa is not everywhere. Yet the work goes on." Then she added: "As long as we remain committed to the poorest of the poor and do not end up serving the rich, the work will prosper."
The very last time that I met Mother Teresa was in July of 1997, two months before she died. Because she passed through Delhi unexpectedly, very few people knew of her transit, which is why I was able to spend several hours with her. During those hours, she recapitulated simple things: loving, caring, and sharing. She reminded me of my promise that I would not leave government service, as I had wanted to do some years earlier. She reminded me that I must work for the poor and the good of all people. "You must continue to touch the poor," were among her last words to me in private. This was a part of the legacy she left to me.
The writer is former Chief Election Commissioner of India and
author of the authorised biography of Mother Teresa.