PUNJAB
HARYANA
JAMMU & KASHMIR
HIMACHAL
REGIONAL BRIEFS
NATION
OPINIONS
LETTERS
BUSINESS
SPORTS
WORLD
Friday, August 27, 2010, Chandigarh, India
Updated at 3:00 am (IST)

Direct Taxes Code Bill gets Cabinet nod
* Tax limit to go up to Rs 2 lakh
* More relief for women and senior citizens
* Bill likely to be tabled in Parliament on Monday
New Delhi, August 26
In a move that could leave more money in the hands of people, the government today proposed to raise exemption limit on income tax from the present Rs 1.6 lakh to Rs 2 lakh. The Cabinet approved the much-awaited Direct Taxes Code (DTC) Bill, which is likely to be tabled in Parliament during the ongoing Monsoon session and, thereafter, it may be referred to standing committee.
PM wants non-lethal ways for crowd control
Reiterates offer of talks to Naxalites
New Delhi, August 26
Expressing concern over the ongoing unrest in Kashmir valley, Prime Minister Manmohan Singh today underlined the need for revisiting standard operating procedures and crowd control measures to deal with public agitations with non-lethal, yet effective and more focused measures.
| | |
| --- | --- |
| | Prime Minister Manmohan Singh and Home Minister P Chidambaram at the DGPs/IGPs' meet. Tribune photo: Mukesh Aggarwal |
Click Tribune in Punjabi, Hindi New
EDUCATION
JOBS & CAREERS
HEALTH & FITNESS
SCIENCE & TECHNOLOGY
REAL ESTATE

SPORTS & WELLNESS
Rahul pats tribals, vows to fight for their rights
Lanjigarh (Orissa), August 26
Making a visit here against the backdrop of the Centre rejecting environment clearance for the bauxite mining project of Vedanta, Rahul Gandhi today hailed the decision as a victory for tribals of the area and vowed to fight for their cause.
| | |
| --- | --- |
| | Congress general secretary Rahul Gandhi being welcomed by tribal women as he arrives to address a rally at Jagannathpur village in Kalahandi district of Orissa on Thursday. — PTI |
Apple glut takes the juice out of profit
Shimla, August 26
Apple prices hit the rock bottom as the hill state heads for a record crop with trends of market arrivals indicating that production will surpass the estimates by a good margin. Already 1.54 crore standard boxes of apple have been sent to various markets as compared to only 81 lakh boxes in 2007 when the state recorded the highest ever production of 2.97 crore boxes till date.
UNION BUDGET 2010-11
RAILWAY BUDGET
2010-11

NDA 60 Glorious Years
1857 The First Challenge
E - Revolution 2005:
A Two-day IT conclave
Assembly Elections - 2005
Turbans
Chandigarh is 50
125 Years of The Tribune
India: The Tasks Ahead
India at Sixty
A Tribune Supplement
EARLIER FEATURES
On Sundays
On Saturdays
Mirchpur Violence
Arrest accused by Sept 10, SC tells Haryana
New Delhi, August 26
The Supreme Court today directed the Haryana government to make all possible efforts to arrest by September 10 all accused involved in the killing of two Dalits and the destruction of 150 houses in Mirchpur village in Hisar district on April 21 allegedly by upper caste people.
Is your ATM card safe?
Chandigarh, August 26
The recent incidents of cloning of ATM cards in Chandigarh have once again thrown the spotlight on how safe ATMs really are. With 10 persons having lost their money because of someone cloning their ATM cards (issued by the State Bank of India) in Chandigarh, the public outcry has now forced various banks on securing their offsite ATMs (those which are away from the bank branches).


Leh loses 60 schools in floods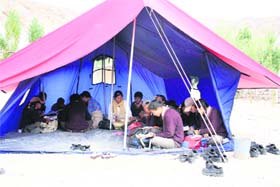 Druk White Lotus School in the flood-ravaged Shey village of Leh was lucky to have hosted actor Aamir Khan's "3 Idiots" film unit. In return, it last week got a hefty reconstruction grant from the filmmaker, who said he felt responsible for the school which suffered losses in the August 6 tragedy.
Students at a makeshift classroom in Leh. Tribune photo
With 'intent' clear, nuke Bill passed
August 26, 2010
Green spoke in Vedanta's mining plot
August 25, 2010
Three dams full, Bhakra board calls meeting
August 24, 2010
Gilani defends India's aid
August 23, 2010

Rain disrupts North
August 22, 2010

MPs get 300% hike, still unhappy
August 21, 2010

Badal scuttled it, says Arjun; no, it was treachery: Badal
August 20, 2010
It's all over bar the shouting
August 19, 2010
Rs 125 cr for Ladakh resurrection
August 18, 2010
Don't have heart to see more deaths...
August 17, 2010