M A I N N E W S
With 'intent' clear, nuke Bill passed
UPA pleases BJP, drops contentious provision in case of accident
Faraz Ahmad
Tribune News Service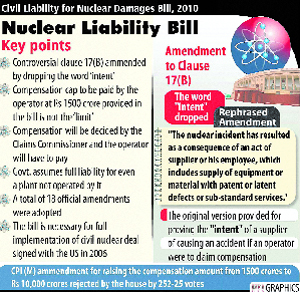 New Delhi, August 25
The Lok Sabha today passed the controversial civil nuclear liability Bill by an overwhelming majority after the government agreed to rework the provision on the liability of foreign suppliers to the BJP's satisfaction, thus marking the successful culmination of an arduous exercise by the UPA government.
In the process, it dropped the contentious words 'and' as well as 'intent' in clause 17(b) to ensure that the suppliers of nuclear material did not get away lightly in the event of a nuclear accident in India. In all, the House adopted 18 amendments in the Civil Liability for the Nuclear Damages Bill, 2010, while the amendment moved by the Left parties was negatived.
Midway through the four-hour debate, marked by a token opposition from the Left parties, Prime Minister Manmohan Singh "begged" for unanimity on the issue. In his impassioned appeal, the Prime Minister reiterated that the Bill was in India's interests while vehemently denying that the government was being pressured by the US to pass it.
"I wish to state that this Bill will end the nuclear apartheid that the world imposed upon us after the 1998 nuclear test. To say that this is being brought under American pressure is far from truth," he said, recalling how since 1992 the opposition had been charging him with serving American interests.
Singh drew attention to the demands of a resurgent India and stressed how nuclear energy could meet those demands. "With this very objective, my government decided to end this nuclear apartheid… I beg this House to pass this Bill with unanimity."
Earlier, Union Minister of State for Science and Technology Prithviraj Chavan, who moved the Bill, reassured the Opposition that their concerns had been duly addressed and that the main purpose of this Bill was to ensure prompt payment of compensation to the victims of a nuclear accident, if any. He said, "We know how the victims of Bhopal gas tragedy had to run from pillar to post for 25 years. Therefore, we want to put a proper regime in order."
Disarming the opposition, the Minister announced in his introductory speech how the government was going to bring an amendment to clause 17 (b) as demanded by the Opposition while admitting that "Left parties still had some reservations".
Notwithstanding these assurances, the Opposition did not flinch from attacking the government for "hustling" this Bill through under pressure from the US and offering it as a gift to US President Barack Obama when he comes visiting India in November.
BJP leader Jaswant Singh, making his maiden speech from the BJP benches after rejoining his old party, said the genesis of the Bill lies in the 2005 Indo-US nuclear agreement. "There is some hesitation to accept the parentage of the Bill," he said.
But for all the accusations against the government, the BJP seemed to have already come around. Other parties, too, were mild in their attack.