Mirwaiz, Geelani flay Farooq's remarks in LS
Srinagar, August 28
Several separatist organisations, including both factions of the Hurriyat Conference, have assailed NC president and Union Minister for New and Renewable Energy Farooq Abdullah's statement on Kashmir in the Lok Sabha on Thursday last.

Omar serves legal notice on two PDP leaders
Srinagar, August 28
Chief Minister Omar Abdullah has sent a legal notice to PDP legislator Nizamuddin Bhat and spokesman Nayeem Akhtar Andrabi for levelling baseless, fabricated, concocted, frivolous and defamatory allegations against his person in a bid to defame him and damage his reputation.

PDP legislator Nizamuddin Bhat

Article 370 has done more harm than good: BJP
Jammu, August 28
BJP national executive committee member and former state president Nimal Singh said today that the non-implementation of the 73rd and 74th amendments to the Indian Constitution in Jammu and Kashmir had not allowed democracy to flourish in this part of the country.


Activists of the Bajrang Dal protest against Union Home Minister P Chidambaram at Satwari Chowk in Jammu on Saturday. Photo: Inderjeet Singh
Secessionist move has hit life in Valley: Samiti
Jammu, August 28
Expressing concern over the deteriorating law and order situation in the Kashmir valley, the Shri Amarnath Yatra Sangarsh Samiti (SAYSS) said the ongoing secessionist campaign had affected the masses in the Valley and the minorities living there felt were feeling isolated
Army donates furniture to school
Jammu, August 28
The Ace of Spades Artillery Brigade handed over furniture worth Rs 2 lakh to a school at Sawani in Rajouri today.
5 of family held with arms near LoC
Jammu, August 28
The Army today arrested five members of a family along with arms and ammunition after they crossed the Line of Control and entered the Gantarian sector of Poonch district.
Kashmiri Pandits ignored in all policies, rue samaj
Jammu, August 28
The Youth All-India Kashmiri Samaj (YAIKS) yesterday expressed resentment against the 'callous and irresponsible' attitude of the Central and state governments for ignoring Kashmiri Pandits in all policies directed towards resolving the Kashmir issue.
Diarrhoea patient count rises to 1,038
Jammu, August 28
Even as the civil administration and the Army continue to battle the outbreak of diarrhoea in Doda district, the number of patients rose to 1,038 today.
First dengue case detected
Jammu, August 28
The first case of dengue was detected in the state when a 12-year-old girl reported at the SMGS Hospital on August 24. Sources of the SGMS Hospital said the girl from Udhampur admitted to the hospital tested positive for dengue.
25 students hurt as school bus falls into gorge
Jammu, August 28
Twenty-five students of a private school in Nowshera were injured, two of them seriously, when their school bus (JK-02-D-3095) skidded off the road and fell into a gorge in the Chingus area of Rajouri district this morning.
Balole Nullah Bridge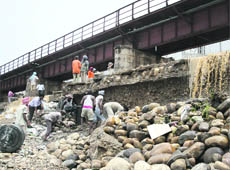 Passengers have tough time as trains run late
Jammu, August 28
Due to the suspension of rail traffic on one of the railway tracks for the past two days over the partially damaged Balole Naullah Bridge at Bari Brahmana in Samba district, all trains coming to Jammu and leaving for other stations from there are running behind the schedule. As a result, many passengers coming from across the country and pilgrims of Mata Vaishno Devi are facing a lot of hardships at the Jammu Tawi Railway Station.
Assembly session on Sept 30
Srinagar, August 28
Governor NN Vohra, in exercise of the powers conferred upon him under Section 53 of the Constitution of Jammu and Kashmir, has summoned a session of the state Legislature on September 30.
Restaurant damaged in fire
Jammu, August 28
The building of a restaurant was partially damaged in a fire at Raghunath Market here today. The incident took place when the market was about to open.