Another resident loses Rs 49,700
Chandigarh, August 30
Even as the Chandigarh police is yet to register a case on a complaint lodged by the State Bank of India regarding suspected incidents of ATM card cloning, complaints continue to pour in with the police.


Violations continue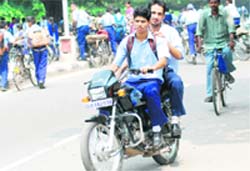 School students continue to violate traffic rules by riding without helmet. This photograph was clicked by Tribune lensman S Chandan on the road separating Sectors 10 and 11 in Chandigarh on Monday.
Health conference at New Delhi
Patil makes pitch for upgrading health facilities
Chandigarh, August 30
Punjab Governor and UT Administrator Shivraj V Patil has sought liberal support from the Centre for upgrading the health infrastructure of Chandigarh.
Admn issues advisory to hospitals, schools
Panchkula, August 30
In view of a swine flu case reported from Sector 4 of the city, the district administration has issued an advisory to all hospitals, dispensaries and educational institutes throughout the district.
Illegal parking of trucks, tractors goes unchecked
Zirakpur, August 30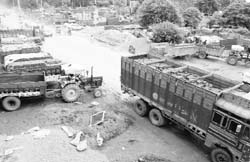 All efforts of Zirakpur municipal council have gone futile as despite of widening of busy Baltana link road, tractor trolley and trucks loaded with construction material remains stranded on both sides of the road causing inconvenience to commuters, especially school goers. To make the matters worse, the suppliers simply throw the stone-dust along the road.
Encroachment on the Zirakpur-Baltana link road. Tribune photo: Nitin Mittal
No man's land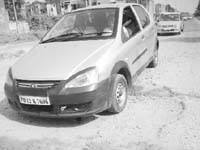 Councillors wash their hands off repairs
Mohali, August 30
Travelling between Mohali and Chandigarh is becoming a nightmare for road users. Barring a few roads, potholes have surfaced on many link roads that take a major volume of traffic moving between the two cities. Hundreds of commuters use the roads to commute between their place of work and residence.

A damaged section of road between Sectors 52 and 61. A Tribune photograph
Bigger role for Dhawan in BJP?
Chandigarh, August 30
A few months after his induction into the BJP, a bigger role is being planned for union minister Harmohan Dhawan in the party. While the BJP leadership denies that any important role is being given to the former minister who joined the party in the teeth of stiff opposition from a section of the party, indications are that the veteran leader could be a rallying point for various factions in the party.
Fungus-laden sweets land Maa Durga-34 in soup
Chandigarh, August 30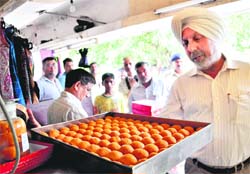 Delivering contaminated sweets to a Punjab Civil Services official proved costly for a famous sweets shop of Sector 34 when a team of officers led by Additional Deputy Commissioner Capt PS Shergill conducted a raid on the shop here today.



Chandigarh Additional Deputy Commissioner PS Shergill at Maa Durga Sweets Shop in Sector 34 during a raid by health officials in Chandigarh on Monday. Tribune photo: Manoj Mahajan
Free medicare to BPL families
Stalemate between govt, pvt hospitals continues
Mohali, August 30
The stalemate between the government and private hospitals over the decision of providing free medicare to patients from BPL families in multi-speciality hospitals continues even as the office of the civil surgeon here awaits government directions and the consent of private hospital to send poor patients to avail the best facilities.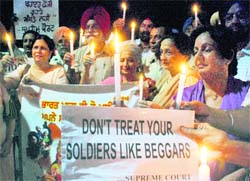 Candle-lit vigil by ex-servicemen
Chandigarh, August 30
Ex-servicemen from the tricity today held a candle-lit vigil in the Sector-17 piazza in support of their demands, including grant of "one rank, one pension" (OROP).




Ex-servicemen and their families hold a candle-lit vigil in support of their demands in Sector 17, Chandigarh, on Monday. Tribune photo: Vicky Gharu
Samira Koser cast spell
Chandigarh, August 30
Blending the spiritual, physical, metaphysical concepts and connotations, noted classical Kathak nritya maestro Dr Samira Koser crafted a magical dance drama titled "Sankalp -The Commitment" which was staged at Moti Ram Arya School auditorium here today. Conceptualised, choreographed and directed by Dr Samira Koser, the ballet was her humble salutation and celebration of the "World Peace". Around 45 dancer disciples of Dr Samira in the age group of 4-40 years from Pracheen Kala Kendra participated in the production.


High-pitch democracy
Chandigarh, August 30
Dipping interest and lack of issues have failed to dampen the pomp and show of college nominations, with candidates filing their papers amidst huge fan following and loud slogans.
UIET emerges as poll campaign hub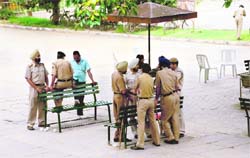 Chandigarh, August 30
The presidential candidates of the two major Panjab University student groups both come from the University Institute of Engineering & Technology (UIET) this time, turning the varsity's south campus into the principal centre of campaigning activity.
PU GARRISONED: Police personnel relax at the Student Centre in Panjab University, Chandigarh, on Monday. No student was in sight during the ongoing election campaign. Tribune photo: Pradeep Tewari
Campaigning goes desi
Student leaders design stickers in Punjabi, Urdu
Chandigarh, August 30
For the first time in the history of Panjab University Student Council election, supporters of student organisation have adopted a "multi-lingual" strategy to design canvassing material.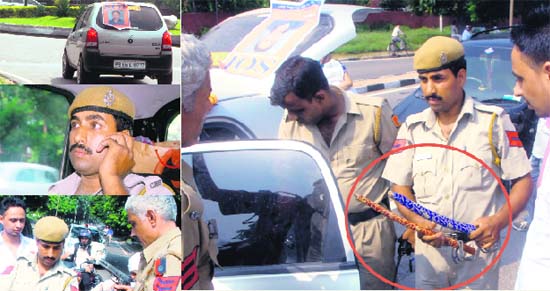 ARMS AND MEN (Anti-clockwise) A car heads towards Mohali from Leisure Valley, Sector 10, Chandigarh; a cop receives tip-off; and security personnel confiscate weapons from students' vehicles during a routine check on the Panjab University campus. Tribune photos: Vinay Malik
PUSU leaders' caricatures spark off controversy
Chandigarh, August 30
Personal remarks on student leaders through caricatures today sparked off a fresh controversy on Panjab University campus.
No woman in fray for top post
Chandigarh, August 30
In sync with the recent trends of the Panjab University Campus Students Council (PUCSC) election, not a single female contestant has been fielded for the post of president this year by major student organisations.
Student leaders flaunt marksheets
Chandigarh, August 30
In a newfound strategy by Panjab University student leaders, original marksheets and degrees were displayed during a campaign at the HS Judge Dental College on the south campus today.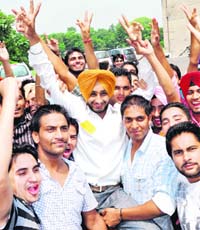 TASTE OF VICTORYRavinder Singh Lambarh of SOI in a cheerful mood after being elected president of Government College, Sector 46, Chandigarh. He won unopposed. Tribune photo: Manoj Mahajan
Papers filed at GGDSD-32
Chandigarh, August 30
Nomination papers for student council elections were filed at the GGDSD College, Sector 32, here today. For the post of president, candidature of Ankush, Anmol, Manoj, Prabhjot and Ritesh were found suitable.
Furore over 'unanimity'
SFI accuses SOI of forcefully stopping its candidate
Chandigarh, August 30
With only a single nomination being filed at the Government College, Sector 46, Ravinder Singh of the Student Organisation of India (SOI) was declared campus council president amid controversy. The rival group, the Student Federation of India (SFI), accused the SOI of forcefully stopping its candidate from obtaining and filing nomination form. In a complaint addressed to SDM Prerna Puri, an SFI leader alleged, "We submitted a complaint at the police station on Friday, expressing our doubt about such acts.
Minor scuffle reported
Chandigarh, August 30
A scuffle was reported between Panjab University Students Union (PUSU) and Student Organisation of Panjab University (SOPU) outside the department of laws, Panjab University, today.



FACE TO FACE: Security personnel try to pacify SOPU (left) and PUSU activists outside the law department of Panjab University on Monday. Tribune photos: Pradeep Tewari
Student attacked outside school
Chandigarh, August 30
Enmity between students of a Sector 44-based private school took a violent turn when a group of students attacked another student outside the school and also smashed his car. However, both sides reached a compromise later.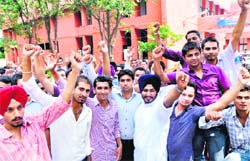 FIR drama at police station
Chandigarh, August 30
High drama prevailed at the Sector 26 police station today when over 20 members of the Student Federation of India protested against the "biased behaviour" of the police.



Students of Khalsa College, Sector 26, Chandigarh, protest outside the police station in Sector 26 on Monday. Tribune photo: Manoj Mahajan
280 kids take part in quiz, painting contest
Chandigarh, August 30
The local chapter of International Society for Krishna Consciousness (ISKCON) organised painting competition and quiz at Hare Krishna Dham, Sector 36-B, here on Sunday.