A 'Green' blow to hydel projects in Himachal
Kuldeep Chauhan
Tribune News Service
Mandi, September 2
Power producers and the Himachal government are planning to contest the recommendations of the Shukla Committee before the High Court. The one-man committee has raised serious concerns over the environmental fallout of the mushrooming power projects in the state.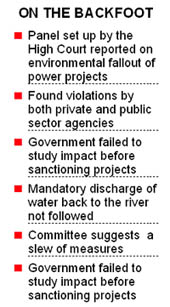 While the next date of hearing has been fixed in October, a series of meetings have already been held to finalise the response of the state. Caught on the wrong foot, power producers are learnt to have informed the state government that if environmental restrictions are followed, it would increase project costs as well as the unit cost of power.
If the panel's recommendations are followed, the power utilities have argued, not only will the state government incur a loss of Rs. 1,500 crore per annum but that it would also prompt an exodus of power projects from the state.
A Division Bench comprising Justice Deepak Gupta and Justice Sanjay Karol, has directed all power projects in the state, including the National Hydro Power Corporation (NHPC), National Thermal Power Corporation (NTPC), JP Hydro, Sutlej Jal Vidyut Nigam Limited (SJVNL), the state and central governments to respond to the recommendations made by the Shukla Committee within eight weeks from August 9.
The court had appointed Abhay Shukla, Additional Chief Secretary, Forests, as one-man committee on December 23, 2009, to file a "detailed report on damages caused to the environment by hydel projects in the state".
Shukla studied 11 big projects, submitted its report in early August and recommended that the state government should carry out basin-wise environmental impact assessment (EIA) of all rivers of the state. In its 33-page report, Shukla observed that much of the damage to the environment was being caused by debris and muck dumped on the roads at project sites.
"None of the projects allows discharge of 15 per cent flow of river downstream and, as such, river ecosystems look dry or dead." The committee observed that trees felled for the projects were four times more than those projected in the 'Detailed Project Reports' (DPRs).
Power projects, meanwhile, are pleading that the state government and the high court should take a "realistic and balanced view". The recommendations, if accepted, will delay all projects worth 2,800 MW allotted after 2007 and those in the pipeline for allotment". Hydel projects to generate 1,357 MW were advertised for bidding in August, 2010, and are in the pipeline for allotment.