Construction of SDM office complex
SAD, Cong differ on location as project fails to take off
Tapa (Barnala), Sept 5
The construction of the SDM office complex has been delayed for the last several years as the two groups, predominantly of the ruling SAD-BJP coalition and opposition Congress, are batting for its construction at different locations.
Spread of conjunctivitis rings alarm bells
Bathinda, September 5
After the water-borne diseases, now it is time for epidemic viral conjunctivitis, commonly called eye flu, to make an appearance as an upsurge of such cases has been reported in the region.
Rising unemployment among B.Ed teachers
Aspirants prefer to get admission in ETT course
Abohar, September 5
The increasing unemployment among the B.Ed teachers during the last few years has made the aspirants turn towards the ETT course now. A large rush could be seen for seeking admission in the ETT even on Sunday.
Abohar sub-division
Bar Assn demands dist status
Abohar, September 5
The local Bar Association on Saturday submitted a memorandum to Chief Minister Parkash Singh Badal in connection with according the status of district to this sub-division bordering Haryana and Rajasthan.
Shopping mall on educational complex
Teachers pledge to oppose move
Abohar, September 5
The teachers of this sub-division today warned during the Teacher's Day celebrations that any attempt to acquire the educational complex land near the Rani Jhansi market for another shopping mall will be opposed.
Cancer detection camp held
Fazilka, September 5
Lions Club (Border), Fazilka, organised a camp to detect breast cancer among women and chest diseases at the local Civil Hospital here on Saturday. The specialists of the Roko Cancer Charitable Trust, England, being run by an NRI Ajinderpal Singh Chawla examined the women free of cost. Dr Kavita Singh and Dr Daya Bhukkar examined more than 100 patients.
Greenathon drives home need to preserve ecology
Run for environment sees huge participation
Bathinda, September 5
People from all walks of life, including tiny-tots, participated in the Greenathon, a run for environment, organised by the Millenium School here this morning. The Greenathon aimed at creating awareness on environmental issues and to cultivate the spirit of social responsibility for the Commonwealth Games 2010.
Dr Radhakrishnan remembered
Bathinda, September 5
The birth anniversary of Dr S Radhakrishnan was celebrated at several schools and colleges in the region. A function was held at the Swami Vivekananda Girls College in Bathinda where students recited poems and delivered speeches depicting relationship between students and teachers.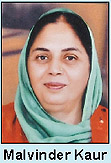 State award for local school principal
Bathinda, September 5
Malvinder Kaur, principal of local Des Raj Government Senior Secondary School, today received a state award for her contribution to education, at the state-level Teacher's Day celebrations organised by the state education department at Amritsar. She started her career in 1975 as a science teacher and became headmistress in 1989. She joined a government school at Goniana as the principal in 1997 and since 2002, she has been serving the Des Raj Government Senior Secondary School.
Now, Bangi Rughu village just a click away
Bathinda, September 5
As part of efforts to make rural areas go online, www. bangirughu.com, a website, was launched on Sunday.
Netball Tourney
Malwa College girls strike silver
Bathinda, September 5
Girls of the Malwa College of Physical Education here won the silver in the inter-college netball contest organised by the Punjabi University, Patiala, at the SKRC College Physical Education, Bhago Bajra Khara, from August 30 to September 1.
Truck driver electrocuted
Jalalabad (Ferozepur), September 5
Ranjit Singh, a truck driver died after he was electrocuted when his vehicle came into contact with a high voltage wire while he was opening the rear stopper to unload stone rubbles here today.