KnotPAD
Putting up a wedding album has graduated from a mere collection of the D-Day photos to a work of art narrating a complete tale
Wedding is one special day that leaves memories of a lifetime. No wonder when it comes to wedding albums, people want only the best. Italian wooden covers, black and white portraits and a magazine look - not only the budget but also the span of wedding photography has increased manifold.

Eye Eye Captain!
Youngsters seem to be taking charge where social responsibility is concerned. Don't go by their branded attire, give-a-damn attitude, frills and thrills in life. When it comes to doing their bit, they are up to it. "They rise above conventions and stereotypes and are taking up social issues that need action, not just words," says Dr Ashok Sharma, director, Cornea Centre, Chandigarh.


Long shot
Documentary maker Narinder Pal Singh's latest offering Guru Nanak highlights some interesting takes culled from Gurbani and research works carried out by Turkish scholars
Revival of Punjabi cinema is one topic that we love to discuss. This holds true for the Punjabi moviemakers as well. Punjabi cinema is evolving, moving in the right direction. Everything is well, but has someone spared a thought for a parallel stream of art — documentaries?


Strictly for dummies
If you think 'Apple' is only a fruit and 'mouse' is just a rodent, then you can benefit from websites like dummies.com
If we were to tell you that there are people who do not know the ABC of technology, would you want to dismiss it as rubbish or get startled? We bet both! While on one hand technoratis are coming up with amazing gadgets and technologies, on the other some 'innocent souls' wonder what on earth is happening!
Scribble for success
Google announces the launch of second Doodle 4 Google competition in India to celebrate the Children's Day on November 14, 2010.
Children in India to participate in this exciting 'doodling' competition and get a chance to feature their 'doodle' on November 14 on www.google.co.in. The competition is open for all children from 5 to 16 years across India. This year, our chosen theme is 'My dream for India' encouraging young doodlers to imagine what India would be like in two decades from now and capture those images in color and paper.


Glamour girls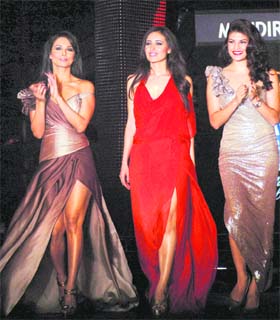 From L to R: Actor Malaika Arora Khan, fashion designer Mandira Wirk and Jaqueline Fernandes walk the ramp during a fashion show in Mumbai recently. — PTI photo
Game on
Tata Sky Ltd., in association with Hungama, South Asia's leading digital entertainment company, launches Actve Games – truly taking the gaming experience on TV to a whole new level. Currently, the games available on most DTH services are quite basic, Actve Games revolutionizes the entertainment experience for all Tata Sky subscribers by making home the new playground with a host of high-end games across specialized genres including action, arcade, puzzles, sports, cards and strategy.
GEEK SPEAK
HANDY Cam!
DSLR (digital single lens reflex) camera, which is a digital version of the SLR cameras, is too big, bulky, and complex to use as compared to a compact point-and-shoot camera. But the latter is not powerful enough, which necessitated the need for hybrid digital camera.
LAUNCH PAD
Head start
The Philips SHQ3000 & SHQ4000 are part of Philips new line of 'waterproof' and sweat proof sports headphones in rubberized black and bright orange design; and comes with three sizes of extra soft anti-bacterial silicon ear caps. SHQ3000 are customizable ear hooks whereas SHQ4000 are extremely flexible neckband based earphones.


Home front
In her own space
Punita Vadhera has blended creativity with comfort to evolve her signature style
A home is a dream come true. And for sure it's Punita Vadhera's. Her nature, interests and skills find expression in her one-kanal house in phase 3, Mohali. "I have lived in a duplex, though they look great I for sure did not want one," says Punita, counsellor with Carmel Convent-9.

Spade work
Like a prayer
The pleasure of gardening is unending. However, there are times in the year when gardeners are over delighted and the fruits of their labour are borne and harvested. Rainy season is one such time when gardens are at their best. This is also the time when one should make the best use to time to rear and enjoy certain type of plants.


Graphic details
Whoever found animation exciting, creative, challenging, fascinating, imaginative, has something to rejoice. Animators can now draw, write, erase, zoom, scroll and rotate their creation directly on their screens. What's left is perhaps, doodling!


French connection
It was Festival France at The British School. The weeklong celebrations of La Francophonic Week, held in collaboration with Alliance Francaise, a body propagating French culture and language, culminated at the school. Dedicated to the French language and culture, the entire week had the students taking a voyage to France, introducing them to pictures and videos associated with the place.
Fine show
To feel the pulse of the city and know their tastes, Shweta Chadha has put up an exhibition of suits, jewellery and gift items at Panchayat Bhavan. "The suits are mine and my sister's creation, jewellery by my mom," shares Shweta attending to each visitor herself.
Wedding vows
Bollywood actor Konkona Sen Sharma has confirmed that she has tied the knot with her long-time boyfriend Ranvir Shorey at a private ceremony in Mumbai. "Hey guys. Ranvir and I got married on the 3rd (September). Thanks for all the good wishes! Goodnight," Konkona, 30, posted on her microblogging page Twitter.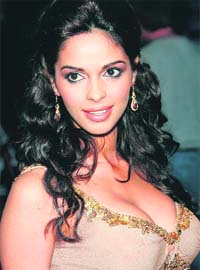 Hisssing away to glory
Mallika Sherawat is all set to make her singing debut in her Hollywood project Hisss, which will be composed by Julian Lennon, son of Beatles legend John Lennon. The actor, who landed in Mumbai recently after spending almost a year in Los Angeles, recorded the song in a studio in Los Angeles, which will be released as part of the Hisss soundtrack and promotions.
Emotional quotient
Bollywood superstar Aamir Khan, who played the lead in the Hindi remake of Tamil hit Ghajini, says it's difficult to retain the emotion of an original film in its remake."It's difficult to remake because the original things are made with such emotion that it becomes difficult to recreate the same emotion.
Singleton?
Salman Khan has been plagued by questions about the status of his relationship with actor Katrina Kaif recently and the Bollywood superstar is perturbed as to why the media is making big news out of the issue.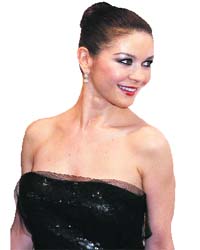 Blissfully busy
Hollywood actor Jennifer Lopez has confessed she rarely gets any time to herself because she is always worrying about her family. The singer-and-actor, who has two-year-old twins Max and Emme with husband Marc Anthony admits she is constantly worrying about her family and rarely gets time to indulge her own interests.
Agony unmasked
Welsh actor Catherine Zeta Jones has opened about her agony over husband Michael Douglas's throat cancer. The beauty refuses to accompany Oscar-winner Douglas to the hospital for chemotherapy and radiation treatment.