Ram Gopal faces Satya of underworld
Gets threat calls over his forthcoming multi-lingual movie Rakta Charitra
Suresh Dharur/TNS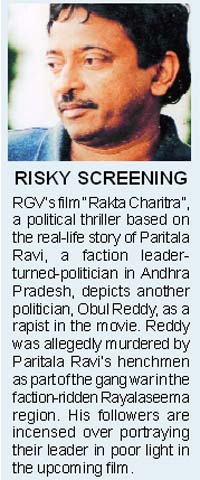 Hyderabad, September 6
Bollywood film maker Ram Gopal Verma, known for his grisly gangster movies, is no stranger to controversies. He has landed in fresh trouble over the portrayal of a character in his forthcoming multi-lingual film "Rakta Charitra" (Blood-soaked history), a political thriller based on the real-life story of Paritala Ravi, a notorious faction leader and former minister in Andhra Pradesh.
The ace director received calls threatening to eliminate him for depicting a politician, Obul Reddy, as a rapist in the movie. Reddy was allegedly murdered by Paritala Ravi's henchmen as part of the gang war in the faction-ridden Rayalaseema region.
His followers are incensed over portraying their leader in poor light in the upcoming film, which has created ripples in political circles even before its release. Apart from threatening calls, RGV also received a legal notice from Obul Reddy's family for showing him as a rapist.
Brushing aside the threats, the producer-director said he was not scared of anyone and asserted that he would continue to make movies with a sense of unwavering commitment. "The film has not yet been released. I do not want the people to jump to conclusions without seeing it."
The movie, starring Vivek Oberoi in the lead role, follows tumultuous events in the life of Ravi, a Naxalite sympathiser who was sucked into the gang wars of the region and later went on to become a minister in the Telugu Desam Party government.
Ravi, a four-time MLA, was shot dead in January 2005 by a sharp-shooter allegedly hired by another gangster and Congress leader Gangula Suryapratap Reddy alias Maddelacheruvu Suri, who has a long-time family rivalry with Ravi.
Bollywood star Vivek Oberoi plays the role of Ravi while Tamil action hero Suriya acts as his rival in the movie, which seeks to portray political violence of Rayalaseema region. Hailed by his admirers as a do-gooder and dreaded by opponents as a merciless killer, Ravi was an accused in several murder cases and had survived many assassination attempts.
'Rakta Charitra' is the story of his phenomenal rise to power and the intense, blood-curdling conflict between two factions in his native Anantapur district. Ravi's father and brother were murdered by local rivals. He became a rebel, and fled to the jungles, plotting revenge for his family's death. He had also hobnobbed with Naxalites.
In 1994, Ravi was elected as an MLA from Penukonda and was inducted into the NT Rama Rao cabinet. His widow P Sunitha is now a TDP MLA. "Ravi's life story is absolutely fascinating. He was on the verge of becoming a Naxalite and from there he embarked on a journey into mainstream politics. Ravi was finally gunned down, it is an incredible story to be filmed," Verma says.
The director of popular gangster films like "Satya" and "Company" says his intention is to capture the spirit of the man and his surroundings, rather than the politics around him.