M A I N N E W S
BJP, JMM get back together in Jharkhand
* Arjun Munda stakes claim to form govt
* Guv recommends lifting of Prez Rule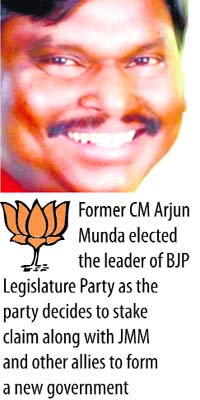 Ranchi, September 7
Over three months after it parted ways with the JMM, the BJP today again came together with Shibu Soren's party and staked claim to form a new government in Jharkhand, which has been under President's Rule since June 1.
In fast-paced developments, the JMM offered "unconditional" support to the BJP after which its legislature party elected former Chief Minister Arjun Munda as its leader. Munda met Governor MOH Farooq and claimed the support of 45 legislators in a House with an effective strength of 81. The Governor said he would look into it and convey his decision to the party.
"We have given a list of 45 MLAs to the Governor, requesting him to invite Arjun Munda to form the new government. The Governor said he would look into it and inform us," BJP state unit president Raghuvar Das said. He said in the list of 45 MLAs, the name of JMM MLA Poulus Surin did not figure as he was in judicial custody.
Das handed over the list to the Governor in the presence of 42-year-old Munda, also the party's national general secretary. In the list, there were 18 MLAs each of BJP and JMM, two from JD(U), five from AJSU and two Independent MLAs -- Chamra Linda and Bidesh Singh.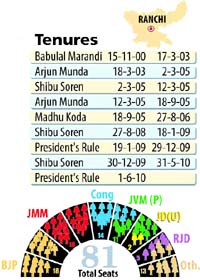 "JMM has extended unconditional support to BJP's initiatives to form a government," Jharkhand Mukti Morcha spokesman Suprio Bhattacharya said.
Meanwhile, in Delhi, top leaders of Congress were huddled for more than an hour to discuss the evolving political situation in Jharkhand.
Home Minister P Chidambaram is learnt to have briefed Prime Minister Manmohan Singh and Congress president Sonia Gandhi on the situation. Finance Minister Pranab Mukherjee, Defence Minister AK Antony and Law Minister M Veerappa Moily also attended the meeting. The Congress has 14 MLAs and its ally JVMP has 11 lawmakers.
Notably, ties between allies BJP and JMM had soured following cross-voting by Shibu Soren in the Lok Sabha during cut motions in the Budget session in April brought by BJP and Left parties.
After the BJP threatened to withdraw support, Soren agreed on sharing power on rotational basis but later went back on his word.
He resigned from the chief minister's post on May 30 following the withdrawal of support by the BJP.
The total strength of the Jharkhand Assembly is 82. One nominated MLA from Anglo-Indian community, Joseph P Galstaun, died in June. — PTI