PUNJAB
HARYANA
JAMMU & KASHMIR
HIMACHAL
REGIONAL BRIEFS
NATION
OPINIONS
LETTERS
BUSINESS
SPORTS
WORLD
Wednesday, September 8, 2010, Chandigarh, India
Updated at 3:00 am (IST)

Extended monsoon in North may cloud CWG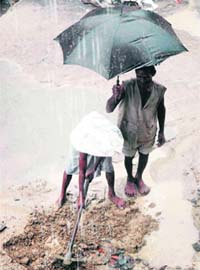 Met predicts rain in Oct first week, OC works on Plan B for opening ceremony
New Delhi, September 7
As if the delays caused by glacial pace of work and poor management were not enough, now even the weather gods are determined to make things more difficult for the Commonwealth Games organisers. After bestowing bountiful rains on the Northwest region this year, it now appears that the monsoon is in no hurry to leave.
BJP, JMM get back together in Jharkhand
* Arjun Munda stakes claim to form govt
* Guv recommends lifting of Prez Rule


Ranchi, September 7
Over three months after it parted ways with the JMM, the BJP today again came together with Shibu Soren's party and staked claim to form a new government in Jharkhand, which has been under President's Rule since June 1.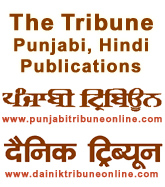 EDUCATION
JOBS & CAREERS
HEALTH & FITNESS
SCIENCE & TECHNOLOGY
REAL ESTATE
SPORTS & WELLNESS

Army to relook into Capt Kohli's death
New Delhi, September 7
Defence Minister AK Antony has ordered a fresh probe into the death of Capt Sumit Kohli in Jammu and Kashmir in 2006 after his family claimed it was not suicide but murder.
Haryana MLAs give themselves Rs 20k hike
Chandigarh, September 7
The Haryana legislators may fight with one another like cats and dogs over petty issues or make a mockery of House rules by flouting these with impunity, but when it comes to a hike in allowances, they stand as one.
Enemy Property Ordinance dropped
New Delhi, September 7
The Cabinet today dropped the proposal to bring in a fresh ordinance ensuring the continuation of vesting of "Enemy Property" with the Custodian of India.
UNION BUDGET 2010-11
RAILWAY BUDGET
2010-11

NDA 60 Glorious Years
1857 The First Challenge
E - Revolution 2005:
A Two-day IT conclave
Assembly Elections - 2005
Turbans
Chandigarh is 50
125 Years of The Tribune
India: The Tasks Ahead
India at Sixty
A Tribune Supplement
EARLIER FEATURES
On Sundays
On Saturdays
PJ Thomas is CVC
Sworn in; Sushma Swaraj objects again
New Delhi, September 7
Ignoring the BJP's objection, the government appointed Telecom Secretary PJ Thomas as the Central Vigilance Commissioner (CVC). President Pratibha Patil administered the oath of office to Thomas, a 1973 batch IAS officer of the Kerala cadre, at a function in Rashtrapati Bhavan this afternoon.
Centre to SC: Already giving free foodgrains
New Delhi, September 7
The possibility of a showdown between the government and the Supreme Court over the rotting of foodgrains waned with the apex court expressing satisfaction over the Centre's assurance that it was already providing foodgrains free of cost for four welfare schemes and was taking several steps to augment godown facilities.
(Details in Nation page)


Sho(o)ed away at Rahul function
Akola, September 7
With hurling of footwear as a mode of protest against politicians becoming a trend, students wearing chappals were denied entry for an interaction with Rahul Gandhi at a local college today. Securitymen and officials turned away chappal-wearing students wanting to take part in the interaction at Panjabrao Krushi Vidyapeeth at the main gate itself by way of precaution before they could even enter their own college auditorium, sources said.

Rahul Gandhi addressing students at an Akola college on Tuesday. — PTI
Today's specials
AMRITSAR PLUS

HIMACHAL PLUS

JALANDHAR PLUS

J&K PLUS

JOBS & CAREERS

HEALTH & FITNESS

PM tells SC not to get into policy formulation
September 7, 2010
Bihar still awaits hostages' release
September 6, 2010
Nitish offers safe passage to Maoists for dialogue
September 5, 2010
Tension mounts as Naxals kill cop
September 4, 2010
Sonia set for 4th term
September 3, 2010
Sibal blames bad floor management
September 2, 2010
SC raps Pawar, says ruling was an order
September 1, 2010
More muck flies off match-fixing scam
August 31, 2010
CRICKET SHAMED AGAIN
August 30, 2010
Jet crew suspended for serious lapses
August 29, 2010