Young World
Cultural Exchange Programme
Eklayva students visit Denmark
Tribune Reporters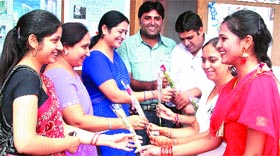 Students greet teachers with flowers during Teachers' Day celebrations at the Apeejay College of Fine Arts in Jalandhar. A Tribune photograph
Jalandhar, September 7
Kulwant Kaur, a teacher of Eklavya School, and students Shaleen Batra and Jaskirat Singh of Eklavya Public School went to Ferslev School, Aalborg, Denmark, under a cultural exchange programme.
Information regarding highlights of Indian culture, Indian monuments, national symbols and Indian festivals and socio-cultural practices was shared by students with their Dutch counterparts.
Students also displayed art and craft, which included embroidery work, bags made of cane, Indian jewellery, charkha, hand fans and some paintings made by the students of Eklavya Public School.
National seminar
The Indian Commerce Association, in association with Lyallpur Khalsa College, organised a national seminar on "Challenges before commerce and management education in India" in which delegates from various colleges and universities of India participated.
Dr Ravinder Vinayak, general secretary, All-India Commerce Association, inaugurated the Punjab Chapter of the association under the name of the Punjab Commerce Association. Balbir Kaur, president, Governing Council, Lyallpur Khalsa College, presided over the function
Seminar on communication
A seminar on communication and soft skills was organised at the DAV Institute of Engineering and Technology (DAVIET) on Monday.
Priyank Bharti, Deputy Commissioner, was chief guest in the inauguration session. Dr Gurupdesh Singh, Professor, GND University, Amritsar, was the guest of honour. He said, "Language is not just a course subject, it involves overall development of a human being in its all spheres. Adding a new word is not just an addition to your vocabulary, but a whole lot of information associated with a word. Communication is a vast topic and has extremely important relevance in present day scenario in the era of multinationals and global business horizons."
Dr Usha Bande, former fellow, Indian Institute of Advanced Studies, Shimla, delivered the keynote address. Talks were also delivered by Dr Deepti Gupta, Professor, Panjab University, Chandigarh, on "Communication skills curriculum - An exposition" and Dr Sharda Kaushik, Director, RIE, Chandigarh, on "Problems in effective communication with special reference to phonetics." Dr Jappreet Kaur Bhangu, Associate Professor, SLIET, Longowal, delivered an expert talk on "Soft skills and personality development: The new slogan."
Dr A.S. Arora, Principal, DAVIET, and Dr S.C. Ahuja, HoD, Applied Science Department, also presented their views related to relevance of conduct of the seminar..
Accredited
The St Soldier group of institution's college of education has been accredited with the highest grade "A" by the National Assessment and Accreditation Council (NAAC).
Chairman Anil Chopra said the Saint Soldier College of Education had become the number one self-aided institute in Punjab by securing the highest CGPA 3.11 among other institutions for grade A.
Cricket championship
A zonal series of inter-zonal cricket matches was conducted in Jalandhar which was won by the boys' cricket team of CT Public School and the team was declared district champions. The under-16 team defeated the team of Labu Ram Senior Secondary School in the final match by six wickets.
Quiz contest
A team of Hans Raj Mahila Maha Vidyalaya won the second prize in the inter-college quiz competition organised by the Department of Social Science, Hindu Kanya College, Kapurthala. The quiz was based on the national freedom struggle. Rashminder Sohi and Komal Sohi of B.Com (II) were the team members.
Nutrition week
In order to make its students and other members of the staff adopt healthy eating habits, the School of Hospitality of Lovely Professional University celebrated the first week of September as nutrition week. In this regard, the students and the faculty had chalked out a well-calculated and great message oriented schedule.
The school conducted nutritional awareness programmes by students through speech, skit, poem and slide show. In the next stage, competitions like poster making and slogan writing were held. The theme was "Healthy eating for healthy living". In poster making, Cheenam Bhatia and Kanika Thareja stood first and second, respectively. In slogan writing, Varindar Kaur and Bhawna were adjudged first and second. Geeta was given a consolation prize. All these students are doing MSc (Nutrition and Dietetics).
The competitions were followed by a guest lecture on "Nutritional importance of rice bran oil" by Dr Sanjeev Sharma. A nutritional counselling and workshop was also arranged. The last step of the celebration was a low fat recipe contest.
National test
It is a matter of pride for the Biotechnology Department of Lyallpur Khalsa College that three students have qualified a national-level test conducted by Jawarhal Lal Nehru University, New Delhi, on behalf of the Department of Science and
Technology (DST), Government of India.
Jatinder Pal Singh has got third rank, Nikhil Sharma 62th rank and Meenu Hans 86th rank on the all-India basis. Dr Arun Dev Sharma, HoD, Biotechnology Department, said the test would help the qualifying students get admission in higher degree courses, like PhD and MSc in biotechnology, in the top 30 universities in India.
He added that the DST had sanctioned Rs 35 lakh for M.Sc (Biotechnology) for research and development in the field of biotechnology for the college.Dr Jaspal Singh Randhava, Principal of the college, congratulated the students.
Teachers' Day
Teachers' Day was celebrated on the campus of MGN Public School UE-2. Students of Class XI took the charge of teaching rest of the classes. They were judged for their performance as pupil teachers and the best ones were rewarded later.
The students also organised a brief entertainment programme for the teachers. The teachers played different games in teams and immensely enjoyed themselves.
Phagwara: Students of the Kamla Nehru College for Women celebrated Teachers' Day. The function began with guru pooja. Girls tied holy threads to all their teachers.
A Teachers' Day best message contest was organised in which students ventilated their views and feelings for their teachers.
Balvir excels
Phagwara: Balvir Kaur, a students of PG diploma in fashion designing of the Kamla Nehru College for Women, bagged the third position in the annual examination of Guru Nanak Dev University by scoring 611 marks out of 650. In all 10 students of the college have passed with distinction.