PTU 'denies' students chance for re-evaluation
Jalandhar, August 19
Over 70,000 students of Punjab Technical University (PTU) who had flunk in the mathematics paper this year are in for a bigger shock.The university has denied a majority of them a chance of re-evaluation. The new rules permit only those students for re-evaluation who have scored at least 15 marks in the subject (passing score is 24).
Tomato, garlic look downward
Jalandhar, August 19
The prices of most of the vegetables remained unchanged as those of the last week. While tomato, capsicum, cucumber, arbi and garlic witnessed decline in their prices, lady's-finger, peas and cauliflower saw an increase.
Chawla Heart Care Centre first to set up MOT in region
Jalandhar, August 19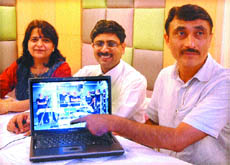 Every fourth person dying of a heart ailment will be an Indian or Asian by 2015. Coronary artery diseases (CAD) are rapidly spreading in the younger generation which is an alarming development.Dr Raman Chawla, director of Chawla Heart Care Centre, claimed that as per World Health Organisation (WHO) reports, the CAD is targeting youngsters, both in rural and urban pockets.

Dr Raman Chawla, Director of Chawla Heart Care Centre, shows the MOT on a laptop. A Tribune photo

Cooking gas shortage in town
Phagwara, August 19
Despite the claims of the government for normal supply of cooking gas in Punjab, consumers of Phagwara are facing much inconvenience in getting cooking gas cylinders which are presently hardly available even after a wait of up to 10 days.
City to have 4 more hotels soon
Jalandhar, August 19
The city, which already boasts of a good number of hotels, will soon add up four more in the list.The Ramada Group is coming up with a hotel in the heart of the city adjoining the General Post Office. The group is coming up at a site developed by the real estate developers PPR group. The basic building structure of the hotel is already ready and the Ramada Group is likely to take over by March, said Rajan Chopra of the PPR group.
SGPC Poll SDM to probe bogus vote charge
Jalandhar, August 19
The Chief Commissioner, Gurdwara Elections, has ordered an inquiry into the allegations of bogus votes prepared in the run-up to the SGPC elections.The complaint was submitted to Justice H.S. Brar (retd) by MLA Sukhpal Singh Khaira today in which he alleged that Bibi Jagir Kaur had prepared bogus votes of people not eligible to vote. He said that hundreds of votes had been prepared in the Bholath area.
Young World
Vanamahotsava at MGN Public School
Jalandhar, August 19
Vanamahotsava was organised by the Old Montgomerian Association (OMA) in MGN Public School here on August 18. Saplings of various plants were presented to the school by approximately 15 students. Jarnail Singh Pasricha, honorary secretary of the MGN Educational Trust, was the chief guest and he planted the first saplings. OMA members took a pledge to make every effort to have a happy, healthier and green environment at MGN Public School.
Milk factory raided, samples collected
Jalandhar, August 19
Health officials yesterday raided a milk factory in the Nurpur locality of the city and collected samples of milk powder and milk, which the health authorities suspected to be adulterated and processed from the milk powder.


The winners of the district badminton championship in Jalandhar on Thursday. Tribune photo: Malkiat Singh
Ustad Lachman Singh Seen, the eldest living scion of Punjab Gharana, being presented the state award for his contribution to Indian classical music by Chief Minister Parkash Singh Badal at a state-level function on the eve
of Independence Day.