Allege Jam-tired Residents
'Vote bank-wary councillors not acting against encroachments'
Jalandhar, July 20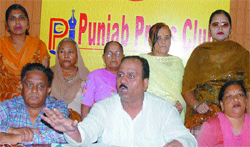 It is an open secret that shopkeepers have made encroachments almost in every part of the city. People usually do not raise any voice against such violations. However, now the residents of Ishwar Nagar locality at Basti Sheikh on the Kala Sangha Road, falling under Ward 58, have come out in the open against reported encroachments by the shopkeepers on the road from Ghah Mandi Chowk to their colony.
Members of Ishwar Nagar Welfare Society address the press in Jalandhar. A Tribune photograph
What's in a name?
Everything, believe netas
Jalandhar, July 20
While in power, most politicians have a personal agenda - of lending parks, roundabouts or roads leading to their houses, the names of their fathers.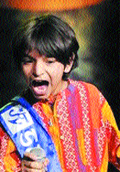 Kapurthala kid bags place in VOI's lucky 10
Kapurthala, July 20
A 12-year-old lad from Kapurthala, Bhanu Partap Agnihotri, has brought laurels to Punjab as he is the only boy from the border state who has been selected as one of the 10 participants in a TV reality show "VOI Chote Ustad" (Do Desho Ki Ek Aawaz), which will be telecast from July 24 on Star Plus. His father Sanjay Agnihotri, a judicial officer at Kapurthala, told The Tribune that Bhanu started singing when he was eight. He said the first song which Bhanu had sung was "O hum dum sunio re" (Sathia movie)".
Bhanu Partap Agnihotri
Recruitment rally for Territorial Army from July 29
Jalandhar, July 20
The 103 Infantry Battalion of the Territorial Army (Sikh Light Infantry) would be organising a recruitment rally for soldier (general duty) and soldier (tradesmen) at its unit location on GT Road, Millergani, Ludhiana, from July 29 to 31.
MGSIPAP to organise sarv dharam sammelan on Aug 1
Jalandhar, July 20
In view of severe environmental degradation, planting saplings has become more significant than holding langars nowadays. Stating this here today, leading philanthropist Padma Shree Baba Sewa Singh Khadoor Sahib elaborated, "If you plant and protect a sapling, it will provide oxygen to the flora and fauna for several decades."
YOUNG WORLD
98 CT students bag placements with retail firms
Jalandhar, July 20
As many as 98 students of B. Tech, MBA and B. Pharma, of the CT group of institutions bagged placements with retail companies like Vishal Mega Mart, Surgiwear and Hindustan Hydraulics at annual pay packages of Rs 2 to 3 lakh.
Indo-Pak talks failed due to lack of foresight: Mann
Jalandhar, July 20
The recent talks between External Affairs Minister S.M. Krishna and his Pakistani counterpart Shah Mehmood Qureshi failed due to lack of foresightedness.
Flesh trade racket busted, six arrested
Jalandhar, July 20
The police claims to have unearthed an inter-state flesh trade racket in the city with the arrest of six persons, including two members of a family, here today.
Tussle over milk powder
Phagwara, July 20
Residents of Palahai village and activists of anganwadi workers union came close to a clash after the latter tried to check the milk powder, meant for the distribution at anganwadi centres in Palahai, Jagpalpur and Ranipur villages, kept in a cooperative society, Palahai.
Elementary teachers to protest from Aug
Jalandhar, July 20
The Elementary Teachers Union has decided to launch a statewide campaign, "Lok jagao, sikhia vibhag bachao" from August to September 5 highlighting the plight of the elementary teachers working in zila parishad and nagar council schools. A meeting in this regard was held here on Sunday. The teachers would observe Teachers' Day as "black day" across the state. It was also decided that a signature campaign would be launched against the wrong educational policies of the state government.
Pensioners for revival of old pension scheme
Jalandhar, July 20
Members of the Punjab State Aided School Pensioners Association yesterday held a meeting and condemned the state government for meting out step-motherly treatment to 2,500 persons who retired after May 31, 2003.
Valedictory function
Jalandhar, July 20
The Rural Development and Self-Employment Training Institute (RUDSET) organised its 135th valedictory function at the free-of-cost making of soft toys training programme, in which 22 women candidates took part. The institute has already started its new course in dress designing for women.
Tata's Winger launched
Jalandhar, July 20
Tata Motors introduced its luxurious passenger vehicle, Tata Winger Platinum, with an innovative design and improved facilities. Having a seating capacity of six plus one, the new vehicle has facilities like reclining captain seats, adjustable arms with every seat, besides separate air-throwing spaces for every passenger.
LPU ranked 19 in engg education
Jalandhar, July 20
Competition Success Review has ranked Lovely Professional University among the top engineering colleges of India. The university has been ranked 19 for providing education to engineering students in India. The Business India has accorded it A++ for its MBA programme. The Financial Express (Indian Express Group) holds it as first in infrastructure in India. — TNS
Essay writing contest
Phagwara: Kamla Nehru College for Women, Phagwara, organised a talent hunt and essay writing competition. Principal Kusum Verma said that it was an effort to search the hidden talent of the students. The topics for essay writing were 'Environmental Pollution' and 'Importance of Computers in Moderen Era' and Chitsimran, Madhu and Charul, stood first, second and third, respectively. — TNS