Apeejay students shine in GND varsity exams
Tribune News Service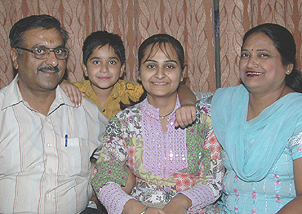 BSc (IT)-III topper Rupal Aggarwal with her family in Jalandhar. A Tribune photo

Jalandhar, June 17
The students of the Apeejay College of Fine Arts brought laurels to the institutions by bagging the top positions in Guru Nanak Dev University, Amritsar.
The Apeejay students bagged top positions in B.Com-I and II. Priyanka Sharma, a student of BCom-I bagged first position in the university and scored 451 marks out of 600. Shubham Bansal stood second in the varsity by scoring 450 marks of 600. While Cheshta Malhotra bagged third position in the varsity and secured 449 marks out of 600.
Talking to The Tribune, Priyanka said she didn't expect the top position in the varsity. "My top position came as a big surprise. I really worked hard this time. And all I know is that there is no shortcut to success," she added.
The topper has been pursuing her Chartered Accountancy (CA) along with B.Com. "As I was already taking coaching for CA it helped me in understanding some of the basic concepts of B.Com as well. I wish to become an established CA in future", she added.
Jyotika Prabhakar, a student of B.Com-II, bagged the top position by scoring 595 marks out of 750. While Garima Arora has secured 591 marks out 750.
Meanwhile, Rupal Aggarwal, a student of B.Sc (IT)-III of Hans Raj Mahila Maha Vidyalaya, bagged first position in Guru Nanak Dev University, Amritsar, by scoring 1929 marks out of 2500.
In another achievement, Diksha Sharma, a student of BCA-III, secured second position in the varsity by scoring 1,980 marks out of 2,500. HMV bagged the top positions in many other graduate courses this academic year.
Sports trials
Guru Nanak Dev University, Amritsar, in association with the Punjab Sports Department today held sports trials for girls in different sports wings for the colleges affiliated to the varsity.
During the trials 160 girls were selected by the department. The trials were held in the discipline of badminton, basketball, boxing, football, gymnastics, handball, hockey, judo, kabbadi, swimming, table-tennis, volleyball, weightlifting and wrestling.
Dance contest
As a part of ongoing summer camp, a dance competition was held at Saint Soldier Divine Public School, Kapurthala Road, with the theme, "Save culture". Students dressed up in traditional dresses.
Students were awarded the titles of "Mr Punjabi", "Miss Punjaban", "Miss Charming", "Mr Photogenic" and "Mr Handsome".