Film fest for students begins
Jalandhar, August 24
In an effort to imbibe the spirit of humanity and moral values in the students of various government and private schools of the district, the district education authorities organised a week-long film festival in the district yesterday.
4 St Soldier Law College students clear PCS
Jalandhar, August 24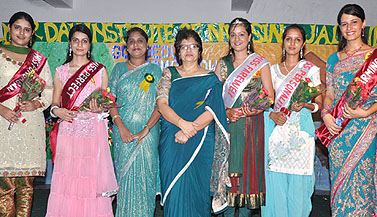 Four students of St. Soldier Law College, which has started coaching classes for PCS (judiciary) for the first time, have cleared the PCS exam. Out of a batch of 13 candidates, 11 candidates appeared in the test held jointly by the Punjab Public Service Commission and the Punjab and Haryana High Court on August 8.
Students at the farewell function in the MHR DAV Institute of Nursing in Jalandhar. A Tribune photo

Bossy Neelamahal keeps trustees waiting, they stage walk out
Jalandhar, August 24
There seems to be some ill-will between the trustees of the Jalandhar Improvement Trust and its chairman these days. While the trustees were already nurturing the feeling that chairman Baljit Singh Neelamahal was trying to act like a 'super boss' by avoiding them and trying to take all decisions by himself, their feelings were further aggravated by the chairman's behaviour today.
Special bond for jail inmates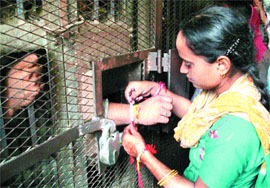 Jalandhar, August 24
Prisoners lodged in the Central Jail here celebrated Rakhi with enthusiasm as the authorities had made special arrangements for them today. The number of visitors was very high today as several women came to the jail for tying rakhis on the wrists of their brothers undergoing imprisonment. Similarly, some men also visited the jail to get rakhis tied from their prisoner sisters lodged in the women cell.
A woman ties rakhi on the wrist of an inmate of the Central Jail in Jalandhar on Tuesday. Tribune photo: Malkiat Singh

Rakhi celebrated with fervour
Phagwara, August 24
Rakhi was celebrated with enthusiasm in Phagwara, Phillaur and Nakodar today. Huge rush of the customers was seen before sweet and fruit shops.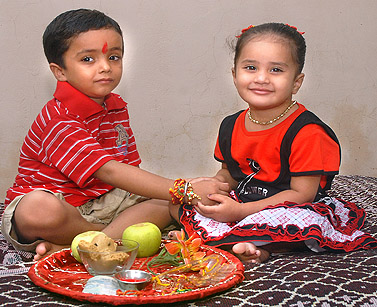 Inmates in the Phagwara Sub-Jail were allowed to celebrate Rakhi with their sisters. Some women went to the jail to meet their brothers and tied rakhis on their wrists. Meanwhile, sisters of several patients, admitted to various hospitals in the town, visited them and tied rakhis on their wrists. The Kamla Nehru College for Women organised a rakhi-making contest. Reena Rani and Sukhwinder bagged first position, while Sukhpreet and Amanpreet stood second.
Siblings celebrate Rakhi in Jalandhar on Tuesday. Tribune photo: Malkiat Singh
Computer teachers hold state-level protest
Jalandhar, August 24
To highlight their long-pending demands, the Computer Teachers Union, Punjab, has decided to hold a state-level protest on September 5, on the occasion of Teacher's Day. The computer teachers had long been agitating to press the government to meet their demand to regularise their services.
IMA honours world veteran champ
Jalandhar, August 24
The Indian Medical Association honoured Padmashree Kartar Singh, IPS, after he came back from Switzerland after winning the world veteran championship for the 14th successive time in a row.
Officials asked to remove encroachments near canals
Phagwara, August 24
As directed by the state government, encroachments on the irrigation land along canals passing through various towns of the state would be removed soon.
2 nabbed for attacking ASI
Phagwara, August 24
The Phagwara police has arrested two Nihang brothers - identified as Jasbir Singh and Buta Singh - under sections 307, 353 and 186 of the IPC on the charges of attacking a police party and attempting to murder Raman Deep Singh, an ASI of the Phagwara police, at the local Gandhi Chowk tonight.
Radio Mantra conducts auditions on LPU campus
Jalandhar, August 24
Radio Mantra 91.9 FM visited the Lovely Professional University and GNA IMT campus to conduct auditions for RJgiri among the students on Radio Mantra's mobile studio.