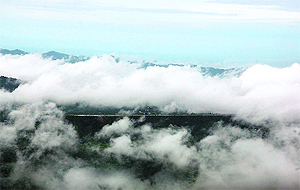 The Jubbar Hatti airport near Shimla remained blanketed by clouds on Tuesday. Tribune photo: Amit Kanwar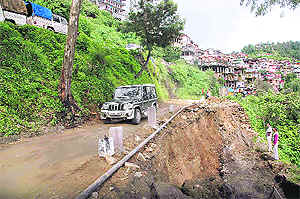 WASHED-UP: A rain-damaged road in Totu near Shimla on Tuesday. Tribune photo: Amit Kanwar

Pvt engineering colleges worried over low turnout
1,400 seats out of a total of 4,000 have no takers
Solan, August 24
With almost 1,400 seats vacant in various private engineering colleges of the state, the managements of these institutes are a worried lot.
A ticket to ride free
Shimla, August 24
With the government offering free travel to all women in the Himachal Roadways Transport Corporation (HRTC) buses on the occasion of Rakshabandhan, women availed the facility to celebrate the festival all over the state.
Illegal sale of fuel
CBI grills BRO officer
Manali, August 24
The Central Bureau of Investigation (CBI) probing the illegal sale of fuel supplies of the Border Roads Organisation's (BRO) Deepak Project has created a stir in the BRO rank and file working in the area.
Power Board Tender
Bidder rues 'corruption' by contractors
Hamirpur, August 24
A bidder participating in a tender of the Himachal Pradesh State Electricity Board (HPSEB) at Mattan-Sidh has exposed the pool-in practice of contractors for grabbing government works through tenders as well as manipulation of rates by them.
State's third AIDS centre to come up in Hamirpur
Shimla, August 24
The Himachal Pradesh State AIDS Control Society will set up its third Community Care Centre in Hamirpur district and establish eight anti-retro viral treatment (ART) sub-centres for the convenience of patients.
Youth's murder
Villagers block highway to protest police laxity
Solan, August 24
Peeved at the lax attitude of the Ramshehar police in investigating the murder case of a local youth, Shiv Lal, who was found dead at Kiarighat yesterday morning, hundreds of villagers of Chachi panchayat today blocked the Ramshehar-Shimla state highway for nearly six hours.
Satellite phone facility for Manimahesh
Chamba, August 24
The satellite phone system has been installed at Manimahesh Lake for maintaining telecommunication links with the district headquarters at Chamba and sub-divisional headquarters at Bharmour, besides the rest of the world for the convenience of Manimahesh pilgrims.
Surgeon booked for sexual harassment
Bilaspur, August 24
A nurse Meera Rani, posted in Regional Hospital here, has lodged an FIR against surgeon D R Sehgal alleging sexual harassment and attempts to outrage her modesty despite her repeated protests.
Kurian visits rehab centre on Rakshabandhan
Shimla, August 24
Chief Justice of the Himachal Pradesh High Court Kurian Joseph today visited the State Mental Health and Rehabilitation Centre to be with the inmates on the occasion of Rakshabandhan.
Villagers protest govt decision on Shah Talai
Bilaspur, August 24
The gram panchayats of Jhabola and Naghyaar of the Shah Talai area protested against the government proposal of bringing Shah Talai and its adjoining 11 villages under the provisions of the "much hated" Town and Country Planning (TCP) Act.
Girl killed in mishap
Nurpur, August 24
Basu Devi (15), daughter of Thoiya Ram of Fareh near Palampur, died on the spot this afternoon when she was hit by a pick up jeep. The incident occurred while she was vomiting from the window of the bus in which she was travelling. She was coming from Chamba accompanied by her grandmother.
One dies in accident
Shimla, August 24
One person died and another was seriously injured when an apple-laden truck met with an accident near Patti Dhang, close to Khara Patthar, this morning.