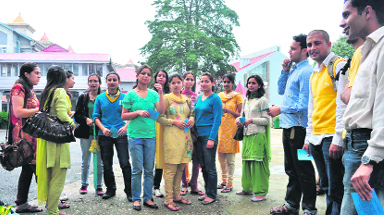 Students of the Department of Journalism, Himachal Pradesh University, Shimla, waiting for their turn to understand the working of the Himachal Vidhan Sabha during the monsoon session in Shimla on Thursday. A Tribune photo

HC reserves verdict in CD case
Shimla, August 20
The HP High Court today reserved its verdict on a petition filed by Union Steel Minister Virbhadra Singh and his wife Pratibha Singh for quashing of FIR registered against them in CD case. The matter was listed before Justice Kuldip Singh for hearing today and after hearing all parties, the court reserved its verdict.
6 killed in two accidents
Shimla, August 20
Six persons, including three labourers, were killed and three injured in two different accidents, both involving apple-laden trucks, in the Kotkhai area today. In the first mishap, an apple-loaded truck (HP-09 1885) lost control during a steep slope, hit another truck parked on the roadside and crashed into a roadside house near Premnagar. There were nine persons on board when the mishap took place. The injured included two labourers who were loading apples on the truck parked by the roadside.
Rain hits life in Kangra valley
Kangra, August 20
Life was paralysed today in Kangra valley following heavy rains which started late last evening and continued till this afternoon, leaving the Pathankot-Mandi and Dharamsala-Chandigarh National Highways blocked for several hours.
Orders to release 8 pc DA
Shimla, August 20
The Himachal government today issued orders to enhance dearness allowance (DA) from the existing rate of 27 to 35 per cent from January 1, 2010, following the announcement by Chief Minister P.K. Dhumal earlier.
Hospital raided; all present
Bilaspur, August 20
DC Nandita Gupta raided Ghumarwin Civil Hospital near here last evening and found staff of all categories present on duty. She talked to them regarding their treatment and any difficulty being faced by them. She also inquired about the facilities available there and any problem being experienced so that it could be solved at the earliest.
Donation for Leh victims
Shimla, August 20
Employees of the HP State Industrial Development Corporation (HPSIDC) have donated Rs 30,111 for the flood-hit victims of Leh through The Tribune Trust.
Health insurance for BPL families
Hamirpur, August 20
Deputy General Manager of New India Insurance Rajesh Kumar Attri said the company had tied up with the state government to provide health insurance for five members each of 2,37,000 BPL families under the Rashtriya Swasthaya Bima Yojna (RSBY) in the state.