Mittal meets Badal, seeks restoration of fiscal sops
SP Sharma
Tribune News Service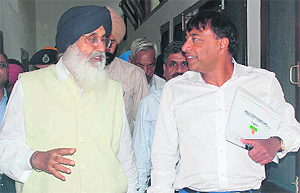 Steel tycoon LN Mittal with Punjab Chief Minister Parkash Singh Badal in Bathinda on Friday. A Tribune photograph

Bathinda, August 20
Having sought intervention of Prime Minister Manmohan Singh to persuade the Punjab government to grant fiscal incentives for the Rs 18,000-crore refinery being built by him here, steel tycoon Lakshmi Narayan Mittal today flew in here and discussed the issue with Chief Minister Parkash Singh Badal.
Badal, who had come here to lay foundation stone of a project, was closeted with Mittal for about 40 minutes. Top officials of the Hindustan-Mittal Energy Ltd (HMEL), joint venture between the HPCL and Mittal Energy Ltd, later joined the discussions.
Badal was tightlipped about the discussions but told this correspondent that every problem faced by the refinery would be sorted out.
Mittal, who was on his maiden visit to the refinery, refused to give details of his discussions with the Chief Minister.
Besides the CM, KJS Cheema, Special Principal Secretary to CM, Arun Balakrishnan, chairman of HMEL, and other top functionaries of the refinery were present in the meeting.
It is worth mentioning that the Punjab government had reportedly constituted a high-level committee consisting of Finance Minister Manpreet Badal and Chief Secretary S.C. Aggarwal to look into the demands of Mittal.
Mittal had sought PM's intervention as the earlier talks of HMEL with the Punjab government on the issue of additional incentives had hit a roadblock. Thereafter, Mittal had even threatened to stop work on the Bathinda refinery.
He had recently in a letter sought personal support of Manmohan Singh to ask the Punjab government to look favourably at the incentives for the project. He suggested that the PM convene a meeting of all stakeholders to discuss the relevant issues so that the project could deliver long-term sustainable benefits.
HMEL is demanding sales tax deferment for 15 years on the lines of the Gujarat government's incentives to private refineries. Punjab government had reportedly offered to grant a waiver of Rs 250 crore for five years. Another suggestion was for interest-free loan in the absence of tax deferment.