Humidity returns
New Delhi, August 20
After heavy rains lashed the Capital for three consecutive days, the weather today turned humid thus, giving residents a hard time.
Haryana plans to extend Metro to Ballabgarh
Faridabad, August 20
Chief Minister Bhupinder Singh Hooda revealed here today that his government was aiming to extend Metro rail from YMCA in Faridabad to Ballabgarh in this district and would later push to connect Faridabad with Gurgaon.
Art gallery refuses event of AIDS patients
New Delhi, August 20
In a brazen case of discrimination against HIV/AIDS victims, the management of a popular arts venue sought a declaration from an NGO, which had rented it for a two-day workshop, that it would not host any persons afflicted by HIV/AIDS, forcing it to cancel its booking.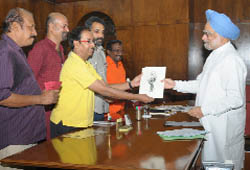 Cartoon gallery sought in Delhi
New Delhi, August 20
The national Capital may soon have a National Cartoon Gallery on the lines of National Art Gallery. Prime Minister Manmohan Singh assured this to a delegation of cartoonists that met him at his Parliament House office last night.

Cartoonist and painter Uday Shankar Ganguly presents the Prime Minister his caricature in New Delhi. A Tribune photograph

MCD sweeper poses as armyman, gets arms licence
New Delhi, August 20
The special cell of the Delhi police has arrested a 58-year-old sanitation worker of the Municipal Corporation of Delhi for allegedly posing as an Army personnel and procuring arms licence from Jammu and Kashmir using forged documents.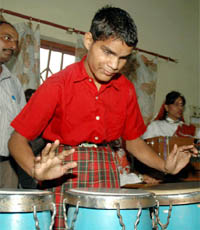 A visually challenged child plays drums during the launch of a computer centre for visually challenged children of AICB Captain Chandanlal Special School for Blind at Behrampur in Gurgaon. Tribune photo: Sayeed Ahmed
Mobile schools for labourers' kids
New Delhi, August 20
The Delhi government has started mobile schools and dispensaries for children of labourers working at the Games sites and elsewhere.
DU course on global biz skills
New Delhi, August 20
Delhi University (DU) in association with the National Association of Software and Services Companies (Nasscom) has launched acourse called global business foundation skills. The university has signed an MoU with Nasscom in this regard.
Protest against rising house rents
Over 5,000 Delhiites brave rains to submit signatures
New Delhi, August 20
Members of trade unions, youth organisations, women's groups and several DU students today braved the rains to come together and take out a peaceful rally to protest against the Delhi government's alleged inaction on rising rents in the city.
Widen cycling track's U-turn in Noida, says CWG team
Noida, August 20
The Commonwealth Games (CWG) team has suggested the widening of cycling track U-turn at Greater Noida Expressway.
3 held for cheating people over air tickets
New Delhi, August 20
The Delhi police has busted a gang of cheats and arrested three persons for allegedly cheating people in the name of booking air tickets, the police said today.
3 juveniles held for robbery
New Delhi, August 20
With the arrest of three juveniles, the Bhalswa Dairy police in north-west district has busted the gang of robbers who had allegedly robbed a TATA-407 driver of Rs 4,000 and mobile phone at knife-point near Ghains Godown, Shradhanad Colony, on Wednesday.
Crime File
Two robberies in one day
Noida, August 20
Two incidents of robbery were reported from Noida last night. In the first incident that took place in Sadarpur Colony, a resident of the colony, Mukesh Mishra, was robbed of his mobile phone and purse in the Sector 37 area. He has lodged an FIR at the Sector 39 police station.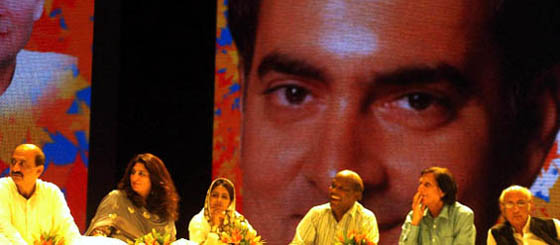 Poets at an Indo-Pak Mushaira in Gurgaon on Thursday night. Tribune photo: Sayeed Ahmed