Refinery spurs infrastructure growth in Bathinda
Rajay Deep
Tribune News Service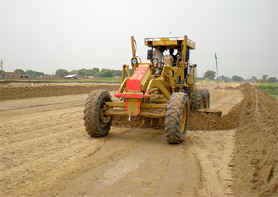 Construction work on the ring road phase-II in progress. The project would provide a direct link between the upcoming oil refinery and the under-construction civil airport in Bathinda district. Photo by writer

Bathinda, September 7
With the Guru Gobind Singh refinery—a project of HMEL, worth Rs 18,000 crore—inching towards completion with about 80 per cent of the total work done, the pace of construction of the related infrastructure has also been accelerating, simultaneously.
As the civil airport was a major demand of the refinery officials, keeping in view the pace of work at refinery, the authorities concerned have also increased the pace of work for its completion.
The civil airport will come up at the Air Force station, Bhisiana (Bathinda). Though the flights would take off from the runway of the Air Force station, the civil airport would have its separate terminal, for which the work is going on. Meanwhile, the PWD (B&R) has also accelerated the pace of construction of the approach road to the airport.
Besides, the Bathinda development Authority (BDA) is also not in a mood to lag behind in sharing the credit for development. Wading through all hiccups, the prestigious ring road phase-II project, the best link between the refinery and the airport, is also gaining momentum.
The eight km long ring road, which would cost about Rs 107 crore including the cost of land acquisition, construction of road, railway overbridge and a canal bridge, is scheduled to be operational by March, 2011.
The construction of the 100-feet wide road, with four lanes extendable upto six lanes was initiated in June with the target of completing it by December, this year. Further, tender for the canal bridge is also going to be allotted on September 15, while the BDA authorities have been working on the design of the railway overbridge, which would be constructed over the track crossing through the ring road.
It may be mentioned that a five-star hotel also was deemed as one of the basic requirements with the refinery coming up. Foundation stone of the hotel was also laid with much fanfare in the month of February, 2009.
The project was awarded to the Vipul Hospitality Ltd. in a tie-up with Sarovar Hotels and Resorts Ltd. for a concession period of 60 years. The awardees, with an investment of Rs 100 crores, had plans to set up the hotel within a two-year period on a public-private-partnership (PPP) basis, with international facilities and other amenities.
However, citing recession, the awardees had said that it would be started when the refinery reaches near completion as the refinery officials would be main clients of the hotel.
Now, observing that the construction of the refinery and its related projects is gaining pace, hope has dawned again that the lone foundation stone for the hotel that has not seen any activity, would also see the construction of the project soon.