Remedy worse than the malady
The exercise of having Chief Justices from other High Courts has not helped matters. The time has come to assess its impact upon the functioning of the judiciary. A former Supreme Court Judge and five former Chief Justices of High Courts call for a critical appraisal
Justice Kuldip Singh, Justice M.S. Gujral, Justice R.N. Aggarwal,
Justice S. S. Sodhi, Justice M.S. Liberhan and Justice S.S. Dewan
NOT so long ago, whenever the post of Chief Justice of a High Court fell vacant, whether on retirement, resignation, death or otherwise, the Judge next in seniority would take over as the Chief Justice of that High Court. This long established convention has now become a thing of the past.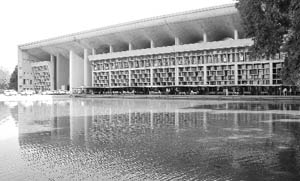 A view of the Punjab and Haryana High Court in Chandigarh. A Tribune photo: Manoj Mahajan
The Chief Justice of a High Court is today appointed not from amongst Judges of the same court but from those of some other High Court, keeping in view, of course, their seniority. What presumably impelled this change was to ensure objectivity in the role that a Chief Justice is expected to play.
Inherent in being the Chief Justice of a High Court is his position as leader of the court even though he is often described as being just the first amongst equals. Regardless of this, there are significant functions that lie exclusively within the Chief Justice's domain which are only for him to perform. Included amongst them being to recommend persons for appointment as Judges of the High Court and to assign or list cases for hearing before particular Benches besides dealing with the administration of the High Court by virtue of being its head.
It has also been seen that even in the matter of control which vests in the High Court over the subordinate judiciary which includes the cadre of District and Sessions Judges, the Chief Justice exercises considerable influence.
The appointment of Chief Justices of High Courts from amongst Judges of other High Courts has been the norm now for almost three decades. The time has come to assess its impact upon the functioning of the judiciary. Has it fulfilled the objectives with which this policy was conceived and put into effect? These are issues that call for a critical appraisal.
Experience shows that when a senior High Court Judge becomes eligible for consideration for appointment as Chief Justice, there is no scope for knowing whether he will get a chance to be Chief Justice as instances are not unknown of occasions when no Judge of a particular High Court was holding the post of Chief Justice of any court while at the same time there being two or more Judges of some other High Court functioning as Chief Justices. In other words, no Judge knows if at all he will be appointed Chief Justice and, if so, when and of which High Court.
It is in such situations that the cult of sycophancy flourishes. Sycophancy, as is well known, can take various forms whether it is courtesy calls on those that matter, be they the Supreme Court Judges, the Union Law Minister or other influential persons or calling them to preside over functions like seminars, conferences or laying foundation stones and the like.
Further, experience has shown that the usual tenure of a Chief Justice coming from another High Court is rarely, if ever, of a long enough period for such Chief Justice, to really get to know the state, its people, their customs and traditions or even his colleagues, the subordinate judiciary, including District and Sessions Judges and the members of the Bar and yet it is with their aid and advice that justice in the state is to be administered.
No wonder, the Chief Justice has perforce to rely upon and follow the advice of some of his colleagues. How good or objective such advice is remains a variable factor. And yet, as pointed out earlier, his is the dominant voice in recommending persons for appointment as Judges of the High Court and also in allotting cases for hearing to particular Benches of the High Court.
As regards the High Court Judges' appointment, it has to be borne in mind that those appointed will often be dealing with the lives, liberty and property of persons and, what is more, it is from amongst them that tomorrow's Chief Justices will be appointed. Clearly, much care and discretion is required in the matter of appointment of Judges.
The Supreme Court in the Second Judges' case (1993) has evolved the collegium system for appointment of High Court Judges. The Chief Justice of the High Court and two seniormost Judges constitute the collegium.The primary source for appointment of Judges is the High Court Bar Association. Almost 60 per cent of the total appointments are made from amongst the practicing lawyers in the High Court. It is thus of utmost importance that the most competent and legally sound lawyers with good practice and possessing unimpeachable integrity be considered for appointment.
A Chief Justice with a year's tenure or little more in a High Court cannot possibly form his own independent and informed opinion in the matter of selection from amongst the members of the Bar. He cannot justifiably undertake this exercise. He has thus perforce to fall back upon the opinion of his other colleagues in the collegium. Thus, the very purpose of having a Chief Justice from another state is frustrated.
It makes us very sad to hear people referring to the collegium system as no more than a division of spoils implying that the way it works is "you take my man, I take yours" rather than selecting the most deserving.
Turning to the other side of the senior Judge of each High Court being appointed Chief Justice on his predecessor vacating that post, it eliminates attempts at jockeying for the post of Chief Justice as it is known who will become Chief Justice and when. The flaw in this lies in the incumbent lacking or perceived to be lacking objectivity in performing his duties and functions of the office. It cannot be denied that caste, religious and regional factors have, unfortunately, been known to play their role even in the administration of justice. Though not expressly so stated, this appears to have been the underlying idea behind the practice of having Chief Justices from amongst Judges of other High Courts.
Be that as it may, it would be fallacious to assume that all or most Chief Justices would be found suffering from such a malady. If a particular Judge is found to be functioning in an unbecoming manner, appropriate action, whether denial of elevation as Chief Justice, transfer to another High Court or something else could be considered but to resort to the wholesale exercise of having Chief Justices from other High Courts is clearly a remedy worse than the malady sought to be cured by it.
Justice Kuldip Singh is a former Judge of the Supreme Court. All other writers are former Chief Justices of various High Courts