ART & LITERATURE
'ART & SOUL
ENTERTAINMENT
TELEVISION
GARDEN LIFE
NATURE
FOOD TALK
CONSUMER, BEWARE!
FASHION
GLOBOSCOPE
BRIDGE
ULTA-PULTA
EARLIER FEATURE
TRAVEL
RELATIONSHIPS
DREAM THEME
TIME OFF

Mysticism to modernity
Lhasa is today awash with modernity, wherein traditional values only seem to be an appendage. Pratibha Chauhan reports on the town's development after a recent visit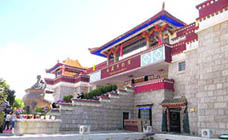 BOARDING the flight to Lhasa filled me with the excited anticipation of a mystical experience in the land of the Buddha. Particularly, for somebody who has lived in Dharamsala and heard from nostalgic Tibetan refugees about the grandeur of Potala Palace and effervescence of Tibetan spiritualism, Lhasa conjured visions of maroon-robed, prayer wheel-rotating monks and nuns milling around in a landscape dotted with monasteries.

Festive fervour

Seat of spirituality

Track to technology

---

A legacy that comes alive
Tales of impregnable and invincible forts stand out in the crisply edited documentary series on these majestic marvels of India, says Nonika Singh
W

E

see the monuments ... we don't discover them." This may be the lament of noted theatre personality and documentary maker Gurcharan Singh Chani. But as he, along with his son Gyandev Singh, has just completed a 26-part documentary series Bharat Ke Durg on India's majestic forts, the forts have not only been revealed to him but also, he promises, will be a revelation to the viewers.

Political puppets
If one were to go by the Raajneeti narrative, women exist in Indian politics only to consolidate the power built by patriarchal and feudal forces. They have no standing of their own, writes Pamela Philipose
Prakash Jha's Raajneeti, riding on the aura of India's First Family in politics, has been bringing in the crowds in a manner that recalls a pre-multiplex, pre-popcorn era, when audiences actually thronged the single-screen cinema halls and catcalled or whistled from the front stalls.

Agony of moms-in-law
Nivedita Choudhuri
IN Indian families, mothers-in-law are usually described as shrewish and the source of all domestic conflict. However, reality and popular perception are often poles apart as many mothers-in-law maintain that they are hounded by their daughters-in-law.

For love of velvet
Go for velvet dresses this winter season, says Homai Sagar
VELVeT is the new fabric for fall 2010. It is stepping on silk's toes this winter. All the Indian design doyens love it. So it can never be far from a catwalk comeback. It is no wonder then that velvet would claim its place as this season's most beloved material.

Half way to heaven
The small Himalayan town of Askot in Pithoragarh is situated amidst huge
forest tracts and a breathtaking valley. This tiny town also lies on famous
the Kailash-Mansarovar pilgrimage route, writes Tanushree Podder
A steady drizzle turned the dry mountain rivulets into gurgling streams as our car negotiated the steep bends on the mountain road. Clouds played hide and seek above our head, throwing interesting patterns on the road.

Kathak yoga for a fit body & soul
Shilpa Raina
MOVE over monotonous fitness regimes. US-based kathak maestro Chitresh Das has been popularising the concept of kathak yoga, which he describes as a "union between the mind, body and soul" and an excellent "form of a cardio-vascular exercise".

Bollywood new and improved
The 35th Toronto International Film Festival has put its stamp of endorsement on the emergence of Mumbai cinema's 'new wave', writes Saibal Chatterjee
THE 35th edition of the Toronto International Film Festival (TIFF), running from September 9 to 19, marks a fresh beginning for North America's foremost cinema event. On the festival's first Sunday, TIFF will formally move into Bell Lightbox, its spanking new permanent home that was four years in the making.

It's raining sequels
Bollywood gets high on sequels, a la Hollywood, writes Robin Bansal
THE Hindi boxoffice will soon be laden with sequels like Race 2, Don 2 and the third instalments of Dhoom, Golmaal and Phoonk as Bollywood walks in Hollywood's footsteps to make filmmakers feel secure and keep a captive audience in good cheer.