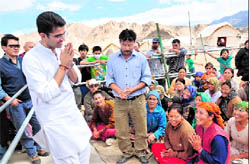 Minister of State for Communications and Information Technology Sachin Pilot interacts with the flood-hit victims at the Solar Valley relief camp in Choglamsar on Sunday. Tribune Photo: Anand Sharma

No breach of trust: Umar
Srinagar, September 12
Rubbishing the claims of Chief Minister Omar Abdullah and the Director General of Police Kuldeep Khoda for having betrayed the government's trust by resorting to violence, the chairman of the moderate faction of the Hurriyat conference Mirwaiz Umar Farooq today said that no permission was ever sought from the state government before making the Lal chowk chalo announcement at the Eid Gah after offering Eid prayers yesterday.
Panthers Party against dilution of AFSPA
Udhampur, September 12
Panthers Party will oppose any move to dilute Armed Forces Special Powers Act (AFSPA) as this would amount to undermining the security environment in the Valley as well as encourage separatists to go ahead with their secessionist plan. Stating this here today in an interaction with the media, the district youth wing president of Panthers Party, Balwan Singh maintained his party's stand against any move by the UPA government to tinker with the AFSPA.
2 CRPF men found dead
Srinagar, September 12
Two personnel of the paramilitary Central Reserve Police Force were found dead under mysterious circumstances inside their camps.As per the sources, constable Sunil Kumar was found hanging in a bathroom of his camp at the Kral Sangri area of Nishat.
Housing Plan
Rs 14 lakh aid for BPL families
Jammu, September 12
To review and redress the public grievances at their doorsteps, the Deputy Chief Minister today distributed 80 cheques worth Rs 14 lakh under Indira Awaas Youjna (IAY) to Below Poverty Line beneficiaries of block Khour for construction of houses and conducted a series of public meeting at Badan, Manchak, Ghair, Bakore, Indri, Dhounchak and Dandora in Khour area of Akhnoor.
Hawala Dealer's Escape
Hurriyat leader under scanner
Srinagar, September 12
Security agencies are probing the role of a senior Hurriyat leader in helping Nasir Safi Mir, alleged to be the "financial brain" behind the Hurriyat Conference and other separatist leaders, to flee the country after paying for a forged passport from a southern state.
Delhi couple gets custody of abandoned baby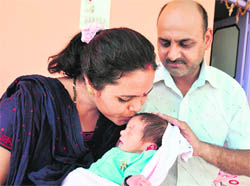 Jammu, September 12
The nerve-wrenching wait of a couple from Delhi which wanted to adopt an abandoned baby in Sunder Bani in Rajouri district is finally over after more than two and a half months. The State Juvenile Board handed over the custody of the baby girl to Khem Raj, who is working as cop with the Delhi Police, and his wife Santosh.


Emotional reunion: Santosh and Khem Raj along with the abandoned baby in Rajouri. A Tribune photograph

Search on for locating missing medico
No breakthrough was made today in locating the missing medico from Mansar lake on the second day of the search even as the naval divers were called in from New Delhi for assistance.
Corruption, nepotism highlighted through play
Udhampur, September 12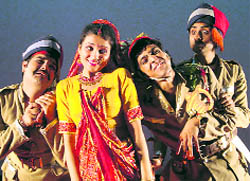 Jammu based theatre group Natrang staged its one of the most popular comedy plays 'Sainyan Bhaye Kotwal' at Dhruv auditorium, here yesterday. Lt General Jasbir Singh, Chief of Staff, Northern Command was the Chief Guest on the occasion. Written by Vasant Sabnis and directed by Balwant Thakur, this comedy of Natrang has been staged successfully at various important National theatre festivals held in Kolkatta, Behrampur, Lucknow and Chandigarh.

A scene from a play, " Sainyan Bhaye Kotwal", staged in Udhampur on Saturday. A Tribune photograph

Two arrested with poppy straw
Jammu, September 12
The Sidhra police today seized 26 kg poppy straw (Bukki) and arrested two persons, who were travelling by a taxi.
DGP reviews law and order situation in Doda
Srinagar, September 12
DGP Kuldeep Khoda today held a high-level meeting of police officers at Doda. The meeting discussed security situation in Doda, Kishtwar and Ramban.
Land identified for defence colony
Jammu, September 12
To develop a new defence colony for serving personnel and ex-servicemen, Sainik Cooperative House Building Society Ltd, Jammu, has selected a site near milestone 16-17 on the national highway in Samba.
Jammu Morcha slams Omar for arson, violence on Eid
Jammu, September 12
Expressing its concern over the incidents of arson and violence on the auspicious occasion of Eid in the Kashmir valley, the Jammu State Morcha (JSM) today criticised Chief Minister Omar Abdullah for allowing the separatists to hold a rally during the religious celebrations.
Hindus, Muslims celebrate Eid together in Raipur
Jammu, September 12
While the incidents of violence and arson marred the Eid festivites in the Kashmir Valley, a small village in Jammu set an examle of communal harmony for others to follow.
Unravelling intricacies of man-woman relationship
Jammu, September 12
Under the direction of Balwant Thakur, Surendera Verma's Hindi play, "Marnoprant" was presented at Natrang's Sunday weekly theatre. A strong comment on the man-woman relations, the play revolves around a triangular love story.